You have a website up and running, ready to do business. Now it's time to see it get some action by having it make sales.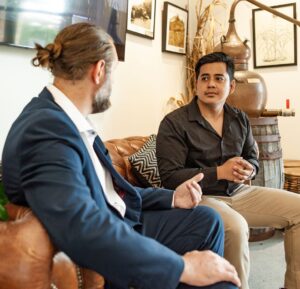 For large and small businesses alike, increasing online sales is a primary goal. Making online sales begins with a well-designed, responsive, and conversion-focused website.
At Accentuate Web Design and Marketing, our design and marketing team don't just build websites that are good to look at. We want to help your website generate income, by helping you get more leads and ultimately make sales for your business.
If you already have an existing website, our team can review your existing site during a FREE Digital Presence Consultation! We can help websites get found in search engines by having our team ensure websites we create are Search Engine Optimised.
But how do we accomplish this for you? Let's look at the 5 Tips we use when designing a website to help you take off on a good start with an Accentuate-designed website.
1.  Keep it simple.
Every website has some form of navigation. But, unfortunately, not every website has good navigation. It can make or break a website's overall performance if it has bad navigation. A site with poor navigation makes it hard to retain site visitors, keep them engaged, and ultimately drive them to convert.
Keeping your navigation makes it easy for your visitors to locate the information they need, without leaving them frustrated from "hunting" for what it is they are looking for. Customers want straightforward navigation, it is what visitors expect when they come to your site.
Apart from a visually stunning design, quick and easy access is important. Additionally, a website with easy navigation helps search engines index your important information effectively and efficiently.
Before rushing in and making sure your site is easy to navigate, also ensure that you test it for legibility both for desktop and mobile screens. Keep your navigation titles clear, easily recognisable, and accurate: avoid using witty or riddle-like titles.
You wouldn't want to change important familiar title phrases like About Us or Contact Us and confuse your customers, would you? Just keep it simple and predictable to not make your users lose valuable time getting to the information or products they need.
It also pays to ensure your navigation is fully responsive. By far, this is one of a website's best practices regarding navigation. Note that a website with poor navigation does more harm than good. It leaves your visitors confused and sends them scurrying for the exit, and you likely won't get the conversions you want.
How to improve your website navigation.
Keep it consistent –

This promotes ease of use and enhances your visitor's ability to find relevant information quickly.

Divide your categories clearly –

Ensure categories on your site are clearly and visually defined, especially if you have multiple sections, categories, or sub-categories.

Make your navigational elements clickable links –

If you have multiple navigation divisions including heading elements, it's much easier for your visitors to have clickable links.

Check your site's navigation titles for accuracy –

Use accurate text to describe the linked page, so users immediately know what they are going to get when they click. It annoys visitors to the point of abandonment when they encounter cryptic or misleading navigation text or images that do not correspond to a page they expect to see.

Ensure clickable images have ALT text –

This is important for ALL images, but it is even more important for images that link to other pages.

Ensure you have a search feature –

This in-site feature should be able to produce relevant results, and it should ideally be able to compensate for misspellings. 

Create a sitemap –

This is a double-edged sword. You'll make your website more usable, and it'll help search engines crawl and index your web pages.
2.  Keep it mobile optimised.
Responsive design is a must now for websites since mobile phones are outstripping desktops and laptops in sheer number as well as usage. Mobile responsive design used to be just 'nice to have' to now being instrumental in web design.
You have to be more than involved in a seamless purchasing experience. You need to optimise and clearly define and identify all online touchpoints – converting users into buyers through mobile optimisation is key.
A frictionless user experience is a must across all devices that they use – especially mobile phones. For a business, adopting a 'mobile-first' approach is a great practice, unless you want consumers to click away from your competitors.
To ensure you get the most converting visitors to customers:
        ✅ Make your links and buttons large enough for them to be tapped easily by users
                using mobile phones with no effort.
        ✅ Ensure all links and buttons work.
        ✅ Tighten your menu so that it fits smaller screens.
        ✅ Use a hamburger menu on mobile devices.
        ✅ Use autofill form fields.
        ✅ Give customers an option to check out as a guest.
        ✅ Offer multiple screens as an alternative to scrolling through.
Mobile internet access has skyrocketed in recent years. Website traffic now comes from 58.43 percent of mobile devices, whereas, 92.3 percent of internet users access the internet via their mobile devices. With these figures, it's clear that having your website mobile-optimised is essential for your business.
NOTE: Even if you have a strong marketing strategy with advanced SEO to drive traffic, if your website is not mobile-optimised you'll fail to turn that traffic into conversions. 
3. Keep it interesting by including quality photography and video.
Rich media like high-quality images, infographics, videos, and other visuals improve your content's messaging and user experience. By nature, humans are visual creatures, and we are all attracted to anything beautiful.
Eye-catching visuals not only captivate us but can evoke emotions. This not only gives visitors a better understanding of not just the message but also what's behind your message.
Let's be truthful to ourselves, people put value in anything attractive with high regard and sought after with pride, determination, and high demand. Treat your content in the same way.
Keep your audience and your goals in mind when you're planning your content, but don't ignore the power of compelling visual content and its ability to resonate with your customers and create connections.
The average individual can get easily distracted (or bored) within a few seconds. So you must make it interesting to grab their attention right away.
4. Keep it trustworthy.
Trust is a pillar of e-commerce conversions. As we are all consumers, we are more likely to purchase and be loyal to brands we trust, and will even go to the extent of recommending a trusted company to our friends and family.
Include customer testimonials, reviews, and ratings of your products. This helps in establishing your credibility and creates an added sense of community.
The most deterring thing is if a final click to purchase does not push through for some reason. It's no longer enough to simply say that you value the security and privacy of your customer's data.
Employ standard security framework with different security badges such as SSL certificates and Hypertext Transfer Protocol Secure (HTTPS). Most websites are now encrypted with HTTPS sites, if your site isn't HTTPS secure, consider making the switch.

This gives your customers confidence that their credit card information can be transferred securely. To add a level of legitimacy, we suggest earning third-party endorsement badges, which show that your website is legitimate.
Review sites such as Trustpilot and Google Reviews play an important role in building trust, once gained, use them on your website. Similarly, earn your customer's trust by showcasing your industry partner's relevant accreditations, awards, and certifications.
5. Keep it targeted. 
Knowing your audience is at the heart of any impactful communication. A clear picture of whom you're communicating with can help you craft the right messaging.
With a target market, you get to spend your resources to entice a segment of the public.
The more specific you can be, the better.
If, for example, your target market is college students, to efficiently target them, you can place advertisements on the campus website and/or the campus newspaper, or on the campus premises. Choosing the right target market is a valuable key towards your success. 
In addition to increasing your return on investment (ROI), having a target market allows you to build relationships and better communicate with your customers, cater to their needs and have solutions for them. Just remember that your messaging has to align with your target market's needs and interests to keep them engaged.
Keep your messaging targeted.
Targeted messages weed out people who don't care about your business. Targeted messaging will help you with: 
Lead generation

Enhancing customer engagement

Improving customer experience

Driving sales and conversions

Establishing trust and credibility

Nurturing customer retention and loyalty

Defining your brand identity and

brand values
Final thoughts
We at Accentuate Web Design and Marketing can't overstate how important it is your website and its design to create a great first impression. Helping to build trust and reputation with your target market.
Increase conversions, online sales and ROI in one fell swoop by investing in Accentuate's web design, development, and marketing services. Scale your business with a friction-free and responsive website, giving your customers a compelling reason to buy your product or service.
To learn more about how to get more sales on your website, get in touch with our expert team today.