Services
Search Engine Optimization
Want your business to be found in the search engines?
Get found in Google
Our team are Google Marketing Certified, and all our websites are designed following Google's best practice guidelines.
Let us help optimise your website, and help get you to the much desired first page of the search engines. We always follow white hat SEO techniques that will see you naturally increase your rankings over time, to your desired results.
Get in touch with our team and we can help remove the mystery from Google and Search Engine Optimisation, and show you how it can be a worthy investment in your business.
Optimise for Success
Google and other search engines such as Bing and Yahoo all aim to show the most relevant results for any search. Improving your rankings in search engines can have a drastic effect on your online exposure, and in turn, the number of leads and sales your business makes.
Search Engine Optimisation is all about ensuring a proper on-site and off-site strategy is implemented. Our tried and tested methodology can help your site climb the ranks to become the most relevant result for the most valuable keywords in your industry.
Search Engine Optimization
How We Can Help
Location Based Keyword Focus

Optimised 60 Keyword Focus

Dynamic Keyword Focus

*Note Higher Package Options= Larger Keyword Reach)

Local Listings Optimisation

*Note Higher Package Options= Larger Listing Reach)

Link Building

*Note Higher Package Options= Larger Link Building Reach)

On Page Fixes

*Note Higher Package Options= More Frequent Fixes)

Content Creation

*Note Higher Package Options= Larger More Detailed Content Creation Opportunities

Load Speed Optimisations




*Note Higher Package Options= More Frequent Optimisations)
TESTIMONIALS
Client Reviews
100% SATISFACTION


For 12+ years Accentuate IT has provided us with fresh & affordable custom Web Design Solutions.
Vikki Martin-Smith
Station Manager of 105.7 Radio Metro


Eden and his team are excellent, whenever you need them they are always there on hand. Created our excellent website from scratch...
Jareth Stocker
Sales & Marketing of Cody Corporation


We highly recommend Eden and the team at Accentuate IT! The process was easy and not intimidating with geek speak, Eden was...
Angela Brianni
Owner of Coffee Bean Trading


Amazing! I knew I was off to a good start when Eden's first response to my enquiry showed that time had been spent researching...
Mark Styles
Owner of Wholesale Safety & Storage


Accentuate It was giving the job of designing our clubs new website, the team went above and beyond of what was required. Great...
Terrence Cole
Trophy Steward of QLD Lure Coursing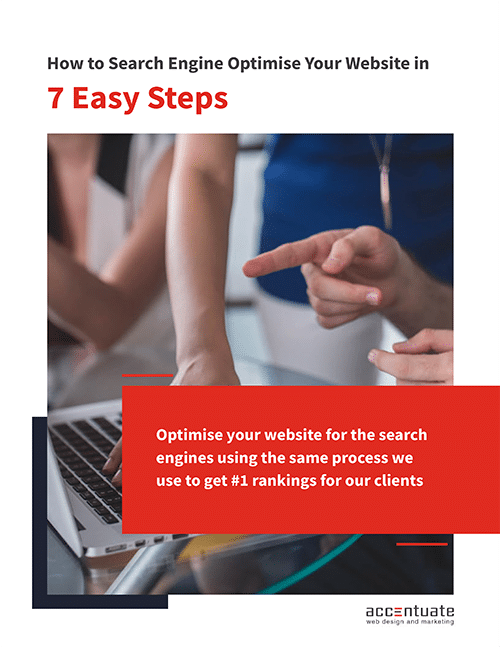 How to SEO Optimise your website in
7 Easy Steps
SEO is the process of optimizing your online content so that Google (and other search engines) want to show it as a top result for searches of a certain keyword.
When done properly SEO can play a major role in growing your business and getting your website seen by your ideal customers online
MARKETING BASED APPROACH
Search Engine Optimization
It's important to engage a SEO team that utilitse Google Safe practices to ensure your website is never blacklisted. Our team always use Google approved methods to improve your website rankings
A Fast Website = A Found Website
Our team ensure your page is fully load speed optimised, google loves this and will rank you better for it!
Google Places
Adding your site correctly to Google places is very important. We can help you ensure this is done right.
Content is King
Google loves content, we can advise or assist in ongoing content strategies that will help you rank higher.
Know your statistics
We set-up Google analytics so you can monitor the traffic and see where and how people are getting to your website.
How much will it cost for results in Google?
Use the form on this page to get in touch with us so we can perform a full analysis of your industry competition, and see how we can help improve your rankings.
Search Engine Optimisation takes time, be wary of any web or SEO agency that promises you quick results, as often they are employing 'black hat' techniqures that often will get you banned from Google entirely.
Our usual turnaround for first page rankings in low-medium competiton industries is 3-6 months. We only use Google safe practices to ensure you achieve great rankings and retain them as loong as possible.