Being constantly bombarded with infinite choices on where to spend our hard-earned dollars is a reality in today's world. The success of a brand can often rest on its values at its heart. Brand values play a significant role in building deeper connections that can potentially turn one-time customers into loyal customers, even lifelong brand advocates.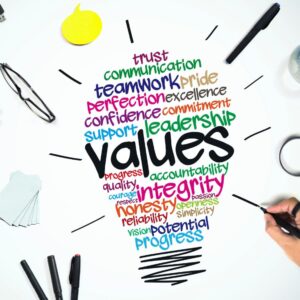 What makes a brand exceptional, and what makes it worthy of a customer's decision? It will depend largely on how authentic you express and communicate yourself in the marketplace.
For a business to thrive, flourish and ultimately succeed, it needs customers to buy from you because they believe in your brand. To achieve that, you'd need strong core values that are well communicated to employees, partners, and customers. 
Identifying your brand values helps in defining what your business stands for, and uncovering your target market, your brand objectives, and your tone of voice. Communicating your brand values helps in building lasting emotional connections with your consumers, rather than just a transactional one. 
Here are two important places where you can directly communicate your brand values to your customers, where our team at Accentuate Web Design and Marketing are experts:
Your website

– With your Accentuate-designed website, we can help you tell your company's story, including using your

About Us

page to communicate your brand values and why they're important to you and your business.

Marketing

– By consistently mentioning your brand values across your

social media

and

email marketing

as part of your

digital marketing strategy

, our skilled team can help you create.
You can also communicate your brand values and brand story through your packaging, using text and icons that describe what it is that matters to your company at a glance.
What are Brand Values?
A business's core brand values are the core set of guiding principles that shape every aspect of the business. They are the foundation of your business and marketing strategy. More importantly, they outline and define who you are as a business, how you should behave, and how you want to be perceived in the marketplace.
What brand values ultimately do is shape a company's culture and community of customers, fans, and followers. These values should be meaningful in a way that is also in alignment with both your employees and customers.
Since these values will help set your business apart from your competition, they need to be unique, sincere, clear, and a reflection of what's at the heart of your company. They're what inspire your like-minded consumers to trust you and do business with you.
Do note that your brand values are not about the product or service you offer, but provide customers a memorable impression of what your business symbolises, rather than just describing that it produces products or services of 'quality.'
For example, customers trust Apple because they know the company stands for more than just making a profit. Its core values revolve around innovation and creativity, which represents its ingenuity, and sophistication, more than just producing quality products.
How can Brand Values Help Promote Your Brand?
It's never been easier to start a business. But this also means that competition in the market makes it harder for companies to stand out and find customers for life.
Your brand values will be your differentiator in attracting new customers, building long-term relationships with them, and also helping you grow a strong values-aligned team.
Your values as an individual make you who you are. It's no different for brands, your whole brand strategy should be based on your core brand values. They are highly essential and relevant to marketing. 
Without brand values, businesses often spend a lot of time and money on marketing activities that do not always see a positive return on their investment, simply because they are marketing to the wrong people in the wrong places, and sending the wrong message.
Your business has values, your customers have values too, are they aligned? If you share the same beliefs, standards, and points of view as your customers, they will choose you over your competitors because they share more than a basic practical need for a product or service.
A recent Harris Poll research commissioned by Google Cloud found that a staggering 82 percent of shoppers want a business' brand values to align with their own. The research also showed that three-quarters of consumers surveyed have acted on this sentiment by parting ways with a brand over a conflict in values.  
Your brand values speak volumes about what kind of customers you are looking to attract and connect with. It's a really powerful competitive advantage. Today's consumers can easily spot empty claims and stand behind brands whose values they can relate to.
So, how can brand values help in promoting your brand? Consider the following:
You become more memorable –

When

considering options for their next purchase, customers go with the brand they remember positively.

Help in creating consistency with your brand –

With consistency, your audience gets to understand you better as a company and will also help define what your prospect will experience, expect, and feel from engaging with your brand.

You form brand storytelling –

This helps in bringing your content marketing activity to a whole new level. Content that explains and shares your brand's core values are more likely to connect with your customers.
When your values align with theirs, a deep relationship is formed that will go beyond the initial purchase and transcend into establishing brand loyalty.
Tips for Creating Your Brand Values
Branding and marketing activities are methods of how you speak to your customers without directly talking to them. When you incorporate your brand values within your branding and marketing communications, it will strengthen your message and fortify your relationships.
The values you choose to represent your business and what it stands for, affect your efforts in marketing, communications, and decisions. By determining your brand's core values, you're not only giving your business a unique brand identity, but you are also allowing your marketing team, salespeople and external suppliers to follow a particular narrative. This in turn enhances your brand storytelling.
Discover your brand values by:
1.  Brainstorming
Have your team write down at least five values each that can be associated with your brand. Answer open-ended questions such as: What do we value most as a company? What do we stand for? What is our identity?
2.  Look to your favourite brands for inspiration
It's okay to get inspired by other companies. Write down your favourite brands and what makes them resonate with you. Write down the qualities that make them special. Identify consistent themes and qualities and use those as guideposts in developing your brand values.
3.  Take stock of things you're already doing
Inspect and analyse what you are currently doing and extract the reasons why you're doing it. For instance, if you promise and implement next-day deliveries, that's probably because you value efficiency and timeliness.
4.  Find out what your customers value
It is imperative to understand both your consumers and the landscape in which your brand operates. As you build relationships with your customers, start having conversations with them about values.
Ask them why they chose you, your products or services. What is it they think you do well? Their answers will give you better insight into things they place value on, and you also get to uncover your brand's key strengths and/or weaknesses.
5.  Draw from negative experiences
Take a look at your industry from the perspective of consumers and clients. What negative experiences have you heard about, preferably about your competitors? What can your company do to ensure that you don't deliver the same negative experience to your target customers?
6.  Be Practical
Your brand values should be relevant to your products or services and must be practical in the sense that your employees should have a clear understanding about how they can help uphold them and move towards shared goals.
The best brand values are those that are realistic, tangible, and can be achieved. For instance, values focused on improving conditions within a specific sector can be visualised easier by your team and therefore will help map out their actions and behaviour to contribute to your organisation's shared goal.
Discover your Brand Values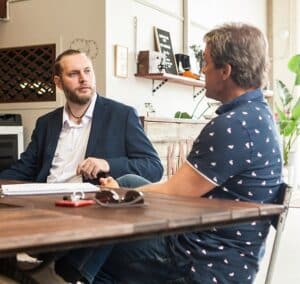 A way to successfully market your business has a lot to do with how people trust and remember you. Building recognition and customer loyalty are products of strong brand values. If this is something of importance to you as an entrepreneur or business owner, take time to think about what qualities make up your core message.
There are many ways to construct these values apart from those cited above. To make your messages resonate, make sure it's YOUR VOICE.
If you're not sure where to start when it comes to defining your brand values, consider booking a digital marketing session with our experts. We will help you discover important principles and values to take your business name to the next level and be a winner with marketing strategies tailored specifically for you to get results online.