Running a web design and marketing agency is no mean feat. We have to juggle clients, and look after and manage staff, all the while trying to grow your business and those of your clients into something bigger.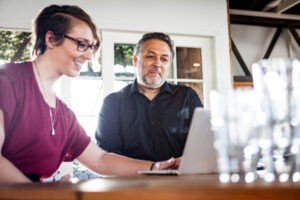 Doing these tasks simultaneously and on their own is where many agencies and businesses fail. However, managing things becomes much easier when you have people working hard behind the scenes to grow your business.
Accentuate Web Design and Marketing, is in the business of building websites and handling the digital marketing needs of our clients to help them generate leads, make sales, and income. You can only imagine the amount of work we put in for each of our clients to garner the results each one of them aims for.
How are we able to juggle all the tasks involved from the design process, creation, content creation, social media management, scheduling and more? Apart from having our experts employ their skills successfully for more than 16 years, we couldn't have done it efficiently without the help of process automation technologies.
Our team uses these technologies to streamline our processes without missing a beat in creating convertible campaigns for our clients and optimising their customer journeys. We automate and optimise our workflows, including sales, management, and content production. One such tool we use at Accentuate is GoHighLevel. 
The Go High-Level solution is one of the go-to solutions for agencies, but it works great for many industries as well. The platform integrates all the tools agencies, marketers and businesses need, lessening the dependence on various productivity tools, and drastically reducing the cost.
Running a business requires everything to be monitored from the very beginning to the best result for our clients. One thing you can love about GoHighLevel is that it is a landing page and email automation builder with the capability to connect it with your domain too.
As a small business owner, see what GoHighLevel can do for you: 
You can quickly create sales funnels that convert with

GoHighLevel

.

The

GoHighLevel

platform allows you to build landing pages around your offers, and connect domains to them.

You can keep track of projects and manage client relationships with its CRM.

Time and project management can be improved by making appointments and setting up calendars.

Get a handle on your calls like a pro.

With its membership site features, you can create and sell online courses and membership programs.

Provides automated email marketing campaigns to make your marketing campaigns more effective.

In addition, SMS marketing ensures that prospects are reached quickly and easily.
To execute our work effectively and efficiently at Accentuate, we use several platforms.  GoHighLevel is a single platform that helps manage customer relationships, automate sales processes, and increase lead generation. It works great with agencies like ours, but it's awesome for your business too.
There are so many things we love about GoHighLevel, and so can you. Its dashboard may seem basic, but it more than makes up for it by offering a lot of functionality.
Saves time

– setting clients up is always a challenge without the right tool. High Level's Snapshots allow it to be done quickly.

Cost Saving

– being an all-in-one solution, it includes features found on several platforms. What this means is you won't need to use several marketing tools to perform different jobs.

Mobile App

– This feature makes it unique for other platforms, which allows you to:

Organise contacts

Check appointments and calendar schedules

View and reply to requests

Manage your chats and dashboard 

Its mobile application allows access to do these right on your smartphone.

 
Though our team are experts in their field, there are times we do need an extra pair of hands to get things done. That's why GoHighLevel's built-in CRM capabilities come in. The beauty is, that there is no need to juggle between platforms, everything needed to get the job done is all available inside one platform.
With the number of tools stacked up and available inside GoHighLevel, using the software, in the long run, saves on cost as compared to using various third-party tools separately. It's quite helpful for several types of marketing automation, such as email automation, social media automation, and landing page tracking.
Being an all-in-one platform, its creators consider it great for sales and marketing. And, apart from being a web design agency, we also do digital marketing for our clients, which makes it a great recommendation for marketers, agencies, and business owners.
The software offers heaps of other features that can be of use to other people in various professions and businesses.
By using GoHighLevel marketing automation, can help you increase your sales by following an organised process of data collection on your customer's journey towards making a purchase. Additionally, through its email marketing capability or any other channels, it can effectively help you market your product or service in a way that will drive more conversions. Furthermore, it works by helping you create automated workflows to send follow-up messages at different stages of a buyer's journey.
Content can be created, edited, approved, published, stored and managed by anyone within the company using GoHighLevel. You can manage all your content centrally with its content management system (CMS).
The best part is, that GoHighLevel is suggested for entrepreneurs who run online businesses such as all business owners, photographers, web design agencies, online course creators, professional digital marketers, and more.
With its many functions, see how you can use it for your client's benefit:
Lead Generation

– allows you to build great landing, sales, and squeeze pages to generate more leads for your website. 

Client Acquisition and Onboarding

– having multichannel integration is one of the best things about

GoHighLevel

. It allows integration with client acquisition tools like Mailchimp and uses its quality services.

Appointment Scheduling

– automate setting your appointments with its calendar tool.

Conversion Rate Optimisation

– GoHighLevel allows various ways to increase your conversion rates. Your customers can book appointments with ease through their email or via mobile, for instance. 

Client Retention

– Customers normally stop working with a business if they don't meet their expectations. With

HighLevel's

help, you can maintain your customers. It allows you to track leads, inbound calls, and text using the platform. Following up with your buyers is easy and helps you stabilise the relationship.

Business Automation

–

Business automation

can be quite complex, but

GoHighLevel

simplifies this process. The platform has triggers that let us automate different campaign processes to fulfil our customer's needs.

Artificial Intelligence

– HighLevel allows users to leverage AI and Machine Learning to manage conversations either as spoken or typed words. 
How to get Started with GoHighLevel
Most agencies and business owners require high-level marketing platforms to manage clients, leads, websites, funnels, calendars, and a multitude of other things necessary for customer acquisition, retention & maintenance.
It's easy enough that even non-tech-savvy people can set it up. It's an awesome "tech stack" for a fraction of what you would normally pay by using separate platforms. You can work more effectively with just one, with this ultimate all-in-one solution.
GoHighLevel is easy to use and has all the features small businesses like yours might need. The good news is, that GoHighLevel offers a free 14-day trial to get a feel of the platform. But, if you're ready to go for more, they offer two paid accounts.
Agency Starter Account
Even though you only get one account, the GoHighLevel CRM Starter Account is a great way to start your CRM and get your Agency or business off the ground.
This starter pack costs only $97 per month and is a perfect solution for business owners, freelancers or small agencies to start keeping track of sales and business automation for emails and marketing.
This plan works for one client, or you could use this plan for an agency.
Agency Unlimited Account
In addition to all the features and benefits of the CRM Starter account, the Agency Unlimited account at $297 per month offers some additional features. In addition, you will be able to track your agency's progress over time with more reports and dashboards.
But wait, there's more.
White Label Mobile App + Custom Zap Upgrade
GoHighLevel has an amazing additional feature called White Label Mobile. This upgrade will set you back $497, but if you're already a business raking in six to seven figures, the cost is well worth it.
With this upgrade, the app can be fully customised to carry your company name and let your clients keep track of your marketing campaign results.
Further, the HighLevel team will also create a branded Zapier integration for your brand, connecting the dots between various parts of your business. Do note that this feature is not a standalone plan and would require the Agency Unlimited Account before this feature can be accessed.
Unsure which plan you should choose, we recommend starting with the Starter Plan to get a feel for how it can help you and/or your business before upgrading or adding new clients.
Regardless of the industry you are in, we follow a process to get the best results for our clients and ensure they are user-friendly, conversion-ready, optimised and primed for success.
If you would like to get ahead and start promoting/advertising your business with PPC Advertising to smash your sales and boost your online presence, contact us. We look forward to hearing from you.