Social media could be a solid marketing channel that bolsters your brand, generates quality leads and increases sales. Or, it could prove to be a huge waste of time. The key is to design, execute and measure a solid social media marketing plan. Here are our top four tips to help you drive more sales for your small business using social media.
1. Woo Social Influencers
Influencer marketing is a booming industry. It's a form of collaboration where you collaborate with a person of influence to promote your brand/products/services.
Social media influencers have a large, engaging following on social channels like YouTube and Instagram. The biggest advantage of using social influencers is you can promote your products without being pushy.
Given that more than 70% of consumers inherently trust social influencers, influencer marketing should be an important part of your marketing strategy.
2. Repost User Generated Content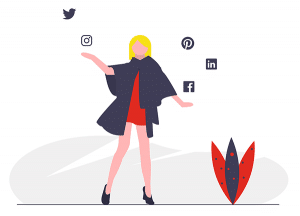 There's no better social proof than real people talking about your product/service on social media. Reposting content from people who've used your product on your social channel is extremely effective. You are, in essence, letting your customers do the convincing and selling for you.
By sharing content shared by people who've already used your product/service, you are sharing content that builds trust. Today's consumers look up to endorsements and reviews by real users. Motivate your customers to create such content for you by giving them an incentive of some form.
3. Create Valuable Content
Social media is a wonderful platform for businesses to create and share short, engaging and valuable content with their audience. Besides promoting your blogs on social media, you could even create pint-sized content that provides value to your audience. This could be how-to content and guides. The primary goal is to offer customers the sort of information that will compel them to give your product a try.
You can even provide valuable tips on how to use your product. Creating such informational content will give your product a broader context, giving your audience ideas about how to use it.
4. Use Paid Ads
It's good to create engaging content and engaging your audience. However, that's not enough. Leverage paid ads to put your brand in front of your target consumers and drive sales. Organic reach is thinning out on social platforms. To improve the reach of your content, and to drive sales, you will have to consider investing in paid ads.
Although all social channels offer advertising opportunities, Facebook offers stellar targeting tools that can come to your aid in creating successful campaigns.
Wrapping Up
These are some highly effective ways to increase sales on social media. When it comes to social media marketing, it's all about winning the trust of your audience. Create content that adds value, win their trust and stay on top of their mind. In no time, these strategies will deliver rich dividends in terms of followers and sales.
Need help improving your online presence? Contact Accentuate Web Design & Marketing today for a free website audit and consultation. Request a call back or give us a call at 0457 444 589.