The definition of a connection is a relationship in which a person, thing, idea, or a business is linked or associated with something or someone else. Our business, as a Gold Coast Web Designer, depends on getting in touch with the right clients who need our services.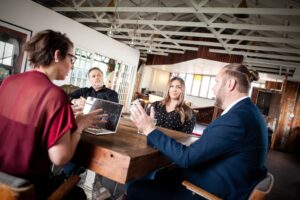 OneFlare is in the business of connecting Aussie businesses with genuine customers. Their small and growing team based in Sydney, Australia is dedicated and has a shared passion to connect people. In our partnership with them, they helped us connect with multiple clients for their web design and digital marketing needs.
We are more than elated that OneFlare has named our company, Accentuate Web Design and Marketing, as one of the Top Gold Coast Web Designers in Australia. We are deeply honoured by this recognition, it fuels our team's passion to be of service to help more Australian businesses and entrepreneurs to be found online and achieve success.  
At Accentuate Web Design and Marketing, building connections with the right clients is important, and we thank OneFlare for connecting us with the right clients. Yes, we operate in Australia nationally. Our team builds beautiful websites that generate leads, garner sales, and income for your business.
Our 16+ years of industry experience in Web Design, Digital Marketing and Project Management helps businesses achieve their goals, and get found in search engines. We have a certified team of Digital Marketing Professionals, who are experienced in employing modern techniques, so we can help best serve you.
All websites we design for our clients are Search Engine Optimised. Additionally, all our projects are managed by our Local Design Team, who can also help design your logos, create your branding, hosting and domain registration, and more.
A Top Gold Coast Web Designer in Australia.
Being ranked as among OneFlare's Top Gold Coast Web Designer in Australia is an affirmation of our passion to help our clients find a quality Website and Digital Marketing Team. We provide our clients the support they need, and aim to take away their design frustration by offering a holistic approach to Web Design and Marketing.
Supporting the Local Gold Coast Community
Accentuate brings to the table the necessary services a business needs to be successful in the online space, and we are proud to say that we guarantee customer satisfaction. Our agency is the place to go if you are looking for expert web design services on the Gold Coast!
When you work with an agency based locally, you're assured of having access to various resources and business connections that can help meet your needs. A local web designer is also well versed in the needs of the local market, which means we will be able to create a website that meets the preferences of your target market.
With our years of experience, we can support you best by offering you the most effective online marketing approach. 
Difference in Design
Accentuate does not use cookie-cutter web design templates to create your website. Being the source of the first impression of your company, we create custom designed websites to give your prospects a stellar first impression.
A uniquely designed website eliminates the limitations brought forth by using templates. You enjoy a website specifically tailored for your audience and created for your business, brand, or product.
Having a custom designed website also means that the design we come up with is uniquely your own and is used only on your site. This way, we can help you further by reinforcing and perfecting your brand identity and enhancing your online presence.
Clients Mean Everything
Connecting with the right clients and building relationships with them is the lifeblood of any business. Putting it plainly, any business that doesn't attract any clients will not survive or operate for long. 
For us, the help of OneFlare has broadened our client base and their great work matched us with the right clients. We are more than happy to support our clients and get favourable reviews from them, which signifies to us that we have another satisfied customer!
Being cited as one of the Top Web Designers in the Gold Coast by OneFlare, means to us that we have established a strong sense of trust with clients OneFlare connected us with. We have no doubt that we only have the best interest of our clients in mind.
In the same way, we tend to rely on a close friend, they can count on us to be there to support them and see them succeed. They are the reason we do what we do. The trust we built with our long term clients is a testament to how we help businesses accomplish their goals through Web Design and Digital Marketing.
When it comes to helping our clients, our team at Accentuate find it essential to be good listeners and truly understand what they need. This, so we can work abreast to build a strategy that will help them achieve those goals.
We don't just build good-looking websites. We ensure that it will help you create leads and make sales to generate income. Our team can help you create the perfect digital presence, Search Engine Optimised, and be found in search engines.
Accentuate Web Design and Marketing's talented web design team will work with you to match your vision for your site. And with our project management and marketing team also behind you, we can help you perfect your branding. Clients matched with us by OneFlare can attest to how well we can be of great help to you and your business.