You have an online business with a website or storefront, to make it work for you, one of the main goals your website needs to be of significant success is to increase conversions and generate sales. But why is it that you end up Googling, "why is my website not making any conversions?" If you feel like you've done everything right, yet, why is your website still nowhere to be seen in Google's search results?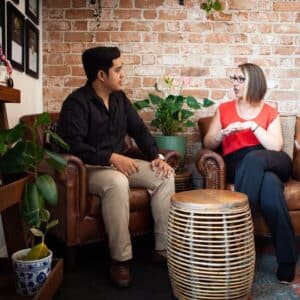 These are valid and legitimate questions for any business owner, and the answers can make or break your online business. The good news is, there are easy fixes.
You've come to the right place if you're looking for answers as to why your website isn't converting, or if you want to know how you can increase your website conversions.
The goal of any website is to help you be visible online. In today's market, being visible isn't so much about telling people whether you can do certain things, but more on how well you do them. It is important to keep in mind that when you type in Google, expecting to see your website in the search results, fact is, Google shows a page on your website.
Similar to putting out forest fires, building rockets, buildings, roads and bridges, or even hitting the high notes, there are things that are best left to professionals. The same goes for paid search marketing.
Accentuate Web Design and Marketing's team are Google Marketing Certified. Our team can help set up and manage your account with solid results focused reporting and tracking. With Google Ads, we can deploy a pay-per-click strategy in order to get your ads in front of your customers much quicker. 
Google Ads is a powerful platform for driving online advertising campaigns and generating business growth. However, managing Google Ads effectively requires expertise and knowledge of the platform's intricate features and best practices.
To maximise your advertising ROI and achieve your marketing goals, it's crucial to work with our skilled Google Ads experts. Our team can manage your Google Ads Account and help build a strategy that can outperform your competitors.
What is Google Advertising?
Google Ads, is an online advertising system developed by Google. It allows businesses and individuals to create and display ads on Google's search engine results pages, partner websites, and other Google-owned platforms such as YouTube.
Google Advertising operates on a pay-per-click (PPC) model, where advertisers bid on keywords relevant to their products or services to display their ads to a targeted audience. Advertisers can create text-based, image-based, or video-based ads and set a budget for their campaigns.
Google Advertising offers various targeting options and analytics tools to help advertisers track the performance of their ads and optimise their campaigns. Through Google Ads, you will be able to create online ads to reach people exactly when they're interested in products and services that you offer.
Google Ads is a product that you can use to promote your business, help sell products or services, create awareness, and increase traffic to your website. They are managed online, which makes it easy to create and change your ad campaign at any given time, including ad texts, settings, and budget.
There is no minimum adverting spend, and you set and control your own budget. You get to choose where your ads appear, set a budget that works for you, and quickly measure the impact of your ads.
How Can Google Ads Help Grow Your Business?
Think of the last time you wanted to purchase an item but have no idea where to find it. If you're like many shoppers today, you'd most likely start your search by going online. A quick Google Search would most likely result in exactly what you need.
If you're still on the fence about using Google Ads for your business? Google Ads can help your business grow in several ways, consider the following benefits that can help advance your business goals:
1.  Generate more traffic, brand awareness, and visibility.
Google Ads allows your business to appear at the top of search engine results pages (SERPs) when users search for relevant keywords. This increases your brand's visibility and exposes your business to a larger audience.
Even if you acquire an initial view or click but don't convert to a sale, it can still amplify your brand name and message. Google Ads is also one of the best tools for lead generation and conversions. With a well-designed ad, it can drive targeted traffic to your website, signup form, or any other online resource.
With continuous refinement, you can ensure people who want to buy your products or services are sent to your website through this platform.
Google Ads can increase traffic to your website. People are more likely to click on Google Paid Ads than on any other search engine.
2.  Targeted Audience.
Google Ads lets you target demographics, location, language, interests, search history, and even device type, ensuring that your ads reach the right audience. This targeting method helps you connect with customers who may be interested in your offering.
You can find the best keywords and target prospects based on different optimisation options. The idea is that your customers will get the information they need at the exact moment they need it thanks to your Google Ads. 
3.  Cost-effective.
With Google Ads PPC advertising, you only pay when someone clicks on your ad, hence the name Pay Per Click. This type of payment makes sure that you invest in leads and customers that can make it an economic solution. You are in control of your budget and can set daily limits to manage your spending.
With Google Ads, you pay only for what you use, it has no minimum spending requirement. You get to choose how much you want to spend, when you want to spend, and what you want to spend on. This framework alone will help reduce your costs.
With the lack of hidden fees, it makes it easy to cap your budget and immediately stop spending once you reach your projected ad spend. Google Ads uses automation, this helps you optimise your spending. Google's AI can help you in sticking to your budget and can also help you budget better.
With PPC Google Ads and advanced targeting, your ad will show only qualified leads, and you will only be charged when a customer can visit your landing page. This avoids wasting money and showing your ad to people who aren't interested, which paves the way for better return on investment (ROI).
4.  Measurable Results.
Google Ads offers comprehensive monitoring and reporting tools, allowing you to measure the effectiveness of your campaigns. You can analyse key metrics such as clicks, impressions, conversions, and ROI.
Google Ads comes with powerful tracking tools, allowing you to see and understand which keywords and demographics are converting into clicks, traffic and sales. This data allows you to optimise your advertising, make smart decisions and adjust your marketing strategy.
The data you extract from Google's collection allows you to track clicks and conversions and provides graphs that show trends over time, helping to optimise future advertising campaigns across social media.
5.  Ad Customisation.
You can create engaging and customised ads that match your marketing goals. Google Ads offers different types of ads, including text ads, display ads, video ads, and shopping ads. You can try different styles and optimise your ad content to increase its impact.
With Google Ads, you can easily design campaigns based on your business needs. You can improve and lower your marketing efforts. You can plan a unique mix of digital media and add the best content to reach your customers.
You can even partner with Accentuate's Google Ads experts to help you plan and execute your campaigns with our one-on-one consultations and recommendations. Google Ads Customisation possibilities are truly endless and is key, as no two customers are exactly alike.
6.  Remarketing Opportunities.
Google Ads also offers marketing strategies, allowing you to interact with users who have already visited your website or interacted with your brand. This feature helps you stay ahead of the curve and encourages repeat visits or conversions.
You do pay extra for retargeting, but it really does work to increase sales. Think about it… People are interested enough to come and visit your site. They may see you again and again – while your business is still on their mind.
Re-connect with users who have previously visited your website but did not convert. Show them tailored ads to remind them of your products or services and encourage them to return and complete the conversion.
5 Steps to Finding the Right Google Ads Supplier for Your Business.
As discussed, Google Ads is a powerful platform for creating online ads and generating business growth. However, managing Google Ads effectively requires skill and understanding of the platform's complex features and best practices. To maximise your return on ad spend and achieve your marketing goals, it's important to work with a Google ad expert. We'll cover five important tips to help you find the right Google Ads expert for your business.
1.  Identify your business needs and goals.
Before you begin your search in looking for a Google Ads supplier, you must clearly define your business's needs and goals. Determine your target audience, advertising budget, and your desired outcomes. This helps you in narrowing down potential suppliers who align to your specific requirements.
2.  Research potential Google Ads Suppliers.
Begin by conducting a thorough research to identify potential Google Ads Suppliers. Utilise online directories, search engines, and industry forums to find reputable suppliers with a strong track record. Pay close attention to their experience and expertise. Check their client testimonials and case studies for you to be able to gauge their capabilities and effectiveness.
3.  Evaluate their Specialisation and Expertise.
Explore the skills and specialities that each Google Ads supplier can bring. Consider their knowledge of Google Ads, familiarity with your industry, and their ability to tailor strategies specific to your business goals. Look for suppliers who have experience running campaigns similar to what you envision for your business.
4.  Request for proposals and references.
Contact selected vendors and request for proposals outlining how they manage Google Ads advertising. Ask for references from their current or past clients to gain insight into their performance and customer satisfaction. This step will help you evaluate their work, communication skills and ability to get results.
5.  Conduct interviews and make your decision.
Conduct interviews with the best candidates to determine if they are a good fit for your business. Ask important questions about their strategy, reporting process, communication process and how they solve problems.
Also, consider factors such as pricing, contract terms, and overall compatibility with your company's culture. After carefully reviewing all the collected information, make an informed decision and choose the Google Ads provider that is right for your business needs and goals.
Remember, the process of finding a Google Ads supplier is highly similar to hiring a new employee. It requires research, evaluation, and careful consideration to ensure a successful partnership that contributes to your business growth.
The Right Google Ads Supplier.
Accentuate Web Design and Marketing understands the importance of aligning strategies with the specific needs and goals of our clients. We take time to understand your target audience to come up with desired outcomes.
We are well-versed in Google Ads and have worked with businesses in various industries, coming up with customised strategies and approaches to managing your Google Ads campaigns.  
Overall, Accentuate stands out as a reliable and competent Google Ads supplier. We have the expertise, experience, and ability to tailor our services to meet the unique needs and goals of your business. Our track record, positive client testimonials, makes us a strong candidate for your consideration.