When it comes to branding, one thing that is key to its success is consistency. Brand guidelines are defined rules and standards that communicate how your brand should be represented to the outside world.
Brand guidelines ensure that businesses remain consistent and demonstrate what the company is, what it does, and what it stands for. Think of it as a clearly defined 'rule book' that centralises the overall look, tone, and feel of your brand identity.
To achieve a killer brand consistency and visibility, it is pertinent to start creating brand identity guidelines.
Brand guidelines should include:
There are no strict rules or formula to follow in creating brand guidelines. But the elements below are most frequently used and included in creating one. Other elements may be added depending on your needs on how best to give representation to your brand.
All pertinent information about your brand's history, its mission, values, and its vision.

Comprehensive guideline on your brand's logo usage. This should include:
Colour palette

File format/s

Minimum and maximum sizes

Contexts

Spacing

Usage permissions where it details where it should and shouldn't appear.
Defined colour palette which specifies its RGB and CMYK codes.

Font types and text sizes, both for printed and digital form.

Tone of voice and grammar usage rules.

Design elements to be used that include:
The imagery

Photography

Icons
Letterhead and business card designs.
Read on to learn more how you can go about implementing these elements.
Building a Brand Identity
Your brand identity is more than just your company logo, the typeface (fonts) you use, or even your colour palette. It is composed of all the elements you define that work together cohesively to create an image and experience that can easily identify or associate with your business or organisation.
A solid brand identity helps in establishing an easily recognisable presence that builds and contributes in enhancing your relationships with your customers, employees, and other key players, including your audiences.
The consistent implementation of your brand identity is vital in shaping the perceptions of your key audiences about your brand.
How to Create Effective Brand Guidelines
To start things off, we have outlined some steps below that will help in elevating the perception of your customers when it comes to your brand.
Step 1: Set Specific Goals for Your Brand Identity Guidelines
The importance of this step is for you to remain consistent and maintain it to protect your brand. Specific goals for your guidelines are the first step towards the creation of a strong branding identity.
Step 2: Define who your users are
Different people may view, interact, or even promote your brand at any given day. Your audience may consist of anyone who represents your brand in different ways. They may either be working for the business (employees), working with the business (partners and agencies), or even avid advocates for your brand. It can be a pretty large group.
Before diving in deep into developing your branding guidelines, ensure you have a clear idea of whom these users are. Doing so helps you mould your guidelines better to meet their needs.
Step 3: Choose a Format
Brand guidelines may come in many formats. It is therefore vital to choose a format that best suits your brand, or one that makes more sense for your users.
Discuss these in depth with your team early in the development process, and work diligently to develop a brand guideline experience that your users can easily navigate.
In today's digital society, many modern brand identity guidelines are available online. These resources increase the chance of your brand being represented correctly. So, you and your team must decide if you would want your brand identity guidelines to be published in PDF, on your website? Will you make it publicly available or only to a select few?
Regardless of which format you choose, ensure that your brand guidelines are easily accessible, easy to understand, and more importantly, up to date and accurate.
Step 4: Clearly Specify the Contents of Your Brand Guidelines
This can be considered the fun part in creating your brand guidelines. You and your team get to brainstorm in deciding upon various brand elements you want included in your brand identity guidelines. 
Step 5: Define Specific Usage Rules
Just as important in communicating how your brand should best be used, is communicating how not to use your brand. Usage rules prevent improper type treatment, logo, and colour usage, and more importantly, messaging guidelines.
Step 6: Gather all Necessary Identity Elements
Once you have clearly defined what you want to include in your brand identity guidelines, including those who you want to share these guidelines with, it's time to start roping in the element you have defined.
Whoever oversees gathering or developing these assets should ensure to gather all variations of all necessary components. Collect all logo variations, typefaces, photography, personas, and all pertinent elements you have outlined for use in your brand guide and make sure your team has access to them.
Step 7: Assemble Your Guidelines
Now that you have the various elements of your brand identity, it is time to begin assembling them all in one comprehensive guide. Note that all brands are in a constant state of evolution, so your brand identity guidelines must regularly evolve with the times as well.
Performing regular audits of your brand identity guidelines ensures that you remain in line with any recent or last-minute changes you've made to your brand. Ensure that whatever format you choose to house your brand identity guidelines allows for evolution too.
Step 8: Conduct Brand Training Regularly
It is not enough to simply hand your brand guide to someone. Teaching those who use your brand helps in instilling consistency and adhering to your established brand guidelines. This can be done internally, as well as including outside partners who use your brand.  
That said, brand training should also cover the thinking behind your brand identity. Both internal and external stakeholders will take a more active role in maintaining your brand's identity if they understand the WHY behind it.
Step 9: Distribute Guidelines to Your Audience
Making your brand identity guidelines easily accessible is step one. Distributing your brand identity guidelines to appropriate audiences will establish a process for ongoing communication and the distribution of any brand updates.
Do consider establishing regular check-ins where users, stakeholders, and implementers can ask questions about how to maintain your brand identity.
Make it Simple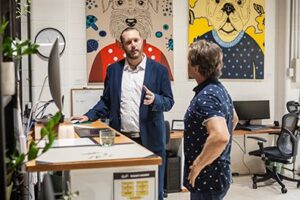 Although most businesses and organisations have brand guidelines in place, only a small percentage of them consistently enforce their guidelines.
We reiterate that brand identity guidelines play a distinct role in building and protecting your brand. With a killer brand guideline in place, the foundation for your business or organisation is enhanced to continue building your brand.
Get ahead and start developing your brand guidelines with Accentuate Web Design and Marketing. We can help you in the creation of beautiful and consistent branding for your business.