Accentuate Web Design and Marketing is a local Australian business that passionately built and designed websites for our clients since 2007. Our team is the brainchild of our Founder and CEO, Eden Brownlee, who, himself, is a passionate Web Designer and Digital Marketing Professional.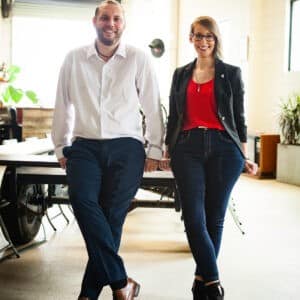 Eden and his team keep a strong focus on helping customers by alleviating the frustration of looking for a quality Website and Digital Marketing Team. Our team builds unique websites for our clients with a holistic approach focused on meeting your business goals.
At Accentuate Web Design and Marketing, our passion is to provide our customers with the best service possible, we have a handpicked team hired based on skill. Skilled as they may be, we didn't stop there.
To be able to provide you with the best service possible, our team continuously works hard to improve our skill levels by learning from industry leaders. Additionally, we partner with them to gain additional insider knowledge to be able to support you better.
What is the Advantage of Being a Certified Partner
Having an industry certification verifies a certain level of expertise. Certifications are conferred when you have passed and proven that you have obtained specific knowledge and abilities.
Alongside being certified, you may also be granted a privileged relationship with the industry authority. This relationship can include early product updates, technical support, access to special forums, and other perks that will enable our team to perform at a higher level.
Our Certifications and What It Means to You
Our team at Accentuate are skilled and do know what they are doing. Alongside our refined process, it has helped us achieve a 100% satisfaction rate with our clients. A certification is only icing on our cake, and they are a validation that we have the skills needed to succeed – for you.
For example, our Google-certified team members can use Google's advanced features effectively and more efficiently. The same goes for our other certified team members who help improve the productivity of our team projects.
Our certified team knows the importance of adhering to certain professional standards. With this, we can assure you that we can meet industry benchmarks and count on our work to provide you with a higher and more consistent quality. Shamelessly, we declare, that peace of mind is worth investing in.
Our Industry Partners
Certificated Google Partner
Not a lot of people fully grasp how Google Ads works. It is primarily a program that digital marketers can use for pay-per-click (PPC) advertising. This is a great method to draw in leads and conversions for your business.
For clients who want to get the most out of their advertising budgets, Google advises working with a Google Partner agency. You only get the best of the best when you partner with a digital marketing company that is a certified Google Partner.
As a certified MailChimp Partner, you can put your worries at ease. MailChimp has three certification programs namely: MailChimp Foundations, Email Automation, and Email Marketing.
When you hire a MailChimp-certified agency, you can be assured you will be hiring professionals with loads of experience. Being partners, we get priority marketing support, including expediting any troubleshooting.
Certified Klaviyo Partner
Klaviyo is a tool that assists in streamlining digital marketing processes. It allows a business owner to store all pertinent customer data in one place that will be used in creating campaigns. The program is also used for EDMs, reporting and other marketing campaigns.
As a Klaviyo Partner, this means we can assist you better as experts in this marketing tool. We can provide strategic guidance and industry expertise to help you grow and achieve your marketing goals.
Pipedrive is a deal-driven relationship management (CRM) solution. It also functions as an account management tool. It also assists in marketing and keeping tabs on the entire marketing process, including tracking and organising calls and emails. Additionally, it synchronises schedules across all devices, making sure you're always in the loop.
Being a Pipedrive Partner, we are experts in using the tool to tweak your product or service to get the word out. This also means that there will be a lot to keep track of. With Pipedrive, we can assist in keeping everything in tune within your organisation and within the market and industry you operate.
Certified ClickUp Partner
ClickUp is a user-friendly cloud-based project management and collaboration platform. It keeps track of communication, task assignments and their statuses, collaboration tools, and more. ClickUp also allows you to create rich-text Docs for your reports, strategies, marketing plans, etc. and store them all in one place, allowing you to edit and collaborate with team members in real time.
As ClickUp Partners, we can help you streamline your onboarding processes, and project management, with an all-in-one productivity platform that tracks everything from project planning to project completion.
Certified Airtable Partner
Airtable is a relational database tool that also functions as an online collaboration tool. It is used to manage work, plan events, track and organise inventories, and more.
As an example, we use Airtable to manage content for your site whether they be blogs, social media posts, and more. As a certified Airtable Partner, we can guide and assign our team to each planning, task, and process in the creation of your marketing assets.
Process Street is what we use to create process workflows not only for onboarding but how we create processes that you require to accomplish tasks for you. It simplifies the way for our team to handle recurring tasks and processes, as well as setting up new clients.
Process Street, liberates you from tedious, confusing, and process documents by switching to powerful automation. By building strong processes, we initiate increased productivity, save you money, and ultimately promote business growth.
Certified Acuity Partner
With Acuity, individuals and small to midsize companies can easily schedule appointments via the cloud. Clients self-schedule their appointments based on their availability and preferences. It integrates with a wide range of business apps and allows you to collect payments, send automated email reminders, and follow up on leads.
As Acuity Partners, It saves time for you, your employees, and your clients to schedule and manage appointments.
To know what more we can do for you, check us out, and let us help you reach your business goals.