After two years of border closures, lockdowns, and bleak peak periods, the reopening of Queensland's borders has breathed life into the embattled business and tourism industry. It has been a slow start, but businesses are coming back alive again since COVID in the Sunshine State.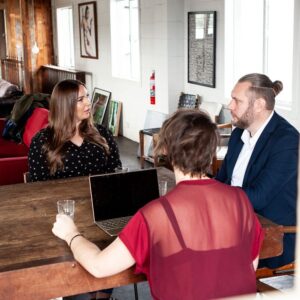 Our Gold Coast-based web design team, Accentuate Web Design and Marketing, couldn't be more excited about these developments. We're certainly not back at pre-COVID levels, but we can certainly see and feel we are heading in the right direction.
After a couple of years of hardship and the eroded confidence among local businesses, there are now positives to look forward to. Demand for the Gold Coast is at highs that we haven't seen for quite a while. One silver lining, the tourism industry noted, is that there is now a pent-up desire for people to travel to the Gold Coast.
While the confusion of COVID restrictions has passed, 2023 brings in a mix of still ongoing challenges and renewed opportunities. It's an advantage for people and businesses alike to enjoy in Queensland and New South Wales.
One area of interest is the upswing in the local tourism industry, which is beginning to think a bit harder about marketing its products and offering new experiences for its clientele. Accordingly, the summer holidays have been the best for businesses in three years, with overall spending for local businesses registering strong returns.
A healthy tourism industry has a cascading effect on other businesses that cater to the needs of both local and foreign tourists. This means that businesses that can be found online have a greater chance of being patronised than those without any online presence. For these Gold Coast businesses to succeed and thrive, they need to adapt and transform – fast.
The Digital Transformation of Business
We are going through one of the most significant historical changes ever experienced in the last century. Old businesses must change, and new businesses are expected to emerge. We at Accentuate have already seen a shift in our client's move to adapt as a response to the pandemic, with business models across many industries changing.
Digital transformation is now fairly advanced and at the helm of Australia's priorities since 2021. Many organisations have now transformed their businesses over the last two years when COVID forced companies to take radical steps to embrace technology advancements to survive.
For businesses, accelerating their digital transformation journeys is now a top priority to ensure business continuity, improve productivity, and launch new business models to remain competitive.

The impact brought about by COVID caused companies to embrace technology-enabled on-demand workforce models and platforms. Companies needed to learn and understand how to engage and retain on-demand talents with improved People Management programs, tools, and strategies to create value for an on-demand workforce.
Today, it is part of the new norm for businesses to work remotely. Digital transformation and digital technology have gone from 'nice to have' to a necessary way to get work done. 
Remote working arrangements shifted working patterns. New norms were established for these working conditions, redefining work life and personal life boundaries. A business working practice we at Accentuate have already been doing with success for years, even before the advent of COVID.

We have to point out that digital transformation is not only for big businesses and enterprises. Even small businesses can benefit if they adapt and transform their businesses to function and be found in the digital space.

A 2020 Small Business Digital Transformation Survey, conducted by Cisco, found that small businesses that are already ahead with digital transformation saw eight times the revenue growth than those that had no digital efforts.
The Importance of a Unique Website
With digital transformation, it does not just mean for small to enterprise-sized businesses to move part of their business to the cloud. There are steps you need to take and design frameworks to consider for digital transformation.
You might need the services of a consulting service to come up with new business strategies to successfully adapt to the change. You might ask, is it worth it? The answer is yes indeed.
It is high time to rethink old operating business models to adapt and become more agile to respond to your customer's needs and compete with your rivals. Believe us, they too have to adapt to remain competitive, if you don't, they more than likely will, or already have.
The first thing to consider is to have a website. If your business already has one, perhaps it is also high time to update it to showcase your business even more. A website is a window to what you can offer your customers. It is a place where they can learn more about who you are, your core values, your services, and your products.
More importantly, you'd want your website to have your target audience convert to buy your products or engage your services. To know more about the importance of having a converting website, check out The Importance of Having a Converting Website.
There is plenty of competition out there, regardless of the industry you are in. This means you need to stand out from the crowd. The best way to accomplish this is to have a unique and custom-designed website specific to your brand. 
Now that you understand why you need a unique website design, it's time to take action. Figure out the goals you want to achieve for your website and how you can provide value to your audience.
Once you have that laid out, you can then work with a Gold Coast Web Designer to bring that vision to life. Soon, you will be reaping the benefits only a unique web design can bring to your business. Take note of the following advantages of having a unique and responsive web design:
Cookie-cutter web design templates don't make the cut.
Yes, it is convenient, economical, and easy to create a website using off-the-shelf templates. The drawback is, that your website will look generic, and chances are it'll have "fraternal twins" in looks and functionality with other websites out there.
The fact is, customers are used to seeing these generic websites built from templates that they can no longer distinguish and pick what's different out of the crowd. A unique website is going to stand out and make your customers engage with your services or buy your products.
A unique website is designed to fit your needs.
If you have a particular target audience that you want to appeal to, a unique website is a great way to ensure you appeal to them. A cookie-cutter website offers so little customisation than a uniquely designed one.
Think about the various businesses you've found online. Which of them left a great impression on you? Chances are, those businesses put the most effort into creating and maintaining a great digital presence.
It is also highly likely that their website is easy to use, creates a sense of trust, and their unique web design makes their businesses stand out and offer unique experiences. As a business owner, you can't afford to miss out on opportunities that a unique website design can bring to your business.
Having a custom-designed website means that you can have it designed by your choice web design and development agency to appeal to those you want to attract, be that be centred on your Gold Coast community or beyond.
Convey your vision and brand identity.
There is a strong chance that you have worked hard to create a strong brand identity and messaging for your business. The last thing you want is to lose that vision on your website. 
A unique website means that you will be able to communicate exactly what it is you want to convey in your marketing and brand message to your target market. Thus, you are assured that your brand identity and messaging are at the forefront of your website.
A custom website and improved marketing strategy. 
If all that we discussed leaves you in woe that you are falling behind, fear not. Though it may be true that your competitors are ahead of the game, not all of them have solid strategies or are yet to see the results of their strategies bear fruit.
Acquiring the services of a web design and marketing agency on the Gold Coast is your best bet to catch up with those at the forefront of the race. Your business's digital transformation, beginning with your uniquely designed website and holistic digital marketing plan/strategy, will complement and align with your customer demands, and be resilient in the fast-moving digital future.
The good news is, that you can have this done by web design and marketing experts who live, breathe, and love the Gold Coast as much as you. With our help as a professional web design and marketing company, you can soon be on your way to having a website that is just perfect for what you need to compliment your brand and attract customers.