Websites are now an essential part of any business, and without one, can hamper businesses from keeping their existing customers and gaining new ones. A website designed by a local web design agency helps in keeping your website functional, effective, and up-to-date, vital for your business performing at its best.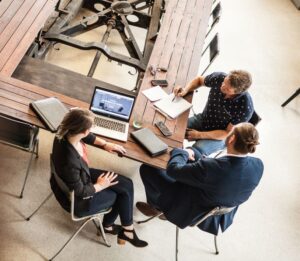 However, building an effective website requires a seamless integration of design and marketing concepts, which can be quite challenging for anyone without experience or the technical know-how. If you are thinking of building a website or contemplating on having your existing website redesigned, consider working with a reputable local web design agency, like Accentuate Web Design and Marketing. 
The internet is continually evolving at such a rapid pace. Along with this rapid evolution brings to the forefront the importance of having an online presence through a well-designed and responsive website, such as one developed by Accentuate Web Design and Marketing.
We just don't build websites that are good to look at, we ensure that your new site is search engine optimised. Why? We want your website to be found, create leads, make sales, and ultimately generate income for your business.
From website traffic to mobile usage, your locally designed website plays a crucial role to help you stay up to date on the latest trends in the online world.
With more than a billion websites around the world, it is still quite a challenge to be found online, even though only 18 percent of these total websites are active. A well-designed website can make a notable difference, regardless of your industry and/or company size.
Why Hire a Web Design Agency?
Before we dive deeper, let's define what a web design agency is. A web design agency is a specialised company whose principal function is designing and creating websites for their clients.
A good web design agency has a team of experienced designers and web developers who are capable of creating custom websites that meet the specific needs and requirements of their clients.
In addition to developing and designing websites, a web design agency can also offer other online related services such as search engine optimisation (SEO), hosting and domain registration. At Accentuate, we are also a digital marketing agency, which means we can also offer digital marketing services to our clients such as social media management, content creation, email marketing, graphic design and branding, pay-per-click management, and more.
As a leading Australian Web Development and Marketing Company, we pride ourselves on our years of industry experience with 100 percent customer satisfaction.
When you partner with a web design agency, you have a team of specialists behind your back to handle every aspect of your project. Working with professional web designers and developers ensures that their work complements the look and feel of your brand and meets the needs of your customers.
The Benefits of Hiring an Australian Web Design Agency.
The right web design agency will be able to create a custom website that meets your unique needs and goals. In addition, they can help you promote your website and make it more visible in search results.
1.  Credibility
Australian businesses come with good workplace standards and the same Australian business regulations you follow. Intellectual property protection in Australia is strong, and it extends to a very wide variety of areas. 
2.  We understand your service/product offering and your consumers' needs.
We employ multiple team members of technical and creatives that will be available to collaborate with you on your project. Share your ideas and work in collaboration with our team. Doing so will help in overcoming creative blocks, making it easy for the designers to work efficiently and faster.
3.  We speak your language.
A local web agency speaks the same language as you. This makes it easier for us to understand one another, especially during the design process. We can even have a bit of fun by throwing in Aussie slang. Conversing in another language can lead to confusions that lengthen the general time needed to complete a project.
4.  We work during normal hours.
A local company allows you to schedule online meetings during business hours or physical meetings should there be a need for you to express your requirements face to face or in real-time.
Working within local working hours and proximity ensures that you can easily contact them through multiple avenues when staying in touch, as opposed to working with designers on a different location and time zone.
5.  We are Australian business owners – just like you.
As local Australian business owners, we are better equipped to understand how specific audiences in our region work. Local presence means we know what approach should be applied and implemented to attract local traffic of a certain locale. As such, we can even offer you ideas on how best to enhance your website's following through a variety of different online strategies.
BONUS:
6.  Reliable Support Systems and Cost-Effectiveness.
Working with a local web agency means you get to work with and have a support system close to your base of operations. This ensures that no delays are experienced in the delivery of customer service solutions in a shorter time as compared to providers based overseas.
In many cases, a local web agency is more affordable as they don't have to factor in any international deliveries with their services. Additionally, they also offer their pricing in the local currency, which makes the overall cost relatively cheaper than using other alternatives.
In summary
The first thing you have to consider when developing or redesigning a website is which company/agency will help you achieve your business objective. Draw in more visitors, generate leads, and convert customers. Hiring an Australian Web Design Agency certainly has its advantages.
With over 16 years of experience on Gold Coast Web Design, we at Accentuate Web Design and Marketing offer our clients unparalleled web development and digital marketing services. Not only will you impress your customers, but we can help you generate leads, make more sales, and enhance your online presence.
Our team, from idea development to execution, work with diligence throughout the entire process. Learn more About Us and our incredible team.
We'd love to hear from you. Get in touch by contacting us today.