Regardless of the size of the organisation, or whether it's an e-commerce or service-based business, your marketing and sales departments play a critical role in its success. In order to fulfil the needs of potential customers, marketing and sales play a unique and important role in bridging the gap between what your customers need and the products/services that your organisation offers.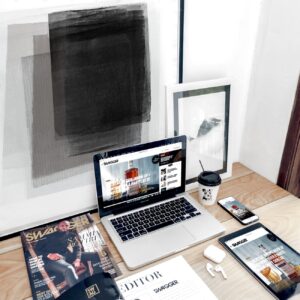 The marketing and sales process is one of the most essential components of building loyalty between a business and its customers. Your product or service is most likely to be recommended to a friend or family member when a customer feels trust and loyalty.
High conversion rates hold a great importance for any website because it can potentially generate higher sales that will directly add to your overall revenue generation. This is part of what we do at Accentuate Web Design and Marketing. Our digital marketing experts can help you achieve your business goals online.
Before we dive in deeper into detailing the importance of conversions for any website, it is basic to understand that conversion can be defined as the point at which you can make a recipient of a marketing message perform a desired action.
In essence, a conversion is simply getting someone to respond to your call-to-action. This could be actions such as: opening an email, requesting a demo, or signing up for a newsletter amongst other things.
Nowadays, unique visitors are becoming more well-informed shoppers, and converting them to repeat customers requires the right conversion strategies. An effective conversion marketing strategy involves a long-term approach, not a quick fix.
In spite of the dramatic increase in internet traffic over the past decade, conversion rates have not increased all that much. Many believe it is more beneficial and cost-effective to convert existing visitors than to find new ones, so many businesses prefer to look to optimise the conversions of their existing visitors rather than spend time and resources to find new ones.
What does a Converting Website Mean?
Simply put, a website conversion happens when you successfully guide a visitor or user to complete an action or actions on your website. It can be as simple getting them to:
Fill-out a form

Signing up for newsletters or asking for more information

Sharing your content

Clicking a specific button on your page

Making a sale, and more.
Website conversions are determined by which actions you specify that fit your campaign goals the best. Conversion types do vary amongst various business types.
Earning sales from conversions are more likely the focus of e-commerce sites. While service sites may place their concentration on generating leads as conversions.
Regardless if a business is e-commerce or service-based, conversions and conversion rates are important for businesses. When talking about conversion rate, it is almost always attributed to a sales funnel or a customer journey.
Customer journeys and sales funnels describe the same customer buying process, but from opposite perspectives. A 'Sales Funnel' refers to an internal, goal-oriented, sales-centric perspective. "Customer Journey" represents the entire buying process from the buyer's perspective.
From the customer's point of view, their buying process usually begins with self-guided online research that hopefully ends with a sale.
A "Customer Journey" begins the moment a customer clicks on your company's website. It spans the entire customer relationship with your organisation and the market. They are 'on a journey' that can ideally end in a service engagement or a sale.
Customers are more likely to purchase from a business if their experience is straightforward, enriching, professional, and pleasant. The customer journey that sales and marketing teams promote must be scrutinised, constantly refined and improved to optimise conversion. Your organisation's interactions, emails, documents, media, events, social media interactions, etc. all contribute to the journey.
The Sales Funnel and Customer Journey
The stages in your "sales funnel" correspond directly to the points in your "customer journey," but hopefully you can see the stark differences in perspective. It will take planning, patience, practice, and precision to be able to execute this automatically.
The more adaptive and/or fluid you are in meeting customer demand and expectations, the better you will be able to pinpoint when, who, how to focus on growth/conversion targets and your ability to make your business flourish. Keeping pace with your customers throughout their journey comes across how mature your organisation is, that you understand what they need, and your intent to build a lasting relationship with them.
Website conversion is an essential factor in any type of marketing strategy. Getting users to do what you want them to do is a necessity to achieve your overall business goals.
In a sense, the customer journey is a more detailed depiction of your sales funnel on how you take people to move along each stage from awareness to conversion. These stages are:
Awareness

Consideration

Conversion

Loyalty

Advocacy
5 Examples of a Conversion
There are different types of conversion depending on what goal you're trying to accomplish, namely:
Purchase through a website –

Focus on what happens before the conversion by improving the user experience.

Appointment booking –

Use tracking data to see where you stand. See if you have implemented recent changes that made a difference on your conversion rate, either positive or negative.

Quote request –

While sending a quote to a potential customer, you must include a specific call-to action to increase the chances of getting a response.

Contact enquiry –

Contact forms should be appealing and familiar. The fields you use must be clear and easy to understand. In addition, the size of the fields should match the expected length of the answer.

Newsletter subscription –

Establish processes to monitor this. This is good for measuring content performance, content messaging and key site actions. 
A conversion is not limited to one type of action, it can be any that your company has previously defined and aimed to gain benefit from. Regardless of your goal, a way to increase website conversions is having the right call-to-action (CTA) on your site.
The right CTAs will tell your audience how to proceed and what they can expect to happen next. Ensure that your audience will have no problems in locating your CTAs, whether you present them as hyperlinks or buttons on your page.
PRO TIP: Regardless of conversion type listed above you employ, if your goal is to increase website conversions, you need to make it easy for your audience to convert. Don't overcomplicate your process with too many steps or by asking for irrelevant information. The simpler, the better, and the more likely they'll act, thus improving your conversion rate.
Turn Your Website into a Converting One, Today
Knowing your conversion rates can tell you a lot about how well your website is performing, and how well you are able to push your products and/or services.
To convert visitors, you need to know and understand what they want and what they care about. In particular, get to know what drove them to your website and/or your services/product in the first place by setting up an on-site survey on your high-traffic page/s.
You may also identify which barriers they encounter that stops them from converting. Furthermore, set up a post-purchase survey to help you find out what persuaded them to convert and/or what almost stopped them from converting in the first place.
 Now that you know the importance of a Converting Website, you can begin analysing and improving your conversion rate to help your business grow online and reach more leads.
In Conclusion
If you are looking to develop or upgrade your website into one that converts your customers, it's time to get in touch with our Accentuate Team by clicking here. Contact us and learn how we can give you the support you need in generating more conversions from your website today.