Creating a memorable experience with your customers and standing out from your competition can be helped by having a punchy tagline. A tagline is a two or more-word sentence that may tell your customers what your business stands for.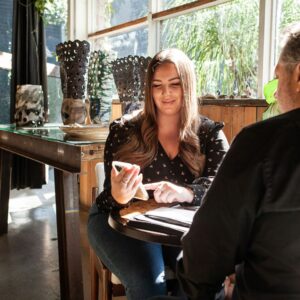 A tagline allows your business to extend a consumer's first impression beyond your logo and whatever content you put out that your audience and/or consumer comes across.
You might ask: How can I encapsulate my brand in a few words or one sentence? A legitimate question, and it is understandably challenging. But fret not; we at Accentuate Web Design and Marketing are experts in this field and aspect of digital marketing.
Our marketing experts can help point you in the right direction by providing you with digital marketing strategy sessions and branding guidelines to ensure you have the most professional and engaging online presence. We will help you reach people to pay attention to your brand, and increase awareness and engagement for your business, with our years of experience to back it up.
What is a Tagline?
A tagline is a catchphrase, in more specific terms. It summarises what your business is all about, in one line. A tagline communicates your brand identity, purpose, and business values creatively, in a way that sticks with an audience.
A tagline highlights what your business does, emphasises a specific value, relays a message, and/or clarifies your brand's mission. Think of it in terms of your brand's mission condensed in a few words.
It can be a part of your brand's identity. Nike's "Just Do It" comes to mind. This phrase is as iconic and as recognisable as The Swoosh logo the athletic apparel brand is known for.
A tagline performs a variety of functions that essentially aim to propel your brand forward. Taglines help to connect your customers with your brand and can even help in fostering brand loyalty. Companies use taglines in their marketing campaigns to create a lasting impression on consumers.

A great tagline sets the stage for everything you do as a business, from your marketing and advertising to your business's brand recognition and storytelling. Consider it as a calling card for your business – a conduit for people to recognise you and how they define you. Think of your tagline as the glue that binds your brand together.
Why is a Tagline Important?
The primary purpose of having a tagline for your business is to gain consumers' attention and create a memorable impression. When people see and hear your tagline, they get a clear idea of what you represent and your product's or service's benefits.
Having a tagline helps in differentiating your brand from your competitors. It does this by imparting your core advantage or benefits to your consumers, so they can compare over others offering similar products or services. A tagline reinforces your brand's core values and enhances your audience's view of your company's identity. They learn what you stand for and help them in deciding if your brand is one they can relate to and give them support when they read your tagline.
It forms the foundation of your brand identity and appears in many, if not most, of your marketing and advertising efforts. It is common for brands to include their taglines as part of their brand identity package, along with a logo version.
Think of the chorus of a song that gets stuck in your head. Its sound or rhythm rolls off the tongue and is instantly recognisable. If you can induce people to have the same effect with your company tagline and have no problems reverberating your company name in their heads repeatedly, then your efforts are successful.
Companies and businesses who want to see their business flourish must introduce a tagline for their brand. Having one is essential in giving character and face to your company. And we at Accentuate Web Design and Marketing can help in elevating your brand with the assistance of our highly skilled marketing team.
We have to state that having a bad tagline can do more harm than good. However, doing away with taglines altogether is a huge mistake, especially for smaller businesses that rely on online and print ads to increase brand awareness. Taglines help new businesses in taking out the guesswork on what it is they do and relay their business's message in crystal clear and explicit terms.
Tips on Creating a Business Tagline.
The best business taglines are short, specific, descriptive, and most importantly, about what can do for your customers.
So, do you need a tagline for your business? YES. A tagline is a key brand element to managing a successful brand strategy. Help your business grow by creating your own tagline and placing it in highly visible areas such as online and in print.
If you are ready to create your tagline, let us go through some steps in creating a memorable impression. Keep in mind that the better the tagline you come up with, the more customers will remember you.
1.  Keep it Short and Simple.
It's tempting to come up with a smart and complex tagline, but this can cause complications, making it difficult for people to have difficulty solidifying your tagline in mind.
HOT TIP: When selecting one, you want to make sure it feels natural. The most successful ones are phrases you already say and use when discussing your business, using words that can be said 5 times and roll out easily from your tongue.
The tagline you choose must be memorable, it doesn't have to be safe. Keep it as simple as possible. Avoid using long words when short ones will do, to get your message across in as few words as possible.
Some of the most popular taglines are also among the shortest. Case in point, Ivory Soap with their "It Floats" tagline. We're sure there are other soap brands out there that 'float', but when you hear the phrase, can you think of another brand other than Ivory? Brilliant, isn't it?
2.  Provide More Meaning.
Gone are the days of coming up with meaningless taglines to impress clients. You need a tagline that your audience will immediately understand as soon as they read it.
Avoid coming up with a tagline that leaves your audience dumbfounded, and decipher your tagline to extract what it means. Get to the point as succinctly as possible.
You must also avoid coming up with a generic tagline that can apply to many types of businesses. Create a tagline that can only apply to the type of business you run.
For example, if you run a flower shop, an apt tagline could be "Say it with flowers." You may even incorporate your business name in the tagline to make it more direct and steer your customers to your brand. The beauty is, that you can expand on this by putting meaning to each type of flower you sell and the amount of it the recipient gets.
3.  Tell a Story.
The best taglines tell a story meant to deliver your brand's promise, mission, and message, all using your brand's established voice and tone. Oh, it won't hurt to be clever, too. We know you might think that's a lot of ground to cover in just as few words as possible.
You might have surmised by now that your tagline is the quickest and most effective way to connect your audience with your brand. This begs the question, does it embody the earlier stated qualities to tell your story with clarity and conviction?
That's part of what our digital marketing experts do at Accentuate. It takes a combination of strategic thinking, creativity, and a deft wordsmith to get it right. We can help you achieve your branding objective in short order with a complement of strategic, creative, and consultative support. Let's dust off your story, and let's get verbal!
4.  Bring In the Benefits.
Consumers are swayed by benefits, not features. As such, it's going to be ideal If you can impart your business' benefits in your tagline.
Back in the day, the Finnish brand Nokia was super successful with its "Connecting People" tagline. There's a clear benefit here. You can use a Nokia phone in your hand to connect with your contacts. Meanwhile, Telstra's memorable tagline "It's How We Connect," tells a whole different story and benefit. You might have a mobile phone in your hand, but without their service, you won't be able to connect. Both taglines are simple, and yes, they work.
You can do the same for your business. What benefits can your customers expect when they patronise your business? Will their lives become easier, better, or perhaps more efficient?
5.  Aim to be Talked About.
We do like it when people talk about our businesses. While we certainly want customers to talk about our products and/or services, it's of great satisfaction if we inspire conversations in other ways.
A great tagline does this well. Marketers often mention excellence as part of their taglines, we've done so for several of our clients. It's not uncommon for consumers to share great taglines on social media, either because it's funny, memorable, or both.
It's not easy, but by working together, we can come up with different linguistic concepts to help make your tagline more shareable.
6.  Remember that Google is Your Friend.
The last thing you'd want to create is using a tagline that already exists. Not only are you infringing on another business's intellectual property, but you'll be branded as unoriginal and uncreative. Not a good start for any business.
After creating your tagline, place it in quotes and Google it. You're looking for businesses and websites in the digital sphere that use that tagline as their own. No need to panic if you find matches. This is an opportunity for you to tweak it to make it original by changing words or moving the words around.
By utilising Google, it helps in narrowing down your choices on what already exists out there.
Final Word.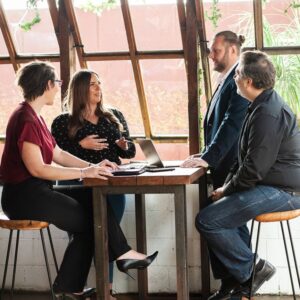 If you've been inspired to create your tagline for your business or perhaps change your current one, it pays to speak with an expert. Book a digital marketing strategy session to help you perfect your business name, market it, and make it a winner.
A tagline is just a small part of what defines your entire company. We will work with you to reinforce the idea behind your business. Our digital marketing sessions include any facet of your company's branding to keep in line with the rest of your marketing strategy. Get in touch with us today.