Having a distinct online voice helps your brand to make it easier for people to relate to, and connect with your company. Your brand's identity or "voice" is your asset that helps customers learn about your company's core values, communicate its story, its standards, and your core message.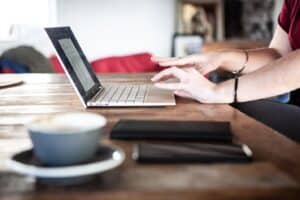 How do you do that? The first thing to put in consideration is to build a relationship with your customers. A brand needs to build a connection to establish trust in order for your relationship with your customers to flourish.
But a brand is not human, your customers are. Humanising your brand by employing your online voice and adding a level of personalisation will help your customers relate to you and connect. 
It's human nature to seek connections, and people will spend time and money on other people and businesses they know are on their side and can relate with. It is therefore imperative for businesses to look for meaningful ways to connect with their customers and leads, no matter what industry they are in.
With our years of experience in website design and development, we can create a functional and beautiful website your customers can relate to. In order to build quality and customised websites, we place a strong emphasis on design cohesiveness, SEO, call-to-actions, lead generation, and product sales.
Our design process at Accentuate Web Design and Marketing helps you cultivate your brand's personality, core values, and enhance your online presence. This is done effectively with cohesive branding in order to establish connections with your audience, increase engagement, get more conversions, sell, and build brand loyalty. 
But why is a cohesive brand presence so important? The answer is simple: It sets the tone and the first impression your potential customers get from your business. Be that by finding you through search engines, PPC ads, visiting your website, following your business on social media, or in receiving a piece of marketing collateral you send out by email.
It's of prime importance to present yourself in a professional and consistent manner, regardless of the avenue a customer takes to reach you. Through consistent and cohesive branding, you establish brand recognition, build trust, and help you in creating a loyal customer base that will eventually help you in generating your desired ROI. Forbes stated that brand consistency across all platforms can increase revenue by up to 23 percent.
To start, it's important to dissect all your assets that form your overall branding. This includes your tone of voice, graphics, colour pallets, your choice of fonts, and more. We've highlighted ways to help you create a cohesive brand presence for your business.
Step 1: Create Cohesive Branding.
You might think that branding means coming up with a cool logo with eye-catching company colours, perhaps coming up with a cool slogan or catchphrase, and you're done. But, that's not all that it takes.
It starts with creating a solid brand that will prop your business up and stand out from your competition in every way possible. A strong brand built from the ground up is crucial in developing, establishing, and maintaining a strong brand presence in the corporate world in facing fierce competition.
Your audience may see and/or encounter your brand in various places, limited only to the channels your brand exists on. Cohesive branding means you have to maintain consistency regardless of the mediums you use and channels your consumers will see your brand in.
What this means is, your brand needs to be immediately recognisable from the rest – be that in printed, broadcast, online, or in any other form or medium.
This will include:
Your logo

The fonts you use

The use of graphics, illustrations, and imagery

Your tone of voice

The colours you use

Using consistency
The use of these elements will be the foundation your customers get in setting their first impression about your brand. It's a critical factor on how consumers react and engage with your business from here on and out.
For example, when customers encounter your brand for the first time, everything will start coming into play. Your colours, logo, how your posts are responded to on social media, all makes a difference. All these elements will influence a customer's opinion of your business.
Step 2: Create a Website based on your Branding.
Brand recognition is one of the main benefits you get with cohesive branding. Now it's time to employ this and extend this quality of cohesiveness by creating a website based on your cohesive brand.
Most of us are already aware that creating a website is an essential part of any small business strategy. A branded website will:
Establish your company's online presence.

Transmit the value of your business and your brand.

Build emotional connections with your target audience.

Its look, feel, personality, usability, and the information it imparts help in drawing in prospective customers.
Think of your branded website as your business's personal profile. The combination of its colours, visuals, and strong written content, creates a cohesive picture of your brand's personality.
Steps to creating a branded website.
Now that you have an idea why creating a website based on your branding is important, here are some tips on how you can achieve branding your small business site.
1.  Define your brand.
Think of your target audience. What does your market research say about the kind of brand personality that would resonate with them the most? This trait is the human element of your brand. It's made up of a consistent set of traits and behaviours that you apply across all your brand's image and tone of voice.
2.  Focus on your brand language.
Go through on how your brand speaks to your customers. Your choice of words, your sentence structure, the voice, and tone you use. All these help in establishing your brand personality. It is critical you use these qualities in your brand voice consistently, in every piece of text, including your brand story and all written content copies, headings, CTAs, or long-form blog posts all across your website.
3.  Create branded website visuals.
The visual elements you use on your website are a way to build recognition of your brand image. This includes your logo and its design, your colour scheme, the images, and illustrations you use, and its layout. Consistent visual elements with all other assets in your website help in contributing to the way your audience perceive your brand.
Step 3: Continue your Branding throughout your Digital Marketing Activities.
One of the best ways to attract and convert leads is by branding your business website along with content and SEO. Branding your website involves making every aspect of it consistent with the personality of your brand, from your photos to your copy and blog posts.
Note that branding and marketing are different. A company's brand shows off its personality, and marketing is how you share that personality with your consumers. This is vital knowledge since the number of people who go online every day is still increasing.
Digital marketing is important for branding because it provides the avenue for you to reach customers across multiple channels and devices. This includes your SEO optimised website, social media, video marketing, and PPC advertising.
You may ask why do this? The reason why you should remain consistent and continue with your branding throughout your digital marketing is to ensure your brand has a clear and easily recognisable brand identity.
This consistency is vital in continuously meeting the standards your target audience has come to expect. If you're confused about your identity, it's a certainty your customers will be confused too. Consistency within your digital marketing is something to keep in mind when putting together your overall digital marketing strategy.
Are you ready to get started?
Check out our latest case studies and get in touch with us today and find out how we can design a beautiful website that converts and has an online presence that empowers your business to grow.