Accentuate Web Design and Marketing development team provides website development services to help businesses be found and stand out online. We have web design specialists with extensive experience in custom web design and development using streamlined systems, such as WordPress.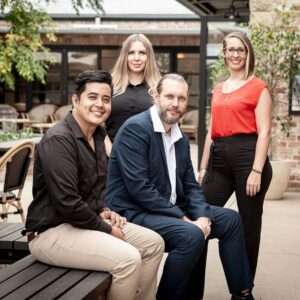 Our over 16 years of experience in web design have helped us perfect our creative process by integrating design aesthetics with functionality. With the help of our agency's designers, developers, and optimisation specialists, you can develop sales lead generation solutions that increase revenue.
Not only that, our team can also help assist with logo design, social media, and digital marketing, all in-house. Our creative methods help in enhancing your customer's shopping experience and keep them coming back for more.
What is WordPress?
WordPress is tops when it comes to popularity and flexibility. Attracting the most traffic to your website can be accomplished with the help of a correctly optimised WordPress website.
Just how popular is WordPress? According to a survey conducted by W³Techs, WordPress is used by 63.3 percent of all websites with known content management systems. This accounts for 43.2 percent of all websites. It is also one of the most popular site builders and content management systems that users can download and install for free, and much more, it is open source.
Open-source software is free to use, modify, build upon, and redistribute in any way. Its unique community which keeps building new features and plugins for it makes it the most popular content management system in use today.
Although it was originally designed to support only blogging and other related types of online publishing, its huge developer following now helps WordPress power a wide range of sites with all kinds of purposes and within all kinds of industries.
New to WordPress? The good news, its use is not limited by the skill level of its users. Even a new user not familiar with WordPress can absorb how its interface works by simply playing around the dashboard for a few minutes.  
However, if you have no time to spare, our expert WordPress designers and developers can lend you a helping hand to develop responsive web design solutions that produce real-world results for your company.
Whatever your requirements, its core package, combined with a variety of basic and premium plugins, is sure to create a suitable combination to match the requirements of your site. All in all, WordPress is highly adaptable to meet your company's needs.
How Can WordPress Support Your Serviced-Based Business?
If you are a service-based business, showcasing your services on a WordPress platform is your best bet. It has been around for years, well-supported, feature-rich, and versatile.
If you decide to outsource your website development and maintenance with us at Accentuate, we can manage the entire process, problem-free, for you. In this way, we can create a great website without you having to learn how to code or having to keep everything updated.
Being an open-source software, it gives you the flexibility to move your content between hosts with ease. A WordPress-designed and built website is not tied to the platform and gives you the freedom to migrate your content anywhere.
With service-based businesses being put up in all shapes and sizes, namely:
Consultants

Lawyers

Accountants

Wellness coaches

Tutors

Event organisers

Other service-based businesses
You'd need a website platform that can showcase and capture what it is you do. With our expert digital marketer's help, we can differentiate you from your competitors, highlight who you are, and what you can do to solve your customer's and/or audience's pain points.
Another quality WordPress gives you is its scalability. This means, that as your business grows, your website can grow with it too, sparing you the need to move your site's content somewhere else.
How Can WordPress Support Your eCommerce Based Business?
WordPress can be used to develop and manage any website, which includes eCommerce. It can not only create an online shop for you, but you also have detailed control over its performance, and manage your product range easily.
WordPress technology has vastly improved over the years, from originally being built for blogging, it can now be used to build fully functional and elegant web shops.
This change came mostly from a great range of third-party WordPress plugins, providing tools and functions useful for online sales success.
Ways it can support your eCommerce through plugins added to your website help you with:
Product page customisation.

Additional functions for your shopping carts and checkouts.

Payment gateways.

The integration of your shipping carriers.

Navigation improvements.

Partnerships and affiliate programs.

SEO tools to avoid duplicate content.
You can even integrate your tax software on WordPress. Further, you can use Google Analytics tracking and tags remarketing.
For years, the WooCommerce plugin for WordPress remains the best and most popular for eCommerce that integrates seamlessly with WordPress. Its reliability helps start-ups, new businesses and online shops to manage activities online and sales growth.
WooCommerce's functionalities include solutions such as Amazon and PayPal payments. You can even integrate Mailchimp for marketing automation, multilingual add-ons, and tracking tools. These can easily help you, if you have the proper skills, or if you choose to outsource, help our developers in building an outstanding WordPress e-commerce website. They even have subscription-based support using their WooCommerce Subscriptions plugin.
The good news is, brands can combine their blogs and other content materials with their eCommerce store. You can use your blogs to link back to your product pages and provide content that can effectively engage with your customers.
Do you have an exciting project we can help you with? Give us a shoutout.
To summarise
WordPress is a well-known website platform if you want to be found online. Its flexibility gives you the power to improve your on-page SEO. Working in the backend of the platform, you can easily customise your metadata descriptions, and title tags, and choose keywords to optimise your site for SEO.
Being around and popular for quite some time, the WordPress platform is being used to create more and more websites daily. Yes, there are other newer website platforms out there that may be more user-friendly, but they can't beat the stability and community support WordPress has.
And because of this, the community continues to build around WordPress amazingly. There are thousands of community forums, developer groups and WordPress tutorials you can tap if you want to learn more about the platform. Even better, there are experts on WordPress available, like us here at Accentuate, to help you out if you get stuck.
In our opinion, WordPress is the best website platform for service-based businesses, and great for eCommerce businesses as well. With our expert team behind you, you'll get the support you'll need to get up and running quickly.
Either way, you get a customised and optimised website, built professionally, that your clients will love.