When deciding to sell products online, you have an option as a merchant to either sell your products on a marketplace or create your website. Selling products online has many advantages, some of them are the ability to reach more customers, sell at any time of the day, and there is no need to set up a physical storefront.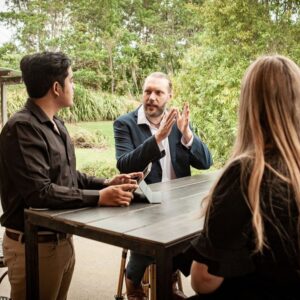 However, opting for 3rd-party marketplaces such as eBay, Amazon, Etsy, and many other marketing channels is fine, but there are many limitations. Using an online marketplace may not be enough to cater to your wholesale needs.
What customers today expect from brands is the ability to research, browse, shop, and purchase seamlessly, between different devices, preferably on a standalone web store. A standalone web store is a website belonging to the business where buyers can purchase goods directly. It is common for standalone eCommerce websites to be built using eCommerce platforms like BigCommerce, Shopify, Magento, and WooCommerce.
What is of particular interest to us at Accentuate Web Design and Marketing is WooCommerce, our expert website design and development team, creates websites for our clients using WordPress. WooCommerce has evolved from a simple WordPress plugin to a fully customisable eCommerce platform that empowers businesses to sell directly on WordPress.
Our team at Accentuate specialises in using WordPress. Our years of experience and expertise allowed us to refine our web design process and solutions, covering everything from coding to your site's user experience (UX) design.
Furthermore, our in-house digital marketing team can help you promote and market your optimised and responsive WordPress-designed website, so you can start reaping the benefits in the shortest time possible.
Why have an eCommerce website for your product-based business?
E-commerce websites provide the opportunity for you to showcase your products, interact with your customers, and conduct sales for your business. Having your own eCommerce website is crucial in today's digital age, especially if your business is product or service-based.
Here are some advantages why having your own eCommerce website is important for your product-based business:
1. Global accessibility and reach.
You would be able to reach potential customers wherever in the world they may be and transcend geographical boundaries across different time zones to be able to capitalise on the growing online shopping trend.
2. Enhanced customer convenience and satisfaction.
Customers turn to online shopping for its convenience. This was made evident, especially during the COVID-19 pandemic, when people were forced to stay home. Having seen how convenient it is to shop online, many have not turned back since.
3. Create personalised experiences and effective targeted marketing.
You can gather valuable insights about your customer's preferences, browsing behaviours, and purchase history to create targeted marketing campaigns. This can further be enhanced with the use of artificial intelligence (AI) to provide personalised offers, and/or recommend relevant products.
4. An eCommerce website is cost-effective.
Having a physical store to sell your goods is not a necessity, this effectively lowers your operational cost but still allows you to reach a wider audience by not having to pay for rent, utilities, and multiple employees. Operational cost can be further reduced with the integration of an automated inventory management and secure payment system, which would lessen the need for manual intervention.
5. Foster scalability and growth opportunities.
As your business expands, a dedicated eCommerce website can easily accommodate your new product offerings and customer demands. Your eCommerce website provides the flexibility to scale your operations with ease and diversify your revenue streams by entering new markets.
6. Attract more long-term customers.
All kinds of customers want to feel confident they'll be able to handle bulk or wholesale orders with accuracy and efficiency. A dedicated wholesale eCommerce website or a wholesale view goes a long way to leaving an all-important impression when conducting a straightforward and friction-free bulk buying process. 
With the help of automation, you can foster trust and make the entire buying process easy and convenient for everyone, who wouldn't want to take advantage of that?
What is Wholesale eCommerce, and why is it Important for Online Brands?
Wholesale eCommerce businesses sell their products in bulk at discounted prices to other businesses. It is essentially a go-between between the manufacturer and the retailer or distributor.
The online wholesale eCommerce has significantly grown as more B2Bs move their operations online. In a 2022 study conducted by Statista, the global B2B eCommerce market value is pegged at US$17.9 trillion in 2021, which is over 5 times that of the business-to-consumer (B2C) market.
Wholesalers buying in significant quantities ensures they get the lowest price possible. Naturally, they make more money by paying less for each product. A few dollars saved when dealing in big quantities can make or break a small business' profit margin when they begin selling the products in the retail market.
Selling primarily to businesses, wholesalers have a smaller customer base. Retailers on the other hand market directly to retail customers. With the ever-changing and expanding customer base, retailers usually spend more on marketing, which can affect bottom lines and company motivations. 
Wholesale eCommerce helps online brands establish and strengthen partnerships with retailers. In turn, the process allows them to reach new markets, increase sales volumes, and boost your brand's visibility. 
Adding a Wholesale View to eCommerce Websites.
The biggest advantage of conducting an online wholesale eCommerce business is perhaps it lowers the operational cost of doing business. Selling products in bulk gives you the advantage of selling in large quantities of products with less marketing spend. Less marketing spend means you make more money per unit.
Many retail eCommerce businesses now sell on a small-scale to large-scale wholesale to drive business growth without high risk or significant capital investment. With the help of automation from sign-up to checkout, you can still offer wholesale-specific pricing and more.
The addition of a wholesale view to an eCommerce website is crucial to serve both B2B and B2C markets. Having a wholesale view allows you to cater to wholesale customers, you can show them a separate interface that addresses their needs such as bulk orders, pricing tiers, minimum number of orders, and perhaps access to a personalised catalogue.
The addition of a wholesale view to an eCommerce website can provide a tailored experience for wholesale customers by streamlining the buying process. By creating a convenient and effective platform, you can attract more wholesale customers and increase your overall growth due to increased sales volume.
It can also help eCommerce businesses create a distinction between their B2B and B2C operations, which in turn helps you ensure an efficient management system for both of your customer segments.
If you have limited technical knowledge in setting up a wholesale B2B website or adding a wholesale view to your existing site, our skilled website development team can help you build and design your e-commerce website.
Conclusion.
Product-based businesses will benefit greatly from having a dedicated eCommerce website or adding this feature to an existing B2C eCommerce store. Although third-party marketplaces do offer benefits, they have limitations. Selling products wholesale establishes partnerships with retailers, allowing you to reach new markets and boost your visibility.
Accentuate Web Design and Marketing offers professional assistance for building and designing eCommerce websites, enabling businesses to capitalise on your eCommerce website.
Revolutionise your eCommerce business by taking it to new heights, by contacting our team today. Discover how incorporating a fantastic sales strategy for your eCommerce business lays a strong foundation for your future growth.