Would you like to earn money while keeping your current job, while you're on vacation, or while you sleep? Say hello to the world of passive income from affiliate marketing.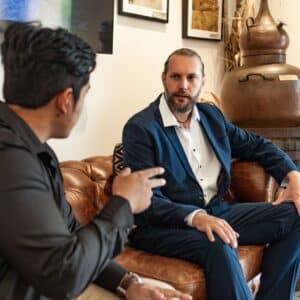 Affiliate marketing sounds fancy, but it's actually quite simple. The concept is to help drive traffic to a business or an eCommerce website. This helps the business create new leads, increase sign-ups and/or app downloads, ultimately helping the business achieve its goals and increase their sales. 
Affiliate marketing works by employing affiliate marketers who earn commissions every time they influence someone to click on a link, sign up, make a purchase, and/or show other forms of engagement. Smart businesses use affiliate marketers to enable them to spread the word about what they can offer to a wider audience, then rewards the marketers for their assistance with a payout.
But before we dive in deep, let's make sure you understand what affiliate marketing really is and how it really works. We'll cover what you need to know about affiliate marketing in this article, including its meaning, how it works, its types, and how to get started.
What is Affiliate Marketing?
As a small business owner, affiliate marketing is a great way to expand your business' reach and raise awareness about your business without breaking the bank.
But what is affiliate marketing? Technically, it is a marketing strategy that enables businesses to partner with marketing affiliates, who help promote your business, your products and/or services in exchange for commissions for each successful lead or sale they generate.
Online affiliate marketing pays content creators to promote certain products or services. Depending on the affiliate program, creators may earn money, free services, or other rewards.
Affiliates can be influencers, bloggers, content creators, or even website owners. They utilise various online channels to help drive traffic to a merchant's website.
At its core, the whole concept of affiliate marketing revolves around a win-win scenario. Businesses gain an expanded exposure, gain more leads, and acquire higher conversions without the burden of substantial upfront costs. In turn, the affiliates earn passive income for their efforts in promoting your products or services through their unique referral link.
It's basically classic advertising, but in a less intrusive way. Rather than promoting a product or service upfront with visual advertisements, they embed a link to a website, a specific product, or a service.
How Does it Work?
At its most basic form, this is how affiliate marketing works:
1.  An affiliate recommends a product or service to their followers through their website, blog, or email list.
2. Their followers may purchase a product or engage a service using their affiliate link.
3. The affiliates get paid commissions for the sales made using their affiliate link.
To help you understand further, it's important to understand there are several components essential to an affiliate marketing ecosystem.
The Merchant: They are not limited to a brand, a vendor, seller, or a creator. They create the product or provide a service and can be an individual or a large corporation.
The Affiliate Marketer: They are also known as a publisher. They promote a merchant's products or services with the goal of persuading potential customers to buy or engage the merchant's products/services.
The Consumer: The party responsible for buying a product or service. Once they make a purchase through an affiliate's link, the affiliate earns a commission based on the sale.
The Affiliate Network: Acts as a link between merchants and affiliates. It contains a database of products for affiliates to promote. The merchant provides a unique affiliate link for the affiliate that tracks sales made from that link and earns commissions through it.
Though it may seem simple, for an affiliate to build enough traffic to generate a significant income does take time and effort. For example, specific industries such as tech services or gadgets require proof that affiliates have tested and approved such products to establish trust with potential customers.
Types of Affiliate Marketing.
There are three types of affiliate marketing, namely:
✅ Unattached
✅ Related
✅ Involved
Unattached Affiliate Marketing.
Unattached affiliate marketing is the linking of products/services that are completely unrelated to an affiliate's niche. For example, an affiliate runs a gaming blog. His thrust is reviewing the latest games and explaining their tips and tricks in playing the game for the audience. Instead, the blog would feature links to automotive or construction products.
Although his viewers have little to no incentive in clicking on these links for these products, they get to hear and see about products you might need apart from the latest industry related items.
This type of affiliate marketing is attractive for influencers who seek to generate income without committing to the product or establishing customer relationships.
Related Affiliate Marketing.
Continuing from the example above, related affiliate marketing involves placing links that are relative to gaming in their articles. For instance, being a gaming blog, he may provide links from a merchant relevant to help to playing the game easier, such as game controllers that can be acquired from vendor sites such as Amazon.
The beauty of related affiliate marketing is that the blog's audience would likely be interested in clicking every link, since they'd probably want to improve their game play.
However, though it allows an affiliate to leverage their expertise to generate traffic, they also risk losing their audience trust if they happen to recommend a bad product or service they have not used.
Involved Affiliate Marketing.
Involved affiliate marketing is where the affiliate connects with the product or service they promote. The affiliate tries the product to gain first-hand experience, believe in the product's quality, and make claims about the product's use.
Talking about their first-hand experience with the product results in a reliable and trustworthy source of information. Readers/audience believe you fully understand or know about the products you are recommending.
For example, if you write about technology, you insert links in your content about the latest gadgets or gadgets using a specific software. Involved affiliate marketing equips your audience with the tools you actually have used.
Although it may require more effort and time to build credibility, the returns are likely to be much higher.
5 Steps to Setting Up Affiliate Marketing On Your Website.
Setting up affiliate marketing on your website is a great way to make money online. It is by far simpler than actively selling goods or services online. All one has to do is place links and earn money when people buy a brand's product through that link.
However, knowing how affiliate marketing works isn't enough. It would require proper preparation and strategies. 
Follow the steps below to harness the power of affiliate marketing on your website:
1. Choose a Niche and Decide on a Website Type.
The first step in building or incorporating affiliate marketing on your website is picking the right niche. It is a specific topic on which you'll build and focus your website's content on.
A great indicator in choosing a niche is anything you passionately know about and enjoy discussing. Avoid the mistake of choosing what may be profitable and trending without considering your knowledge and expertise about such categories. 
Apart from matching the topic with your interest and competence, ensure its versatility. Avoid trending topics or niches that people tend to lose interest in quickly. A great tool for knowing whether a topic is trending, stable, or decreasing is Google Trends.
Choosing a niche is only the first step when creating or incorporating affiliate marketing in your website. Below are five options you may design your website around or incorporate into your existing website.
Blog
Include an affiliate link in the content you write about a certain topic. Ensure that the links you use are relevant to the blog post, so it won't sound like an affiliate marketing scheme and appear a natural part of the conversation.
Retail Listings
This site or page in your website looks like an actual eCommerce store. It lists other retailers' or merchant's products and redirects potential customers to their sites using your affiliate links.
Product Review Site
Product review sites/pages describe the products you have personally tested and/or used. It can also be a venue to welcome contributors to write about items they also have used. Each review normally contains affiliate links to eCommerce giants like Amazon.
Price Comparison Site
Price comparison, as the name implies, shows visitors a specific product and its selling price from different stores. This helps the audience to choose the most affordable ones in no time flat. It may also include user's reviews and comparisons with similar products.
2. Select a Platform to Create your Website and Choose a Domain Name and a Web Hosting Provider.
After deciding on a niche and website type to build, the next step is to purchase a web hosting plan. This service stores your website data online and makes it accessible to internet users.
You'll also need a domain name, as it serves as your site address people type in their browsers. Many web hosts make it a part of their service, domain name registration, so you won't have to buy hosting and domain separately.
A word of caution, choosing a web host with the cheapest offer might be tempting, especially for beginners. However, we recommend investing in quality hosting like what we offer at Accentuate Web Design and Marketing, for a great and long-term website performance.
3. Customise Your Website and Create Good Content.
Choosing the right platform is the foundation of creating a website. It is vital since it will influence your website's look, functionality, the user's experience, and maintenance.
There are two primary website platforms, website builders and a content management system (CMS) like WordPress. Accentuate Web Design and Marketing, use WordPress in website building and creation because of its ability for better customisation and scalability. WordPress has plugins that enable features like an affiliate management system and the ability to customise your website's appearance to suit your taste.
Good affiliate marketing requires high-quality content to drive traffic and generate leads. Great content can also engage and retain readers, especially if your content is informative and helpful, giving them the incentive to return regularly.
4. Make Your Site Visible to Search Engines and Create Documents for Your Affiliate Business.
Actively using the right keywords in all your content is just the beginning of a solid SEO Strategy. Integrating its off-page and technical methods is crucial to creating an SEO-friendly affiliate site that will make it rank higher on search engines.
If you need help with SEO, get in touch with our Google Marketing Certified team at Accentuate Web Design and Marketing.
An affiliate marketer should disclose their relationship with the merchant and inform visitors about receiving commissions if customers purchase product/s using their link, for transparency.
Documents you have to prepare for affiliate marketing are:
Affiliate Marketing Agreement.

It's the contract between a merchant or brand and an affiliate. It lists the affiliate's commission rates, the process for payout, and the duration of the contract.
Privacy Policy.

It describes how you collect and use the visitors' information.
Affiliate Marketing Disclosure.

It's a statement you put in your blog or content informing readers/viewers that you receive commissions if they buy the product/s using your link.
Terms of Use and Disclaimer.

This document limits your responsibilities for what website actions your users do or say. If you allow contributors to publish content on your website, mention that their personal views and opinions are not yours.
5. Choose the Best Affiliate Marketing Tools and Share Links to Promote Your Brand.
The best affiliate marketing tools can speed up the process of managing your affiliate marketing site. This can help you organise links to ensure the best web content.
After you have built your affiliate marketing site, promote it on other platforms to help grow your audience, expand your reach, and increase your sales. Two methods we find most effective in promoting your brand is using social media networks and building an email list.
Summary and Conclusion.
Businesses and individuals can earn passive income through affiliate marketing by promoting products or services they believe in. By driving traffic to an eCommerce or business website, affiliate marketing generates lead generation, increases sign-ups, and boosts sales.
Your affiliates can earn commissions for their valuable assistance, while your business gains broader exposure and conversions without significant upfront costs.
However, to truly leverage the power of affiliate marketing, a well-designed and optimised website is essential. At Accentuate Web Design and Marketing, we specialise in creating custom websites that align with your business goals and resonate with your target audience.
Our team of experts will work closely with you to choose the right niche, build an SEO-friendly website, and craft high-quality content to attract and retain visitors.
Don't miss out on the opportunity to revamp your website with affiliate marketing capabilities and start earning passive income. Contact us today to take your business to new heights with our cutting-edge website design and development services.