You've decided to launch your own eCommerce business. It can be a scary proposition, but undeniably exciting at the same time. As a fellow entrepreneur, we will not sugar coat it, but you will face many challenges.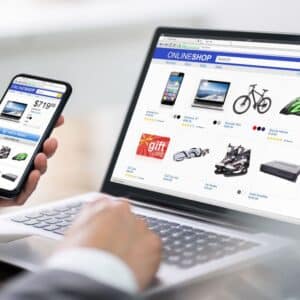 You might have killer products/services and plan to offer them with competitive (read: affordable) prices – you even plan on having a whole new website designed to showcase your goods and start selling online. The future looks promising and seems like nothing is standing between you and success, right?
Not so fast – the next step in the process that could spell your success from failure is: designing your eCommerce website. An eCommerce website is a platform that serves as a virtual marketplace your business can use to showcase products or services. 
An eCommerce website enables customers to browse, compare prices and features, and purchase items or engage services with ease. It is therefore important to note that the vital element to any online business growth are the customers.
Our team at Accentuate Web Design and Marketing are experts in the field of web design and development and digital marketing. Creating an appealing eCommerce website is the gateway for customers to take the next step in exploring your eCommerce website deeper, read your message, and learn about what you can offer.
Having built websites for various clients in numerous industries for over 16 years, our team at Accentuate know that a website's usability is the key. We build websites that not only look good, but more importantly, we want your website to be found, create leads, generate income, and make sales for your online business.
If you happen to have an existing website that does not seem to gain any traction, or perhaps you want to revamp your website, we can review your existing site and discuss details during a FREE Digital Presence Consultation. It is our mission to deliver web and marketing solutions with real world results to help you reach your business goals.
The Importance of an Optimised eCommerce Website.
The eCommerce market is a highly competitive field. Regardless if you have the most appealing of offers, it is not sufficient for getting ahead of your competition. To stay ahead of the game, your website performance and speed plays a major role.
Besides website performance and speed, user experience is also a crucial factor. Your eCommerce website's friendliness, reliability, and speed directly affect the entire user experience.
It only takes as little as 2 to 3 seconds for a customer to abandon a page if it doesn't load quickly. With so many competitors, it takes no time for a prospective customer to switch to other websites.
Every element of a website's design is crucial to its success. Whether that be your homepage, product page, or the check-out page, if any of these elements are not performing optimally, your potential customer will waste no time bouncing off to your competition and complete their purchase from them.
HOT TIP: Website optimisation can significantly improve loading speeds, it can be done by optimising your website content as well as its code. Since eCommerce websites are normally loaded with hundreds of images, it is important to have all images compressed and ready for the web.
Top 3 Must-Have Features for eCommerce Websites.
The world is rapidly becoming digitally connected. Alongside this, eCommerce is continually evolving and growing at an unprecedented rate. With the eCommerce landscape constantly changing, you can stay ahead of the game by getting a pulse on new trends shaping the industry.
However, there are 3 constants that you must keep focused on if you want your eCommerce website to stay relevant and competitive.
1. User-Friendly Design.
No one likes to struggle to find what they want. A user-friendly eCommerce website is the first consideration you have to keep in mind.
What this means is to have your website designed in a way that users can easily understand without compromising the overall layout and of the website. What you'd need is to find ways in optimising your website layout and its usability.
Do keep in mind that your design must cater to the needs of your target customers, and how it makes your customers feel. You must be able to provide a unique experience that creates an emotional tether binding your customers to your products or services on an emotional level.
Easy navigation menus, categorised product listings, and search functionality make it easy for users to find their desired items. Ensuring an intuitive navigation system increases user satisfaction and encourages exploration of the website, ultimately increasing conversion rates.
It is now common for consumers to shift between devices when shopping online. Optimising your website for mobile devices to provide seamless browsing across various screen sizes is paramount. Ensuring your website has a responsive design capable of adapting to various devices provides a consistent, memorable, and user-friendly experience.
HOT TIP: Helpful and easy to use navigation is one of the most important features of an e-commerce site. You can also allow users to search and sort products by price, style, size, and other attributes. It is important to your customers that you include these features on your eCommerce website.
2. Engaging Content.
You have to understand that your eCommerce website is more than an online store; it is a representation of your brand. Engaging content can capture and retain the attention of your customers, drive their interest, build their awareness of your brand, and can ultimately influence them to purchase your products or engage your services.
Engaging content in the form of high-quality product images with compelling descriptions, interactive videos, and written content help your customers visualise and understand who you are and what you offer. Creating engaging content helps build trust and confidence while helping your customers make informed decisions based on a deeper understanding of your products' or services' features, value, and quality.
Providing high-quality engaging content not only drives repeat visits, but also encourages customers to share their positive experiences, leading to increased brand exposure and word-of-mouth referrals.

PRO TIP: Don't forget to encourage your customers to take action on your website by strategically placed call-to-actions (CTAs). CTAs move your customers through their buyer's journey that ultimately lead to higher conversion rates on your website.
3. Safe and Streamlined Payment Experience.
Providing a safe and streamlined payment experience eliminates hassles, friction, and enhances the likelihood that the customer will confidently complete the purchase.
When you provide trusted payment gateways and multiple payment options, you project convenience and flexibility, which can cater to your customer's paying preference. A safe, secure, and positive payment experience can also influence customers to come back and make added purchases.
HOT TIP: Ensure to provide your customers with a safe and secure payment system that works seamlessly with your existing software, hardware, and website.to enhance your customers' satisfaction and confidence when they transact with you.
In Summary.
Whichever design solution you go for, creating a successful e-commerce website involves a design that is easy to navigate. It must provide value to the user, whether in the form of a product or service description, or a one-step checkout. Only then will you see site passers-by turn into loyal customers, and continue to make sales on your website.
Note that the best eCommerce features are not limited to the list we presented above, you most certainly can add to them based on the scope of what you want and what your budget allows.
We mentioned at the beginning of this article that your customer is the vital element to your online business growth. Keeping that in mind, prioritising user-friendly and responsive design with intuitive navigation, creating high-quality engaging content, and providing a safe and streamlined payment experience will help your eCommerce website take off and be competitive online.
When you're ready to commit to setting up your online store, get in touch with us at Accentuate Web Design and Marketing. Our team of experts can help provide you with affordable design and building services to help your eCommerce business stand out online.