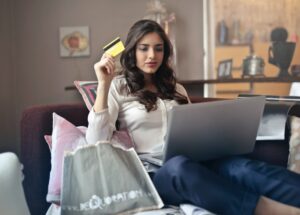 A battle of E-Commerce solution Giants. A proverbial Godzilla vs Kong of building e-commerce sites. For startup companies looking to start. WordPress is arguably the radioactive giant lizard of the two. The Alpha Kaiju (giant monster for non-nerds) of the two. WordPress has been here for a lot longer than its sparring partner (since 2003 compared to the other camp's 2006 launch) more versatile and a bit bigger of the two. While Shopify is the giant Monke (yes, it's the correct spelling for this meme usage) of the two battling titans.  Shopify is more specialised and an all-in-one option. Both of them are formidable choices.
Now the question is… Which one is a better fit for your business? We're here to help you shed light on that. Let's start with Shopify.
Shopify
What is Shopify? Shopify is an application that's been designed specifically for online sellers/merchants/ entrepreneurs to build and operate their own online store spaces where the seller can offer both physical and or digital wares.
The great thing about Shopify is that even novices can design their online stores since they offer a range of templates and customisation options to get your business site on brand.
Since Shopify is an "all in one" shop, everything is hosted on the company's servers. Web hosting or installing any kind of software is something you shouldn't worry about since the platform is designed to run out of the box.
Shopify is a subscription service. This means you don't own a copy of the software, and you pay a monthly fee to use it. All your data runs on the cloud. So you can access it anywhere. At the same time, you are fully dependent on Shopify's servers. That can be a pro and a con, depending on how hands-on you are/want to be with the digital side of your business.
Benefits of Using Shopify
Easy to Set up: Since it's an all-in-one shop, setting up in Shopify is easy. It's a complete solution for those who want a quick and painless way to start their digital store. Coding know-how is not necessary to build and run the store. The user interface is intuitive and user-friendly enough for the casual user that it is a very compelling feature for startups.
Appealing Template Styling: Shopify offers professional-grade templates. You can get access to these templates, so you can easily create visually appealing digital stores. If you have coding experience and or have access to a web design and dev team, they can create or modify an existing template for your shop to have a unique look.
Adapt with Apps: You can customise your app with third-party apps and plugins. Due to the popularity of the platform, you can add any number of extra features you might need to your store and User interface.
Security: With money, and personal and financial information on the line, security for you and your customer is of utmost importance. Since Shopify is an all-in-one service, they take care of that aspect of your business as well.
Performance: Since everything is hosted by Shopify, you can expect fast loading speeds, excellent Mobile speeds, SEO, customer support and easy payments. A one-stop shop for e-commerce
Disadvantage of Shopify
Monthly Fees. All the Time. For Everything: Shopify is a subscription service, we know that. But what you might not know is that the third-party apps you add to your basic Shopify account also tack on their monthly subscription fee on top of what Shopify already charges. In the long run, Shopify will get gradually more expensive compared to a self-hosted service like WordPress,
Less Customisable, Less Unique: Unless you go full-on from the ground-up website with a dev team, you will be at the mercy of their template choices. I'm not saying it's bad they are good and look professional, but if I picked a theme because it looks good then most likely someone else will think it looks good. Just like some people dislike twinning in their outfits, having someone using the same website look kind of detracts from the unique personality of your business. As for customisability, Shopify is less customisable, some of its functions cannot be modified. For people who like full control of their site and love to tweak and tinker with them, it will be a turnoff.
Lifespan: Remember My Space, Multiply and Friendster? Yeah, the biggest things in social media at that time? Where are they now? Platforms come and go. That is the same with Shopify. Yes, they are a very convenient all-in-one platform. But what if they fold or restructure? What happens then? If you want to move your store and data to a different platform… It will not be a smooth transition. Shopify is an excellent way to grow, but it would be wise to think ahead.
WordPress
The elder statesman of the two. WordPress has been around since 2003. The thing is before we start going deeper we need to be more specific because there are two versions of WordPress. They are Hosted WordPress and Self-Hosted WordPress
Hosted WordPress is basically like Shopify, a service where you pay a monthly fee, so no need to discuss that further.
Self-hosted WordPress – is what we'll be doing, a more in-depth discussion here today. Self-Hosted WordPress is a software you get directly from WordPress.org. You install it to your server and, since it's open source, you can tweak it to perfectly suit your needs.
Benefits of using WordPress
Free – It's free. Did I mention it's free because it is… Free, that is. Currently, the most popular CMS (content management system) because it can be installed quickly and pretty much without hassle.
Customisation – Plugins and customisation are the name of the game for WordPress. From converting the website itself into a full-on E-commerce store with WooCommerce or adding different features, you can potentially find more plugins on WordPress than Shopify. Aside from the plugins, you can tinker with the themes to make it your own. Here's the catch, you might need coding knowledge or access to a developer to fully appreciate the flexibility of the software.
Extensions and Features galore – From built-in analytics, SEO, geotagging and data loss prevention WordPress is not lacking in built-in features but if it's not enough, and you want more functionality, and you have access to devs or have coding knowledge yourself then you can add additional functionality with extensions. This is the selling point for WordPress. When in the hands of someone knowledgeable, you can do wonders with it.
Disadvantages of WordPress
Natively not an e-commerce platform – WordPress is not naturally an e-commerce platform. Plugins like Woocommerce transform it, so with that, it might lack some features a dedicated e-commerce platform might have.
Project overheads will increase – WooCommerce and WordPress is free. That's good, but the additional extensions, themes and e-commerce features might want to incorporate into your store might not be. Thus, costs will increase along with functionality. This will also include the cost of hiring a WordPress developer to help you run and maintain the website.
Frequent Updates – With e-commerce sites, updates are a real pain in the backside. But they are a necessary evil. Sometimes an update will render your site inaccessible to major browsers. Some might have conflicts with your plugins or extensions. It can be a real headache sometimes, so some people just don't bother and just go for other platforms.
It's a Big Choice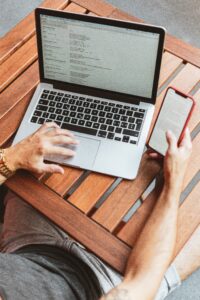 If you plan on building a digital store. You need to weigh your options. Do you go with an all-in-one service like Shopify or do you want a more custom site, with WordPress? Both have pros and cons. Still confused? Honestly, for professional use and for the long haul we prefer using WordPress since you are in control of your data and all the aspects of your site.
You have invested a ton of your time and energy in building up your business. Maybe it's time to invest in the digital side of it. From Web design to formulating and implementing a Digital Marketing strategy, we specialise in removing the stress and frustration small companies face when navigating the online world. Click here to learn more about what services we can be of service to you.
Contact us, and we can probably shed more light on what you and your company need.