More than likely you've already heard or read about Search Engine Optimisation (SEO), and probably you are in a quandary about how it works. Then you go on wondering and say to yourself, "Is it worth investing in SEO for my business?"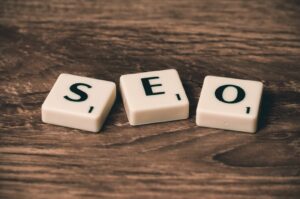 Let us lay down a scenario for you. If you find your business is not ranking high in online search results, it only means that your website is not working as intended for you.
In today's online world, for businesses to thrive and constantly reach online customers, business owners should not consider SEO as an option, but as a necessity.
It is not uncommon in our line of work to encounter businesses while recognising the value and general importance of digital marketing, do nothing, or know nothing about how to improve their ability to rank high in a web search.
What is Search Engine Optimisation (SEO)?
In simple terms, it means it is the process of improving your website's ability to be visible when people search for products or services related to your business on search engines. Search engines such as Google, Bing, Safari, Opera, and now Microsoft's Edge.
The higher your rank or the visibility your pages have in search results, the likelihood is high you'll gather attention and garner prospective and existing customers for your business.
Why do SEO?
Many of those we encounter either have no clue on how to efficiently implement SEO, most not knowing that it might just be the most powerful tool at their disposal. Notwithstanding, Google alone accounts for more than 50% of traffic to most websites.
The fact is, investing in SEO might just be one of the most significant investments you can make for your business to be successful online. When done right, SEO attracts potential customers at every beneficial stage in your buying cycle.
A true SEO superstar knows how to plan an SEO campaign that delivers traffic, induces conversions, and more importantly, generates sales. Still not convinced?
Proof is, that for B2B companies, SEO can generate more revenue than all other digital marketing channels combined. This is across all industries, with an average of 44% of all revenue.
You might no longer need further convincing when we share with you, that organic search remains the dominant source of trackable web traffic and the largest digital channel. With an average of 53% traffic share across all industries, we hope it becomes clear to you that organic traffic from search engines would make investing in SEO a no-brainer.
Reasons why you should implement SEO for your website.
When we talk to our clients about SEO, we tend to hear some common reasons why they don't pay much attention to it. That said, allow us to turn you around with our top reasons why you should be investing in SEO to grow your business.
1.  It is not expensive to invest in SEO.
This is perhaps the prime consideration of most businesses who are wary of putting in their investment, and we fully understand that. For small businesses, remaining in the black is a prime consideration for the business, and any unwarranted expenditures need to be avoided.
In our line of work, we often hear people saying that investing in SEO is expensive. This is generally not true. The fact of the matter is, that you can get that sweet top spot on a popular search item with absolutely zero spend at all.
SEO is all about investing time and the expertise you bring to the table. Getting external expertise does not automatically mean spending much money. SEO is all about authenticity, and you don't need to budget anything for actual ads. It's your website or business that needs to rank, not your promotional messages.
Yes, you will shell out money but do not think of it as cost. It's an investment you put in for your business that will pay long after you spend the money. SEO rankings need nurturing, but they simply don't disappear.
There is no campaign length to think about. And the money you put in is your investment for your business's future and growth.
2.  It's not enough to rely on social media marketing.
So you're on Facebook, Instagram, and Pinterest, that's great, they're hot. Many marketing experts recommend them, we do too. Admittedly, they can play a significant role in your marketing efforts. The reality is, that social media marketing alone is not enough to market your business.
Remember the 50% traffic Google can bring that we mentioned above? Of this value, social media accounts for only 5% of traffic generation. Even if you have the best presence on your favourite networks, it will not have a direct impact on your search rankings.
Social media is great for brand awareness, and might even be better for customer interactions. It does not, however, lead to traffic to your website and drive actual leads and customers.
Google does not have access to social media metrics, it only includes quantifiable data in search algorithms. This is why it disconnects social from search rankings. Therefore, if you want to rank high, you'd need an SEO strategy.
3.  It is possible to beat your competition.
It can be quite off-putting seeing your competition already ranking highly, and you're nowhere to be seen. But that doesn't mean you shouldn't even start. 
It would only be impossible to beat your competitors if you don't start somewhere. And if you don't, you'll miss 100% of the shots you don't take.
Seeing your competition's high ranking might not be a bad thing if you look at it from a different perspective. It allows you to find weaknesses in your closest competitor's armour.
It's not uncommon to see those who reach a high spot on relevant search results pages, tend to get complacent and lazy. That would be the perfect time to make your move and strike.
Winning half the battle is in knowing what your competitors are doing. A bit of competitive SEO research can uncover their tactics, allowing you to devise strategies to beat them. Soon, you'll be receiving more clicks and your site will climb up the rankings higher than theirs.
4.  Taking it slow and steady can win the race.
We all probably know the parable of the "Hare and the Tortoise." The story is about a race between the two animals, with the tortoise winning the contest in the end.
The same holds for SEO. The hare with its obvious advantage was complacent, which caused him to lose.
This is closely related to the notion that SEO is not effective since it does not show immediate results once implemented. We won't deny that you won't be able to see results quickly.
It takes an average of 4-6 months to see a tangible increase in web traffic as a result of search optimisation. What's vital to keep in mind is that with SEO, a slow and steady approach is a good thing.
You are playing a long game when you embrace SEO. This long-term investment is such a good one, though it takes some time to build. However, that build will ultimately pay off, multifold.
If you are seeking immediate results, do not abandon SEO outright. Instead, we suggest looking into some paid Search Engine Marketing (SEM) ads that can complement your long-term efforts to rank on relevant keywords.
5.  Bad experiences do not predict the future.
There are instances where we run into potential clients who swear off investing in SEO because they've had a bad experience. Sadly, situations like these are all too common. Many who are in this game are unscrupulous or are not transparent.
They are generally impatient and resort to engaging in black hat tactics to get some immediate results. This tactic hurts your efforts in the long run, plus, your website gets penalised.
We encourage you not to take the potential of this digital marketing channel for granted. Instead, look for a reliable partner who offers you:
Transparency –

About their techniques and methodology, as well as their processes that showcase their expertise. Additionally, if they are open about their pricing, it builds and promotes trust.
A good relationship –

They should be open to constant communication with those who want to learn about your business needs and be committed to your success.
Here are some red flags that should tip you off that come with questionable SEO companies:
Guarantees –

Search engines determine SEO, not marketers. You'd be right to be wary, and anyone who guarantees results should be viewed questionably. Not a single marketer gets preferential treatment or has a 'special relationship' with Google.

Black hat tactics –

We mentioned this earlier, and Google frowns upon this practice and specifically hunts and penalises efforts to circumvent its algorithms. Such practice involves automatically generated content, doorway pages, hidden text and links, link buying, or keyword stuffing.

Secret sauces or processes –

They simply just don't exist in digital marketing. There are best practices that are well-known among experts. Strategy and execution drive success, not some secret process you'll never get to learn.

The cheap option –

A company that promises to outbid everyone else, is worth only as much. You certainly get what you pay for. A larger investment pays off sometimes since it will get you the skill and dedication that you need and truly deserve.
Are you ready to invest in SEO?
By finding the right help, you lay the foundation for long-term business growth and successful digital marketing.
At Accentuate Web Design and Marketing, our team are Google Marketing Certified, and we are the best SEO agency on the Gold Coast. If you are ready to take that step and obtain that desired first page of search engines, get in touch with us, and we will show you how it can be worth investing in SEO for your business.