A new business in the beginning of its journey to success should focus heavily on brand building and lead generation. Generating leads is crucial in order for a business to succeed.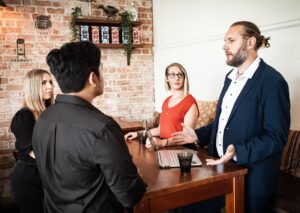 You can't count entirely on instincts, hoping for customers to make a sale. You must be able to come up with strategies in order to attract the types of customers you wish to have.
A typical business would need a constant influx of potential clients to maintain their success. Without a strategy, as to define what kind of customers a business should be targeting, and without a clear identity, many companies will have difficulty generating leads, and without leads, you can't make sales.
At Accentuate Web Design and Marketing, it is our passion to design not only aesthetically pleasing and responsive websites for our clients, but also one that can convert its audience into customers.
Conversions are necessary components for your business website to generate revenue in a highly competitive market. No matter how great your services and products may be, it will be difficult to keep the doors open without any leads.
Lead generation is of particular importance, especially for service-based businesses. If your website and content are already optimised, your prospects will have a better understanding of what your business is and what it is you can offer.
In today's digital landscape, solutions are what drive lead generation, not sales pitches. This, however, also opens doors for a wider range of competitors. If you want a larger piece of the market share, you have to show your prospects what makes your solutions different from the competition.
What is a Lead?
For many companies, a lead is someone that has shown interest in what they are selling or providing. In other companies, they consider a lead to be any sales contact. 
Regardless of the difference in their definition, a lead remains the same as anyone who can be potential future clients when they transition from being mere visitors to customers. And it would be the responsibility of your sales team to convert as many of these leads into customers.
What is Lead Generation?
The process of lead generation involves tapping consumer's interest to acquire something of value in exchange for their contact details. 
One common lead generation practice used to involve purchasing a list of names with their contact details, and sales people would cold call these people. Today's advances in technology have made it easier to generate leads by utilising specific information based on a set of criteria you set to segment your audience.
With the information you gather about your target potential customers, you can craft marketing messages that will be centered around their needs. You can make your sales cycle more efficient and successful with the help of your lead generation tactics.
How does lead generation work?
Many businesses start their lead generation strategies by first developing their website not only to promote themselves but to showcase their offerings. A consumer in search for a particular product or service might come across with your optimised website and sign up for an online request form.
The information they provide can then be matched and verified and sent to the sales team. At least, this is the theory behind lead generation.
However, there's a variety of lead generation techniques available out there. You can even develop your own unique lead generation strategy. It may sound simple and easy, but in reality, it is a challenge to execute effectively.
To provide favourable results, you need to have a well-equipped lead generation strategy in place. When you do this successfully, it can pay off quite well.
Enter Digital Marketing
Connecting with an audience is always akin to marketing. You have to connect with them at the right place and at the right time.
To get to them, you have to be where they are congregating on a daily basis while they are online. Here is where a form of online marketing steps in – digital marketing.
With digital marketing, you will be able to reach a larger audience than with traditional marketing methods and target the prospects who are most likely to buy your product or service. Furthermore, it can be more cost-effective than traditional marketing, and can enable you to measure your success daily, and adjust your approach accordingly as the need arises.
Benefits of Digital Marketing.
Digital Marketing offers many benefits for an online business to be successful. It can help you increase your local and global reach, increase your consumer engagement, and it will cost you less. In a nutshell, your targeted audience can be reached in a cost-effective and a measurable way.
The benefits include:
Local and global reach –

Your website allows you to tap new markets locally and globally and trade for only a small investment.

Lower cost –

A properly planned and targeted digital marketing campaign can reach ideal customers at much lower acquisition cost than traditional marketing.

Measurable & trackable results –

You can obtain detailed information about how customers respond to your advertising or use your website. With web analytics and online metric tools, it makes it easier to find out how effective your campaign has been.

Openness –

Build customer loyalty and build your reputation by being easy to engage with by getting involved with social media, being active in it, and managing it efficiently.

Enhance your social currency –

Create engaging digital marketing campaigns by deploying

content marketing

.

Personalisation –

You can greet your site visitors with targeted content and offers. If you have refined your customer profile, you'd be able to market to them effectively.

Improved conversion rates –

With a website, your customers are only a few clicks away from making a purchase. Digital marketing is seamless and immediate, unlike some forms of traditional marketing that require salespeople to physically make phone calls. Or, if you do still need to make calls, you're only calling warm leads who are aware of your service and interested in your product or service.
All of the above working together arms your digital marketing with the potential to rack up more sales. 
Digital Marketing Channels that will Attract Leads to Your Website.
Lead generation is broken down into different sets of marketing activities, corresponding with the stages of your buyer's journey. It starts with generating traffic to your website, converting this traffic into leads, eventually, converting these leads into customers.
As noted above, traditional marketing is primarily done through, print and broadcast mediums. Even though they still exist and are being used today, digital marketing has evolved and continues evolving.
The following are types of digital marketing that will attract leads to your website:
1.  Lead Magnets.
One of the incredibly effective lead generation tools are lead magnets. Research shows that 50 percent of digital marketers experience higher conversion rates when they use lead magnets.
A lead magnet is something you offer customers for free in exchange for their contact details. It can be any valuable free asset such as an ebook, webinar, white paper, template or another resource. It can also be a special deal such as a discount code or free samples.
2. Value-based Content Creation.
With content creation, you can tell a story and provide valuable information to increase brand awareness. Your ultimate goal is to build a sustainable relationship with your customers based on trust, which can lead to sales over time.
Content can mean blog posts, digital-based podcasts, video, white papers, and much more. Value-based content creation is a long term strategy that will continue to bring users to your site looking for new and fresh content about your business.
3. Search Engine Optimisation (SEO).
SEOs goal is to get your website to rank high in search engines. The more visible your website is, the more it can bring traffic to your business's website, giving you the opportunity to reach and engage with your audience and influence their opinions about your products and services.
This exercise gives you a better edge over your competitors and helps you generate more leads from qualified prospects who are looking for what you are offering. If this sounds like a daunting task for you, and you would like some assistance implementing an SEO strategy in your marketing efforts, let us know. 
4. Social Media Creation.
Engaging and interacting with prospects is crucial and should be among your top priorities if you want your business to get new leads. We are sure that you are aware of the dominant role social media platforms play in our everyday life.
Social media is crucial in cultivating connections, and a great avenue to leverage the opportunity to share your gated assets that fit their interests. Connecting with potential customers through social media can be enhanced by sharing relevant content and putting you and your company in the spotlight as a trusted expert in your field.
By including compelling call-to-action buttons on social media or blog pieces, you can generate interest and drive leads to your website.
PPC is a marketing strategy in which you only pay when people click on your ad. It is a powerful tool to align your website traffic to entice users to download content, encourage signups, enter contests, and more.
With a bit of optimisation, you can enjoy its benefits faster even if you come in late in the game, in contrast to getting results from your SEO efforts which would take a degree of time. PPC can help you cast a wider net in finding leads and customers.
5 Tips to Get You Started.
When it comes to getting more leads to your website, it's important that you understand how a great strategy will help you get found by potential customers online.
Accentuate Web Design and Marketing team are specialists in helping companies create solid digital marketing plans that can help you drive sales and improve your bottom line.
You may have already started implementing some of these techniques without realising it. Our team can help steer you in the right direction and give yourself an advantage over your competitors.
1. Update your website to be mobile friendly and conversion optimised.
People today use their phones more than their computers to go and search on the internet. A mobile friendly website is a way to improve your website's visibility and search ranking, which helps a lot in implementing your conversion strategy.
With over 59 percent of web traffic coming from mobile users, you should take mobile conversion optimisation seriously. 
2. Perfect your Marketing Message.
Today's consumers are constantly being barraged with information to process. But what they are looking for is to easily find products and services that solve their problems.
A lead generation campaign can only be as successful as the message being delivered to the right people. When in the process of perfecting your marketing message, you must address these questions:
Who is your audience?

What are their pain points?

What solutions can you provide to fix their problems?
Convey to your target audience why your solution is different, perhaps better, than what your competitors offer.
3. Create a lead magnet and market it.
A lead magnet is important, but promoting it is just as important, here's why. You have to establish credibility and build trust with your audience.
Many businesses just have a website with a portfolio of their work, believing their work will speak for itself. It can work to some extent for big-name and established companies, but that may not be so effective for smaller operations, especially those that are just starting out. 
The first step is getting people to your website. Once they're there, you need to give them something of value for them to give you their contact details in exchange. However, even if your website is enjoying high traffic volume, and your lead magnet is placed in a highly visible spot, that's likely not going to be enough. 
You'd want to attract high-quality leads that you can nurture to convert. As it turns out, you can't just sit back and rely on Google to index your lead magnet's landing page to push it to the top of search results.
4. Perfect your call to actions on your website.
A call to action (CTA) helps with an array of reasons. It is a digital marketing strategy to get your visitors to take a desired action. It can help build your customer base, capture sales, and turn your visitors into paying customers, among others.
A CTA is often featured on a web page as a pop-up box, banner, or a button link. Be concise and catchy in creating your CTA to get your audience enticed to click on over to your website.
When creating your CTAs, use authoritative language and action verbs to direct people to join, shop, or click. Promote high value yet low risk for your audience.
Use CTAs to create a sense of urgency, such as a one time or limited time offer. A fear of missing out (FOMO) promotion is an effective marketing tactic.
Lastly, a perfect call to action uses a combination of persuasive language with great design. Make your CTA pop off the page and standout, to catch your audience's eye and cause them to act.
In conclusion.
It is true that generating leads can be quite a time-consuming and difficult process, requiring a lot of tact and creativity. But it doesn't have to be difficult. There are various ways to generate leads, and there are ways to speed up the process and garner good results.
The bottom line is, if you want your business to grow, especially if you're a service-based business, you'd need a good strategy for lead generation. The point is, for lead generation to be considered effective, it should be able to turn your website traffic into paying customers. What good would lead generation do if it can't contribute to your company's cash flow.
Visitors to your website are good, but having them convert is better. Our skilled team builds websites from a marketing based approach. We place a strong focus on generating leads, call to actions, and sales. We've done it successfully for our own business for more than 16 years, and for many of our clients.

If you want the same for your business, get in touch with us today! We'd love to hear from you.