One of the most powerful recruitment tools in any company's arsenal is the career page of their website. While employee training lays the foundation for future company challenges, creating and developing a company's brand in the eyes of potential employees can play a major role in building a superstar team.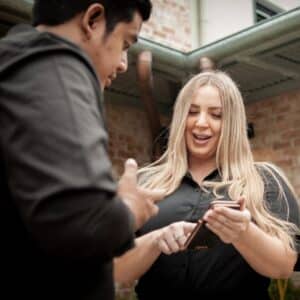 Attracting and hiring top talent is currently difficult in Australia given the current talent shortage. A 2022 government report on Australia's workforce revealed a severe skills shortage affecting the country.
Filling the talent gap across most industries is proving quite challenging for a lot of organisations. And the search for talents in Australia's job market is not slowing down and will continue into 2023 and beyond.
One of the most important decisions a business owner makes is hiring employees. Our Accentuate Web Design and Marketing team is hand-picked to help our clients by employing their many talents to succeed online.
Our work environment at Accentuate fosters an environment that drives their passion for creating quality websites, graphic designs and content. Additionally, with continued management support, we enhance employee loyalty and high rates of efficiency.  
It is unfortunate that many corporate websites are not exploiting the potential to find capable and talented employees to join their team. We do understand that companies are on a constant search for great talents, and revamping your website's Careers Page, or simply creating one, can help you make a difference by creating content that targets potential employees.
What is a Careers Page?
A Careers Page is a section of your website that is dedicated to present job openings in your organisation, that also showcases your employer brand.
The Careers Page acts as a point of first contact for prospective job applicants. Its focus is to tell jobseekers who you are, your company's values, its culture, why employees like working with your company, and what makes it a good place to work at. This must be conveyed in a way that it remains consistent with your brand.
The messaging and content you present in your Careers Page can be used by prospective applicants to gauge and assess whether they'd want to hit "Apply", and if your brand values meet their own.
How you formulate and convey your message is extremely important. It is normal for jobseekers to seek out job openings from various companies for open positions before deciding to pick a company that resonates with them.
Does this sound familiar? It should, because this is exactly how target customers behave when shopping online for products or services. In this case, what you're selling to prospective employees is a position in your organisation. And similar to selling products or services, it's down to your content, when prospects encounter your Career Page, to convince a potential talent to apply.
How a Careers Page Can Help Businesses?
As you can imagine, your website's Careers Page offer a wealth of benefits for your business, some of these benefits include:
1.  You get to Control the Story You Tell Jobseekers.
As we mentioned earlier, your Careers Page is often the first point of contact with potential applicants. And since you're in control of the narrative on your Careers Page, including the end-to-end applicant experience, you will be able to present the best possible version of your company and set the tone for future recruitment conversations.
2.  Career Pages are Gold Mines for Organic Traffic.
If you have been an online jobseeker, perhaps you've searched for terms like "industry + careers" or "company + careers." The first step candidates take is often to search for key terms when they look for openings within a specific industry or organisation.
Knowing this, it is the perfect opportunity to optimise your Website, specifically your Careers Page, for these types of search terms. Doing so will help you own search traffic from active applicants. Of course, you'd need the right targeting strategy and the right content for you to get to the top of search results.
3. It's a Venue for you to Engage Visitors and Tell Your Story.
You get to deliver a great user experience when you ensure that your Careers Page contains a depth of engaging content. As a bonus, your Careers Page can also serve as your central employer branding platform.
4.  You'd be able to Track Visitors to Your Careers Pages.
A Career Page is linked to your website allows you to track an array of visitor statistics, including:
Traffic volumes

Demographics

Locations

Engagement data.
These metrics can help guide you to enhance your messaging you use to address visitors, and guide you to formulate better targeting tactics.
5.  They Help You Improve Your Hiring Metrics.
Lastly, Careers Pages are known to have a positive impact on cost per hire and time to hire. Even if you have active efforts to source talent using traditional norms, an online Careers Page provides a passive approach for talent acquisition.
The need for paid candidate sourcing is reduced as more applicants find your well-structured Careers Page organically, which means you have to pay less for sponsored efforts.
With concise employer messaging, you'll help candidates establish if they fit in your organisation by pre-screening themselves. Along with the benefits mentioned above, it makes the overall process faster and less costly.
Tips to Create the Perfect Careers Page.
Developing a Careers Page Strategy centers around understanding who you're creating the page for in the first place. You can ask your new hires what they would want to see when researching your company.
If you have seen stunning Pro Career Pages that big and innovative companies use to attract talent, you might think that setting up a similar page for your website, a daunting task. However, you can get added inspiration from your competitor's site, and integrate elements you like and assimilate them into your own.
Your Careers Page is your company's window display for jobseekers, so it needs to be eye-catching, informative, interesting enough to convince jobseekers and inspire them to take action and apply.  
1.  Draw Applicants in with an Engaging Intro.
Start with an intriguing headlined paired with appealing design and imagery. Getting their attention right off the bat convinces them to engage with the page. Provide insights about your company and show them what it would be like working at your company.
Your Careers Page is an effective way to communicate your organisation's purpose and mission, as well as highlighting your core company values and beliefs. Make it an immersive experience and offer great insights into the company and why people love working there.
2.  Include Links to Your Social Media Accounts.
This will help your potential applicants to learn more about your company through social media and a great way to show your company culture. This also gives prospects a venue to ask questions or gather information regarding job opportunities at your company.
3.  Make it easy for potential candidates to apply.
Provide detailed application instructions to make the process of applying as easy and stress-free as possible. Detailed instructions ensure that applications are completely filled out, accurately and efficiently, helping you source out the best talent in a flash.
It would also be beneficial to include clear directions where applicants can submit their materials or send them off to, if necessary. Also, include information how long the hiring process will take. Letting candidates know what they can expect from your process makes for a good candidate experience.
4.  Make it Mobile Friendly. 
Almost everyone is using handheld devices to surf for information online, so making it mobile friendly is by far the most important element when creating a great careers page. A study says 33 percent of millennials prefer to apply for jobs on mobile.
5.  Establish Who You are as an Employer.
Clearly establish who you are as an employer, and who you're not. This removes apprehensions and keeps your messaging clear and focused on what you're trying to achieve and offer job candidates.
Here's an idea, show them through a well-produced short video. A video is more memorable than any other type of content and can help you attract more applicants and increase conversion rates. Show who you are as an employer and highlight what makes your team unique. Don't forget to really future cast the benefits of working with your company over your competitors.
Conclusion.
Well-designed Career Pages not only help you attract and land the right candidates, they can also help you in showing your company culture, your purpose, your mission, and show how awesome your team is.
Creating a perfect Career Page doesn't have to be a complicated and expensive process. With our help at Accentuate, we can help you create your perfect Careers Page at the same time, ensuring your entire website is attracting the right customers and the right employees every time. Get in touch with us, let us help you revamp your Careers Page and have it work for you.