Do you want Web Design & Digital Marketing Packages that actually get results? That's what we have been providing our clients for more than 15 years at Accentuate Web Design and Marketing. We are a full service web design and digital marketing company, with a portfolio of satisfied clients. Small and medium-sized businesses have trusted us to help them grow their business, get more leads, improve their sales, and drive more revenue.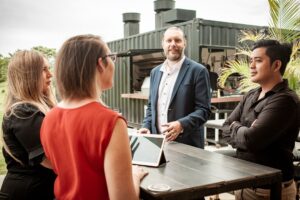 If you're looking to attract loyal customers to your business, you may have considered hiring a Web Design and Digital Marketing Agency to boost your connection and conversions with your audience. However, it's not always clear what you will need to spend for a project or for a monthly service agreement – especially when many agencies hold their rates close to their chest. 
There are agencies that charge $300 for a website and marketing, while there are others that charge $30,000 or more. With such a disparity in prices, how do you know which one to pick that will fulfil your requirements?
You might also be asking yourself, why are the prices so different? You should be aware that costs depend on the services you need and the quality received. Working with a local web design agency means that you have a professional team working on your project, and all areas of what you want for your project will be covered based on a package price.
This also means a web design and digital marketing already includes development, SEO optimisation and even content creation can be accommodated. A plus factor is that you do not need to manage all this yourself, taking your time away from other areas of running your business that need your attention.
Packaged Pricing.
In an era of online business, web design and development has become vital for companies of all kinds. Regardless of whether you want a new website for your new business or redesigning an old one as part of a rebranding, almost all companies will need to look at the specifics of creating a website and marketing it.
Before we dive into the details of packaged pricing, let's establish a general understanding of web design and digital marketing. Web design includes the creation, layout, design, and operation of a website. It includes a combination of visual design, user experience (UX), and web development skills. Digital marketing, on the other hand, focuses on promoting the brand online by using various channels such as search engine optimisation (SEO), social media, email marketing, content marketing, etc.
Both work hand in hand to create a strong online presence and achieve business goals. Let's break down factors that can influence packaged pricing:
1.  The Scope of the Work.
The intricacy and extent of the project can impact pricing. For example, a simple brochure website will most definitely have a different price range compared to a large-scale eCommerce platform with custom features and functionalities.
2.  Design and Customisation.
The packaged price for your website is also affected by your required design customisation. This includes its visual aesthetics, branding elements, and unique features.
3.  Your Website's Functionality.
Advanced features such as e-commerce integration, content management systems (CMS), customer portals, booking systems contribute to project your project's complexity and ultimately have an impact on its price.

4.  Content Creation.
The creation of high-quality content, including engaging text, images, and videos, can alter pricing. Content creation may involve professional writers, photographers, videographers, or graphic designers, adding to its overall cost.
5.  Digital Marketing Strategies.
The different techniques of digital marketing include SEO, social media management, pay-per-click advertising, and email marketing campaigns, will certainly modify the ongoing price of your Digital Presence.
While you can use tools and templates to create a website on your own, they can be generic and limiting, unable to provide you with the flexibility you need for a fully functional website. Web design pricing is typically charged either by an hourly rate or by packaged pricing per project.
Why Do We Use Packaged Pricing?
At Accentuate Web Design and Marketing, we use Package Pricing since it simplifies the process for our clients, and our years of experience in the field assure a project won't go over budget and/or go out of scope.
Package-based pricing gives the client confidence that they know specifically what they are paying for. Our company has an experienced team using major and advanced site builders. We have web design experts, solutions, resources, and the skills to get you quality results.

Before we start working on your site, we will come up with design ideas based on your marketing objectives for your business. Our team and industry partners give you access to an extensive network of services, resources and technology as well as custom web design on the Gold Coast.
How Packaged Pricing Helps You?
Packaged Pricing helps you know the cost of the entire project upfront with no surprise additional billing, and ensures you are getting the right support for your business. With Accentuate, we sit you in a digital marketing session to discuss your project, and then we will do the rest once you proceed with the quote.
Clients do appreciate knowing what to expect, and package-based pricing can give you the general information they need before they even engage the services of a web design and marketing agency. It makes it easier for you to make comparisons between different providers. Package-based pricing arms you with all the details and any potential add-ons are clearly provided, defined, and stipulated.
More importantly, you get to evaluate the package, and you get to decide if it's a good fit for your needs, which will include a list of everything that is included with the package. This helps for clarification purposes from the perspective of both the designer and the client. While packaged pricing does offer pre-defined options, it doesn't mean that customisation is out of the equation.
This change enables customers to have access to a variety of services tailored to your unique needs while enjoying quality at a fair price. This helps us avoid a cookie cutter structure and move towards a more customised design and development approach.
Our goal at Accentuate is to provide responsive website development and design solutions and digital marketing that deliver real-world results for your business. Whichever approach or vision you have for your business, we can design an eye-catching and results-focused experience for your clients.
Summary and Conclusion.
At Accentuate Web Design and Marketing, we offer our clients various service packages that can be tailored to fit your unique and individual needs. We will work with you to ensure we will be able to provide you with exactly what you want for your business.
There are certainly pros to using package-based pricing. It is most effective when projects are very similar, with only a variation in terms of scope. Typically, involving factors like the number of pages, the use of a Content Management System (CMS), or an ecommerce shopping cart. Add-ons are then available to service specific needs.
Sometimes, it may be necessary to provide custom package quotes, depending upon the special needs of a client. Simply put, whatever kind your business is in, there's a web design and digital marketing package that will fit your company.
Accentuate can even put together a customised web design and/or digital marketing package for your company, ensuring you're getting everything that you need to take it to the next level.
We can research and target keywords you want to rank for, so when your prospective customers are looking for someone, they find you. On and off-page optimisation to make sure your company is seen as an authority in your niche. Social media and paid marketing, overseen by our specialists, can help ensure you get the most return on investment (ROI) possible.
These are just some of our web design and digital marketing services included in our packages – we can offer more. We will be more than happy to sit with you for a free digital presence consultation.
Get in touch with us, so we can start figuring out the best ways how our full-service web design and digital marketing can help you, including discussing our package pricing for all your Web and Marketing needs.