For more than 16 years, Accentuate Web Design and Marketing have been creating websites and providing digital marketing services for our clients all over Australia and all its territories with huge success. Not only are we in the business of creating great websites, that are not only visually appealing to your audience but also optimised that is favoured by search engines.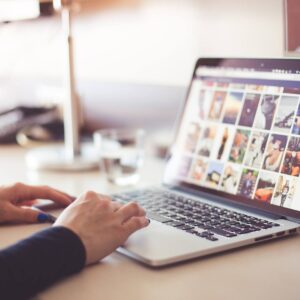 In today's digitally connected world, having a website is a necessity if you want your business to grow. Going online means you'd be able to disseminate your brand and messaging, and sell your product and/or offer services. Additionally, you'd also be able to transcend borders and cater to the world, or at least to those who are on the World Wide Web.
At the start of 2022, there are 4.95 billion internet users the world over. That is a staggering 62.5 percent of the world's total population. Just imagine what it can do for your business, and your brand, if you can effectively sell or provide service to even just one percent of the total users.
But do note that your website (regardless of who designed it) will only be as good and/or effective depending on your choice of a Web Hosting Service Provider.
What is Website Hosting?
In layman's terms, a Web Hosting Service Provider is the foundation where your website resides, the physical or virtual server your website sits. Similar to any construction, if the foundation is shaky, the structure built on it might crumble.
Choosing the best hosting provider is important as it sets the good sites apart. In general, a good website host is essential to how well your site performs and how visible it can be.
On a technical note, a website hosting service involves the online publishing of your website files (code, images, etc) that comprise a website. What this means is, it is responsible for allowing your website to be accessed by anyone with an internet connection.
Every website you've ever seen or visited online is hosted on a web server. Your hosting provider allocates space on their web servers in which to store your website files. And the amount of space allocated on a server to a website depends on the type of hosting.
The main types of hosting are the following:
Shared hosting

Dedicated hosting

VPS hosting

Cloud hosting

WordPress hosting

SaaS Hosting (hosting that is already included with all in one solutions like Shopify)
In a nutshell, web hosting is the process of buying or leasing space to house a website for publishing on the World Wide Web. A website's content such as CSS, HTML, and images has to be housed on a server for it to be viewable online.
If you plan on creating an online presence, it is essential to choose a reliable web host. There are literally hundreds of web hosts available that provide a variety of web hosting services.
Think about this, many businesses today operate primarily online; their main source of business leads and sales come from their website. If someone lands on a website, and it takes too long to load or does not appear at all – potential customers won't wait around and will most likely bounce off that problematic site towards one that works correctly.
Not all Web Hosting Service Providers are created equal, this is why your decision in choosing a stable and reliable web host is so important rather than simply picking one that offers the cheapest option available. It is best to invest the time doing research on all the different hosting options available.
You will need to incorporate your website growth with your plan to attain business growth. Find a hosting provider that can grow with you, so you won't have to switch hosts and migrate your site every time your site grows. 
Who is Crazy Domains?
Crazy Domains is an international web hosting company and a domain name registrar. Similar to many hosting companies, they help SMEs increase visibility and offer a range of products, services, and online marketing solutions.
Crazy Domains is an inexpensive web hosting service that offers single site packages with up to 100 email addresses for only $9.00 per month. They also provide email-only services and domain name registration, with servers located in Perth as well as overseas.
Crazy Domains is operated by Singapore-based Dreamscape. It was acquired by Web.com in 2019. It is a subsidiary of US-based Newfold Digital. Newfold also owns several web services brands, namely: HostGator, Bluehost, Site Builder, Domain.com., and iPage.

This company is what most refer to as 'budget' hosting, and not something we would usually recommend for business owners to use for a site you want to rely on being accessible, which their recent major outage showed.
What Happened?
The internet can be put on hold when an outage takes out the likes of Twitter, Facebook, and Gmail. An outage can also be put on hold that can temporarily bring workplaces to a standstill. Even a relatively small internet breakdown can still pack a devastating punch.
Hundreds of Australian and thousands of New Zealand small businesses went dark as Crazy Domains suffered a widespread outage from which it has not yet recovered, as of this writing. People using Crazy Domains as their host provider flooded the company's Facebook page demanding for explanations.
People took to online forums to discuss the issue. For its part, Crazy Domains updated its website to say it was experiencing issues with some of its services. They updated it later, saying a small amount of their clients may be unable to access their website and emails.
As of Tuesday, October 11, 2022 customers were complaining that it was all but impossible to get in touch with the company via phone or online chat. Additionally, left over 300, mostly angry comments on their, Is It Down Right Now page.
Accordingly, there has been no evidence of anything nefarious at Crazy Domains and describes the issue it is currently encountering as technical faults.
How Will These Impact Businesses?
The kind of services and price packages offered by Crazy Domains make it attractive to small businesses, and general web users. But for companies that rely on their websites and email to bring in work, even a day of outage with little to no communication from the hosting company is a big deal.
People noticed and began reporting issues such as client emails bouncing back saying their email addresses did not exist. These businesses lost significant hours trying to sort the issue and lost the ability to communicate with their clients. Some resorted to creating new email addresses just to get in contact with their clients.
This problem could have been averted if these businesses had the foresight of pre-empting this inconvenience had they only used a dedicated email system and not tied-in the service with their web host.
The outage caused businesses to have difficulty accessing their website and emails, incurring losses in revenue. What added to the frustration of customers as the outage is going on, is that it seemed to them that Crazy Domains was on "radio silence."

With almost no communication, businesses had no option but to migrate their websites to other hosts. Their main concern is that as the issue dragged on, they are losing business and continue paying for a service they weren't receiving.
With no substantial communication from Crazy Domains, there are people conjecturing that their servers might have been hacked and potentially putting their and their clients' information in danger. The sad part about this recent outage is that it is not an isolated case. Crazy Domains experienced outages in the past to the frustration of business owners. Furthermore, Crazy domains were less than upfront about the impact of the issues and expected resolutions causing many to move away from the service. Really how widespread the issue was is still unknown, as is the likelihood of happening again.
How Can We Make Sure This NEVER Happens? 
The quality of the service your brand provides to its customers depends on the hosting service you choose. Hosting can improve performance and security for many applications, including systems, marketplaces, blogs, and websites.
At Accentuate Web Design and Marketing, our services include professional web hosting services that provide high-quality Virtual Private Server (VPS) hosting for each of our clients. What this means for you is that your site will not be reliant on the performance of other websites on our servers. It provides you with dedicated resources on a server with multiple users.
The benefits of VPS hosting over shared hosting are many, including security, stability, and dedicated server space. This smaller-scale solution is by far more reasonable than renting an entire server to facilitate your data storage and transfer needs.
Dedicated solutions offer a high-powered version of shared solutions. Starting your own web business allows you to offer these services as your own. With this approach, you don't need to worry about setting up infrastructure to conduct business.
If you are one of those impacted by Crazy Domains crazy outages and have had enough of losing business opportunities that affect your bottom line, we are here to help. We offer superb service with:
Uptime monitoring

Security monitoring security and audit package

Premium support

High Speed Scalable VPS Hosting

Secure updated server

Ongoing backups to protect your investment, and

We can help you register your domains
Hopefully, you have a better understanding of why it would be advantageous for you to choose Accentuate Web Design and Marketing for your Web Hosting needs. With our team of experts, we can guide you towards the ideal solution for your business. Speak with our team about making the move today to a trusted hosting provider.