Instagram has made many significant updates to its search functionality. One of these significant improvements was implemented back in November 2020. Instead of just the functionality of being able to search profiles, locations, hashtags, users can now search general keywords and will show posts that include those exit words.
These means that Instagram algorithm has changed and that Instagram SEO needs to be a part of your marketing strategy. Of course, we are all familiar with SEO for Google, but social media platforms today have also widely used search functions, too.
With this expanded search ability on Instagram, optimising your profile on the platform and posts for Instagram search is a great way to boost your reach and get a leg up on your competition.
How do you stand out on Instagram?
With more than a billion Instagram active users, how do you stand out among these sea of worldwide users? Instagram SEO is a great way to start. By having your content featured in general search results pages helps in extending your organic reach.
When someone searches for relevant keywords or hashtag in the Instagram search box, you'd want your account or content to appear on top, if not near the top of that search list.
Having a strong Instagram SEO strategy is one of the best ways to increase your reach on the platform. SEO on Instagram is mainly all about tailoring your content so that it appears in as many places as possible, beginning from search results up to suggested content fields.
By tailoring your Instagram content, you will be able to tap into what your target audience is looking for. But that's not all.
Ways to boost Instagram SEO tactics.
By working SEO tactics to your advantage, it is a surefire way to skyrocket your visibility on Instagram. By implementing Instagram SEO best practices, you will improve your chances, significantly, of being discovered by users who are searching keywords relating to your business.
1.  Optimise your profile on Instagram.
Your profile, also known as your Instagram bio, is the best place to include relevant keywords and search terms. Make sure to choose a handle and profile name that is relevant to your content.
If you are already well known by your brand name, then it's the best and logical place to start. If there is enough room to add a relevant keyword in your handle or name, include that in too. In instances that you can't fit a keyword into your username, adding keywords to your name field can be just as advantageous.
It is also a big boost if you include relevant keywords in your bio. Who you are and what you're all about. Also include what people expect to find in your grid and content. You may also add a location to your bio, if it is relevant to your business.
2.  Write keyword-optimised and descriptive captions.
Gone are the days when you can only search or explore Instagram by hashtags, user or profile names, and location tags. Things have changed so that you can now directly search by keywords.
What this means for you is that by writing descriptive and relevant captions using choice keywords can seriously impact your content's discoverability.
3.  Use the right hashtags and keywords.
It has been considered an insider trick to "hide" hashtags in comments. Instagram has already revealed that keywords and hashtags should appear directly in the caption to improve and impact the search results.
Previously, Instagram did not consider keywords in captions, but that has changed. Instagram now recommends the use of relevant keywords in post captions to aid in discoverability. This is great news, especially for lesser-known brands. Previously, only relevant hashtags, locations, and accounts appeared in search results.
Ensure to use only relevant hashtags and keywords, and avoid using overly generic ones.
4.  Include alt text to your images.
Adding alt text on Instagram works just like alt text on the web. What it is a text description of an image or video that makes your content accessible to those with visual impairments. Another advantage of this is that it provides a description of your content in the event the image or video itself fails to load properly.
Adding alt text also helps Instagram better understand what is in your content. By providing this pertinent detail, Instagram will understand better whether it will be relevant to a specific search.
5.  Encourage tagging.
Another great way of boosting your discoverability on Instagram is by getting tagged. When people tag your account in their posts or Instagram Stories, others will be able to click through your profile.
This in turn will provide you with a good chance to attract an even bigger audience, the more you get tagged.
6.  Be consistent with your niche.
A major, yet simple, visibility tactic is to be consistent with your SEO practices on Instagram. The more you follow this best practice, the more Instagram algorithm will learn what your account is all about.
With consistency, it teaches Instagram who you are and what you offer. What this means for you is that your profile and content gets pushed and served to relevant users as they browse the platform.
7.  Avoid black hat SEO tactics like a plague.
We know it can be a struggle to gain visibility on Instagram, especially if you have been at it for a while. It is tempting to do quick fixes in the form of black hat Instagram SEO tactics, but remember that these quick fixes are only temporary.
Not only that, they really don't offer authentic visibility on the platform, which will only hurt your actual performance in the long run. Additionally, Instagram is on active crack down on accounts that repeatedly employ suspicious tactics to gain visibility on the platform.
This bad tactics include deploying bots to generate fake likes and following. Always practice building genuine visibility, even if it takes a bit of time and effort.
8. Track and optimise.
Similar with how you analyse the impact of your regular SEO efforts, it is crucial to monitor and measure how your Instagram optimisation efforts are paying off. Conduct regular audits of your Instagram account to stay on top of your game.
Take over with Instagram SEO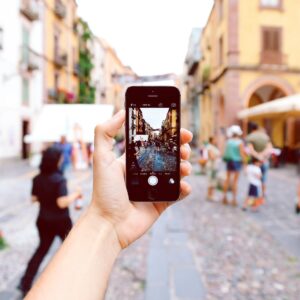 An Instagram account could make a big difference in creating for you a winning brand. By driving up visibility on the platform with effective Instagram SEO will boost your brand awareness among a relevant audience.
To help you get the most of social media, consider acquiring Accentuate's Social Media Marketing and Management Services. We can help you engage with your target audience and boost your reach through social media.