Why You Need a Mobile Optimised Website
Back in February 2015, when Google announced that mobile-friendliness will be an important ranking signal, it sent businesses in a tizzy. A lot of businesses hurried to make their websites mobile-friendly. However, if you haven't made the switch yet, you are perhaps wondering what's the fuss about mobile-friendly websites and why you need one.
Let's take a look at 5 reasons why a mobile friendly website is imperative in 2019.
Your Audience is Mobile
People are increasingly relying on their smartphones to carry out tasks of all kinds, from the mundane to the complex. With the average Australian spending about 2.5 hours a day on their smartphones and 57% of all online traffic coming from mobile devices, a mobile-friendly website is no longer an option. It's imperative.
Your Customers Expect It
If you visited a website lately that offered a poor mobile experience, it's likely that you didn't stick around for long.
Your users expect a good experience when they visit your website. In fact, a study found that 52% of internet users wouldn't engage with a business if they had a poor mobile experience.
A mobile device offers minimal real estate for you to communicate your message. The information must be presented in easily digestible sections that are visually appealing too.
It's Good for SEO
Like I mentioned in the opening statement of this post, mobile friendliness is now an important ranking signal for mobile search results. So, if your website is not optimised for mobile, it may not show up in the search results.
Google wants to offer its users the best experience. And with more and more users using the search engine on their mobile devices, it's natural that Google would simply turn a blind eye to websites that are not mobile friendly.
With a mobile friendly website and a good SEO strategy in place, you can improve your visibility in the search engines and grow your revenue.
Stay Ahead of the Competition
​Business is competitive as ever and in today's times and in the future, to stand out from the crowd, businesses must give their all.
If your competitors do not already have a website, but you do, you are likely to gain all that traffic and customers.
In fact, just 56% of small businesses actually have a mobile optimised website. So, invest in a mobile friendly website and beat the competition hands down.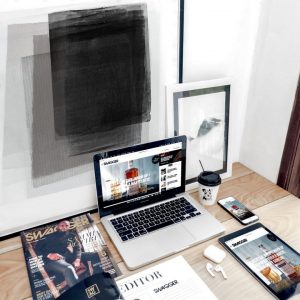 Build Trust and Credibility
Look up your website on a mobile phone.
Do you have to squint or zoom-pinch the screen to be able to read the text?
Are the call to actions too small to be able to click?
Is the navigation frustrating you?
Now imagine what your visitors are going through. Will they trust your website to take any action?
A poorly designed website that offers a poor experience on mobile phones is a huge turn-off. Customers are less likely to trust you and leave your website as soon as they land.
A mobile optimised website improves your trust and credibility as well as conversions.
Final Thoughts
When you want to offer your users an experience they will love, mobile optimised design is the way to go about it. A mobile friendly website is a future-ready design that will reap rich dividends over the years.
For more tips, please visit Accentuate Web Design and Marketing's The Lab.