Digital Marketing Strategy is somewhat similar to Marketing Strategy. The only major difference between the two is that marketing strategy is done offline, while digital marketing strategy is done in the virtual space.
Digital Marketing Strategy is defined as a method that helps your business achieve specific digital goals through carefully selected online marketing channels such as paid, earned, as well as owned media. As of today, technology is combined with something. You would not want your business to be late for social trends.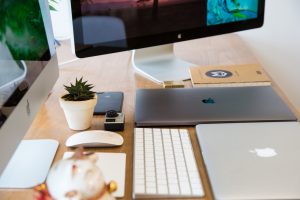 So, why does your company entail a Digital Marketing Strategy? Let us explain to you that without internet marketing strategies, your business does not have a map for achieving its goals.
Your business also needs a competitive and viable content marketing strategy to reach and convert more customers by leveraging the power of online content, while incorporating the different digital marketing channels with traditional media.
It makes a way for us to continue the improvement in the various digital marketing strategies ranging from search marketing, website experience, email marketing & social media marketing to secure your goal, gain potential new customers and build deeper relationships with existing customers.
You know what you want to achieve, but you do not know how. That often leads to the launch of a digital marketing campaign that fails to steer any results. You need to invest in a digital marketing plan.
Also, unlike traditional marketing, it is trackable and measurable. It is also efficient in optimisation. It allows you to review and make modifications, such as optimising ad creatives to improve audience engagement.
Lastly, using a digital marketing strategy is also broad and targeted reach. With almost billions of users on the social media platform, your audience reach is limited as to your budget. In social media platforms, you are allowed to choose your specific audience by demographics, interests, or behavioural patterns.
Below are the three (3) Pillars of Digital Marketing.
First, User-Journey. It is a customer's encounter and interaction with your brand across all channels, digital and non-digital, which is similar to the purchase process and shapes his emotions and perceptions about your brand. The awareness of the customer starts, then evaluates his or her decision, and considers other competitors when the customer is ready to purchase. After the experience, the customer spreads word-of-mouth as well as recommends that brand to others.
Second, Digital Channels. The digital channels of digital marketing are avenues where your customers come to know about your business and what it has to offer. This is where your users come from. Examples of Digital Marketing Channels are Organic Search, Paid Search, Display, Email, Social Media, and Referral.
People use search engines for various purposes. The organic search results appear below the paid search ads, while paid search ad results appear at the top of the search engine results pages.
The display channel refers to ad placements that appear on web pages when users browse, for instance, appearing on a news article. Businesses are on social media to connect to potential customers by engaging them in a more personal and genuine way.
Referral traffic acquired is a result of users clicking on hyperlinks from one website to another, this means more traffic from other websites and more potential audiences. A win-win situation from one business to another, right?
Lastly, Creatives and Content. Creatives come in the form of ad banners, video advertisements, as well as text ads, while content in the form of Blog articles, Explainer Videos, and Infographics.
Primarily, in creating a Digital Marketing Strategy, you have to define your brand and how it will come through your online campaigns. You also have to graph your demographics and determine your scope of potential buyers.
Subsequently, you create S.M.A.R.T. goals – you use specific, measurable, achievable, realistic, and time-bound goals to guide your strategy. Imagine your organisation's short and long-term goals for growth.
Next, set your digital marketing pricing to build a realistic budget for your business. Later, brainstorm your strategy, guide your strategy to success by planning your strategies, and then launch your campaign across the channels.
You make sure that all your channels feature the appropriate tracking information. Lastly, monitor and measure the performance of your method. Keep the pulse of your strategies and your return on investment. With this, your company can launch your first digital marketing strategy.
You can also use the other seven (7) digital marketing strategies for your businesses, which are Search Engine Optimisation (SEO), Pay-Per-Click (PPC) Marketing, Content Marketing, Email Marketing, Social Media Marketing, Voice SEO, and Video Marketing.
Do You Want to Improve Your Digital Marketing Strategy?
With the right tools and effective digital marketing strategies, you will be able to achieve your business goals. Let us help you by contacting us today.