Looking to Hire a Web Design Agency?
When a business is ready to build a website or redesign their existing website, there's a typical pattern that kicks off.
This is the process of searching for and hiring a web design agency, and there are some major loopholes in the way many businesses approach this process.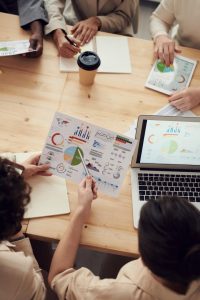 Here's a look at the steps most organisations take when hiring a web design agency:
Step 1 – The marketing team or the business owner decides it's time to get a new website.
Step 2 – Search online to gather some quotes.
Step 3 – They look up online and browse the websites of quite a few possible vendors. If they like an agency, they fill up the contact form or make a call.
Step 4 – During the consultation call, they get a rough idea about the agency's abilities.
Step 5 – The core question – "how much would it cost?", at which point a proposal is sent through.
Step 6 – If the proposal satisfactorily answers some of their important concerns and seems like a technical document, (ownership, payment schedule, timeline, hosting), they look to move forward.
Step 7 – The project starts, and at this point, the business now finds out what sort of service the agency provides.
Step 8 – The vendor either makes good on their promises or they don't. Now begins the endless rounds of revisions. You either get ready for launch or you fire them, often losing your investment so far.
Step 9 – Once the site is live, some issues and ideas crop up. Now, for the first time, you will be tested with how good their ongoing support is.
Step 10 – A few weeks down the line, someone talks about analytics, marketing, etc. And it's only now you get to know whether this agency knows the first thing about digital marketing.
The Problem
This process is backwards, and that's what is wrong about it. You must ask about the things such as service, support and expertise before hiring the agency, not after the project begins. So turn this process on its head and ask about:
Service. Get a feel for their communication process and level of service. Will they assign a dedicated project manager to you? One port of call is much easier than being bounced around their team.
Support. Find out how their support process works, and who is the main contact for support? How do they manage support requests? What's the typical turnaround for response and changes? How much does support cost?
Marketing expertise. This one's huge. Get to know whether they specialise in digital marketing, content writing, email marketing, social media and analytics.
Hire a Web Design Partner, Not a Vendor.
By focusing on the above 3 aspects, you'll end up hiring the right partner for your web design project. When you think of your agency as a long-term partner, you will think about the hiring process differently.
You might find that some things are not as important as you thought them to be.
Quality Workmanship & Service is a lot more important than finding someone local (especially when you rarely if ever will meet face to face).
Marketing skills are far more important than proposals filled with technical features. (Often these are added to confuse the client and bulk out a proposal to make it seem like you're getting value)
A Quality Team & Support is more important than saving a few dollars. (The lower priced end of the industry are often the ones offering little to no after care, and inferior quality results, often causing you to lose your initial investment.)