The economic havoc created by COVID-19 has significantly accelerated the shift of many businesses to the digital space. It was a reality check for many businesses that were reluctant to embrace digital transformation at first, but eventually realised the importance of having a digital-first strategy to strengthen and increase online sales to grow.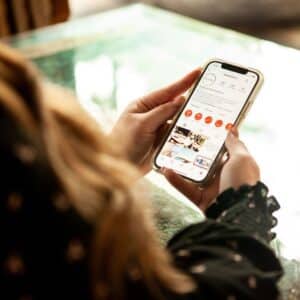 However, going online with a website, and hoping to make sales from it, is not that simple. You might have a great website, but if people can't find it, you probably won't even gain that much traffic. Website traffic is a huge factor for that website to generate leads and ultimately generate sales.
What you need is a proper digital marketing strategy for your business to boost its visibility and generate online sales. And because it's an investment to develop and/or maintain a website, it's only prudent to ensure it's working for your best interests.
With virtually everyone, from B2B and B2C, getting online post-pandemic, a properly executed and solid digital customer engagement strategy can overcome the challenges of low revenue and significantly increase online sales.
Accentuate Web Design and Marketing is a local website development company in the Gold Coast. Our team of expert web design specialists can provide solutions and have the skills to create website designs and building services to help your business stand out online.
Our website design and development offer a lot of flexibility, enhance your customers' shopping experience and convert. We can help you outline strategies to deliver a great user experience and drive online sales.
Improve Your Website Conversions
For a business with a website, the primary considerations for its success lie with it being found and driving traffic to it. That thought process should cross the mind of every business owner selling online.
Driving visitors to your website and having them perform a desired action is one of the main goals of having a website. Leads generation is directly linked to Conversions, to acquire a lead to turn your visitors into customers, and of course also to keep your existing customers coming back for more.
Follow these tips to help you improve your website conversion rates.
Declutter your website.

A clean and simple website design provides a better user experience and leads to higher conversion rates.

Google says

that as the number of elements on a page increases, the probability of conversion drops significantly by as much as 95 percent.
Increase your site speed.

Your site is likely losing conversions if it is slow to load. A few extra seconds of load time is tiring for visitors, and even 1 second of page load delay can cause fewer page views, a decrease in customer satisfaction, and a loss in conversions. Not only that, slow page load time also affects your

website ranking

on Google's search engine results.
Mobile optimise your site.

It's a no-brainer that more people today use their mobile devices to browse and buy online. Ensuring your site is

mobile-optimised

provides a good experience for mobile users, which is crucial in improving your conversion rates. Your site should be responsive, with a mobile-friendly layout, clickable callouts, simplified forms and buttons.
Use high-quality images and videos.

High-quality images and videos create a positive emotional response and draw interest. Professional-looking images make site visitors feel good and are a great way to get them to take action. If you have an eCommerce store, product images showing different angles and their key details help in boosting conversion rates.
People are also watching more videos than ever, not only for entertainment. Having a video demonstration on a landing page, for instance, can boost purchases by simply watching how a product can be used.  
Focus on benefits and build trust.

If you're selling a product or service, setting the spotlight on benefits demonstrates value and shows your visitors how buying your product or service will improve their lives. Showing your visitors your site is safe and legitimate is easily done by displaying trust seals. This can effectively enhance your online reputation and project a trustworthy image.
Make it easy for visitors to get help.

Potential customers appreciate it if they have an avenue to resolve issues or have questions resolved quickly. Make customer service easily accessible via phone calls, live chat, FAQ pages or email.
Include a site search.

Make it easy for your visitors to navigate your website and find what they are looking for. A site search feature on your website helps keep your visitors on-site instead of leaving your website to look for what it is they are looking for elsewhere. Online shoppers who interact with an on-site search are typically

216 percent more likely to convert

and generate up to 14 percent of all revenue.
Closing the Deal
Now we come to the part where you have made your website visible/searchable and getting good traffic. It's ripe to ring in the tills, right? Hold on, there are still a few features you have to incorporate in your website to effectively reel in and close a sale.
It would be pointless to have your site primed for conversion if, at the last steps, your customer finds it difficult to buy, have second thoughts, or abandon their cart altogether.
Closing a sale, of course, is the goal you are working hard towards, and we won't lie that it can be a tricky thing. If attempted too early, or you are too aggressive, the effort may cause it to implode. Or, if the customer is ready to commit, but your site does not provide a clear-cut avenue to how to go about it, the window of opportunity to make that sale may be gone.
If your customer is at that stage of committing to the sale, consider these features on your website to close that deal.
1. Ensure Your Marketing Message is directed at the RIGHT Consumers.
Your content, no matter how good it is, won't matter much if you don't distribute it properly to reach the right consumers at the right time.
Meaningful and memorable messages are the ones that resonate well with your customers. For this reason, you need not only pay close attention to what you are trying to convey through your brand but be cognisant of how you say it.
Your messaging refers not only to the actual words and phrases you use in advertising your brand, but it also should encompass emotions and feelings associated with what they say. It impacts pretty much every corner of your business, which includes your:
Social media posts

Promotional copies

Website copy

Email campaigns

Calls-to-action
For these to be more effective also consider:
Know what channel/s to use. Identify the right channel before you craft and send/publish your message. More importantly, identifying/targeting the recipients of your message.
Getting your message read.

How can you ensure that your messages are getting read? By sending it to the right people, and having these same people share it, therefore making your content more visible, that's how.

Sending your message at the right time.

Have you followed a brand that posts about six or more times a day? News flash: nobody likes that. Consider optimising what you post, and posting times for maximum reach for each platform.
2.  Create convertible landing pages.
Regardless if it's your homepage, an ad link, or the result of a popular search term, a landing page is likely the first interaction point between you and your visitor. From there, your visitors get an indelible first impression that makes or breaks a sale.
Therefore, your landing page needs to capture and hold your visitor's attention, wow them, convey their purpose and convince them that you can offer a credible solution to their pain points.
Ideally, each landing page should be customised to your customer's needs, it would also be advantageous if they are optimised for mobile.
3.  Calls-to-action specific to your consumer needs.
Visitors to your site are more likely to become customers if you can clearly show them the action you want them to take. Compelling calls to action on your site will prompt your prospect to take the next step toward conversion.
Generic CTAs such as "Sign up" or "Start your trial" no longer produce the best conversion rates. Spending a few minutes improving your copy will give you better results and garner a conversion rate win.
Starting your copy with the word Yes is psychologically effective, since it paints your offer in a positive light. For example, saying: Yes, I want [your offer], looks and works a lot better than simply saying, Buy now!
4.  Have an easy-to-use website and checkout process.
Nothing frustrates a buyer than a complicated checkout process. Note that the primary reason customers shop online is due to its convenience. To make the most of a consumer's buying experience, improve conversions, and reduce cart abandonment, you need to perfect and simplify your checkout.
Customers are seeking ease, speed, and convenience when shopping online, but an overly complicated checkout process fails to deliver on this promise.
Avoid unnecessary form fields and observe keeping everything within a single page. Also, ensure it can also be easily filled out using a mobile device. Note that keeping it simple removes possible friction from the checkout process. Overly complex forms that you cannot go without can also be split over multiple steps to make it easier to fill, and consider having a 'save as you go' feature if possible.
5.  Easy and trustworthy payment checkout.
Allow your customers to checkout and pay for their purchases without registering for an account. Enforcing account creation acts as an obstacle in the checkout process, and can likely deter consummating a purchase. However, you may offer your users an option to log in if they are returning or repeat customers.
Form fields should be intuitively designed to fit all required billing information and shipping details. When possible, provide as much variety in shipping methods as possible, so your customers can choose the delivery method they prefer.
Now, let's not forget how your customer will pay for their purchases. It is, after all, an essential part of the checkout process. Offer them multiple secure payment options that they know, recognise, and most likely trust. It would also not hurt if your offer can offer multi-currency options during checkout.
Inadequate payment options are a major reason customers leave checkout. The fewer payment options you have available, the lower your conversions will be. 
Further, be also aware that an abandoned purchase may be caused by customers who change their minds after learning their preferred shipping method is not available or is too expensive.
Furthermore, having a safe and secure checkout is a cornerstone of any eCommerce transaction. Note that customers will shy away from entering personal, billing and shipping information into a service they don't trust will keep their information safe.
In Closing
Developing a thoughtful engagement strategy along with your website development should be the foundation of a business. For your business to survive and thrive in a competitive market, apart from providing them with a responsive website that's easy to use and navigate should also cater to understanding your customer's needs.
You must identify your core messaging and communicate it effectively to lead to stronger customer relationships, better conversions, and improve the bottom line of your business.
Accentuate Web Design and Marketing's team of marketers, web developers, graphic designers, and business experts specialise in creating websites that integrate design aesthetics, functionality, and a lot of flexibility, and more importantly, convert your visitors to customers.
It is our #1 passion and concern to build converting websites and marketing strategies for our clients, ensuring that it also enhances your customers' journey and grows with your business.
Get in touch with us and get an affordable quote today from a web design expert.