In the age of digitisation, many individuals and service-based organisations are keen on sharing their personal/professional work, branding, skills and talents online. Creating an online portfolio allows you to display your skills, expertise, certifications, and experience to show potential clients your calibre.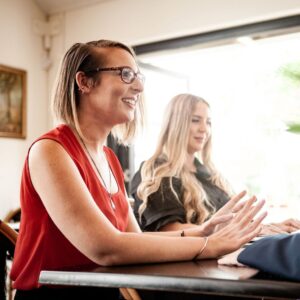 A website portfolio leaves a better impression compared to a conventional resume on your viewers. It works great, especially for employers or clients looking for someone in a specific field of work or those who offer specific services.
This is important because you can be easily remembered. You can immediately highlight your skills and attributes, rather than just presenting a bulleted list of skills and experience on a sheet of paper or a screen/monitor.
At Accentuate Web Design and Marketing, we are a team of seasoned professionals specialising in web design and digital marketing. Our team of skilled designers and developers can create unique, responsive, functional, and beautiful websites for your business. All of our websites are designed with a marketing-oriented approach that focuses on calls to action, lead generation, and product sales.
With our technical creativity, capability, and attention to detail, our team can even help you incorporate a portfolio section into your website to showcase your company's expertise, milestones, and/or achievements. Think of your online portfolio as a valuable online resource for your online value proposition and pitch.
Additionally, keep in mind that once your portfolio is set up, your work isn't done. It would be a prudent strategy to keep it updated, showing that your skills and experience are current.
PRO TIP: Keep in mind that in a world of mobile-first products, check and ensure that your portfolio looks equally good on both desktop and mobile screens.
Portfolio Section for Service-Based Websites 
The portfolio section on your website is the perfect way for people to learn more about you and your work. It's your platform wherein you can showcase your projects, case studies, and other information. A portfolio section on your website is one of the best ways to express your experience, capabilities, and personality.
If you don't have an online presence today, you are behind the times. Having a website gives you the potential for interested people to find and reach out to you. A portfolio is a great way for designers, developers, photographers, and a wide range of artists and/or service-based work.
In a nutshell, the purpose of a portfolio section on your website is to showcase your work. Regardless if you are an individual, a small team, or a company, you must utilise this unique online approach.
HOT TIP: Don't overload your portfolio with irrelevant skills. The more skills you have usually better, but only if you'll use them in the kind of work you do. When it comes to portfolio websites, the keyword you have to keep in mind is relevance.
An online portfolio is your opportunity to show your uniqueness, build trust, stand out from the crowd and your competition, and it's also an opportunity for others to find you.
Why You Need a Portfolio Website
There are industries where having a portfolio website is more crucial than others. If you are in one of the following service industries, it's safe to assume that you'd need a website portfolio, like a painter needs paint and a canvas.
Web design

Graphic design (catalogues, packaging, logo design, corporate ID, etc.)

Marketing (SEO, PPC advertising, print design, digital marketing)

Web development (online shops, outsourcing)

Art design (photography, audio, video, illustrations)

Builders and Developers
It doesn't end there, a portfolio is also advantageous for artists, models, writers, interior designers, etc. The point is, that you or your team are creators, and you need an avenue to showcase your work.
A portfolio website will let you do that, in high quality. But firstly, you want to be searchable. We at Accentuate can help you out with that too. Get in touch with us and get a quote for our Search Engine Optimisation Services.
3 Things You Must Have in Your Portfolio Website
Consider what elements your prospective clients would be able to find in your portfolio website design. Without a strategy or a purpose, it would be difficult to impress people.
You have to ask yourself first, what is the purpose of my portfolio? Are you selling services, looking to be hired for a job, or are you making a website about yourself?
The gist is to capture your visitor's attention, and the following 3 must-haves will help you execute that.
1. High-quality imagery/videography to showcase your work.
Time is a vital element online, and it only takes a few seconds to win or lose a visitor's attention, so be sure to use these seconds smartly. Humans by nature are visual creatures, so it's normal they will gravitate towards your visuals first.
If they like what they see, they will then proceed to look for more details. Therefore, you need awesome and appealing high-quality visuals to showcase your work.
It can be executed in various ways – video presentations, photo slideshows, thumbnail galleries that users can click to show its high-quality version, etc.
For example, logo designers can show great-quality samples of their logo designs in different variations. Show how your designs will look on various products such as business cards, and stationeries. Showing the same design in different colour versions will show your competence.
It would do a lot of good if you could also include a high-quality portrait of you working on something new. That picture alone gives your visitors a sense of who you are. It is simple, yet inviting.
2. Client Testimonials.
You can make your page more meaningful to those who have just landed on it by sharing some words from your clients. In addition to listing your skills, letting others speak for you can make a big difference.
Contact your previous clients and ask for quotes you can use on your website. Testimonials from your satisfied clients will highlight the quality of your work. Social proof is the perfect method to build trust on any site, but especially apt for portfolios.
PRO TIP: Testimonials show prospective clients that you have established great relationships with your clients. 
3. Concise Breakdown of the Project.
A case study or presentation is the best way to demonstrate the scope of your work. Each project should have its own story that shows the progress of the entire process from start to finish.
Break down this creative process with lots of photos and notes that reveal what's going on behind each project. In this way, visitors can get a sense of what your successful projects are like, and how they progressed from the initial planning phase to the final product.
You can include the following components to showcase your previous work:
The purpose of the project

: Highlighting why you started the project.

Project objective

: Showing the visitor what you accomplished with the project.

Approach

: Showing visitors how you accomplished the project.

Duration

: Citing how long it took you to finish the project.

Final product overview

: Show pictures, videos, links, etc.
Here is a good example showing off one of our case studies at Accentuate for Ozkilts, Australia's first and only supplier of modern utility kilts and accessories.
PRO TIP: When selecting projects to put in your portfolio, follow the less is more rule. Too many items in your portfolio compete for a visitor's attention and can potentially do more harm than good. List only the most relevant of your work and maximise their value.
Start Building Your Portfolio Website Today.
The creation of a great portfolio is a journey that will involve a lot of time and effort, but it is worth it. A great portfolio is one key that can unlock a door to greater opportunities. 
A well-designed portfolio website is your opportunity to surprise and impress your potential clients or perhaps a potential employer. A portfolio website showcases your best work in one place.
Showing your work not only looks good to viewers or prospective clients, but it can also be a source of inspiration for you to better yourself on your next projects, and to inspire the design community in general.
Showcase not only your skills and expertise but give them a taste of your personality with high-quality video/images. Show them how past clients are elated with the work you do, and show them how you did it. However, ensure that you are searchable, and always keep pace with your competitors.
There may not be set rules, and everything goes as long as you can capture your audience's attention and make them remember you. Perhaps, you may even make them smile as they scan samples of your work from your portfolio.
A portfolio website is highly beneficial for individuals and companies seeking to expand their horizons and be seen, or even better, acquire clients. Consider it a great way to boost your reputation.
After you've gotten the word out, do note that your portfolio should grow with you. There's always a way to tweak it to make it better and improve the user experience. We at Accentuate will be more than glad to provide you with assistance. Do check out our portfolio and get inspired.