Online tools that allow users to search for information and content over the internet are called search engines. There are many search engines and apps that get millions of visits each month.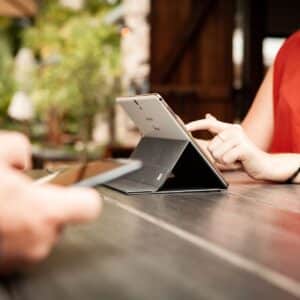 At the top of the search engine heap is Google. Perhaps you are all too familiar with the phrase 'Google it' so many times over the years. As you can already surmise, Google is the go-to search engine, product, and service provider that pervades the lives of over a billion users worldwide.
Not only was Google the most popular search engine, and the world's most visited website as of June 2023, with over 95.5 billion visits. Not only is Google the most popular search engine, but it also offers other popular services such as – Gmail, Google Maps, and YouTube.
Google also provides different ways to support businesses like yours with its business products such as Google Business Listing, Google Ads, Google Maps, Google Merchant, etc.    
Google is considered the ultimate search engine for businesses due to its extensive range of tools and services and dominant market share. It helps businesses reach their target audiences, enhance their online presence, and drive growth.
A strong presence on Google's search results significantly boosts a business's visibility and attracts potential customers. Accentuate Web Design and Marketing (Accentuate) is an innovative and dynamic agency that specialises in web design and marketing.
Accentuate takes a holistic approach to our web design and not only focuses on the final design's aesthetics but more on its functionality, user experience, and search engine optimisation (SEO). Our team of skilled designers and web developers can help craft visually appealing, intuitive, and responsive websites that are optimised for search engines, including Google and following its best practice guidelines.
The Accentuate team recognises the critical role of SEO in online success and uses their expertise to help you enhance your online visibility and gain organic traffic. Our Google Marketing Certified team conducts in-depth keyword research, optimises on-page elements, and implements technical SEO strategies to help your business rank higher on Google's search engine results pages (SERP). 
The Accentuate team is also well-versed in creating targeted and effective ad campaigns by leveraging the power of Google Ads.
Our team also taps innovative marketing solutions and leverages emerging technologies to expand your reach and engagement by utilising social media marketing and email campaigns.
Our clients with a physical presence can be helped by optimising their Google My Business (GMB) profiles and implementing location-based strategies to ensure your business appears in local search engine results and Google Maps. This helps by precisely pointing potential customers to find you during their search in your locale. 
Accentuate is committed to staying at the forefront of industry trends and in delivering tangible results for our clients. We are your trusted partner in achieving excellence in the digital landscape.
Google for Business.
Google offers businesses GMB to establish and manage their online presence across Google's various platforms. Your business profile on Google provides relevant information about your business to potential customers who are in search of information, products, or services.
By creating a detailed and informative profile, you can provide users with vital business information, such as your business name, address, hours of operation, phone number, and website link. An updated profile also helps local businesses when users do a local Google Search and/or try to locate your physical store on Google Maps.
When users search for businesses in a specific location, it uses the information you provide through GMB. Businesses with optimised GMB profiles have a higher chance of being prominently displayed to local customers alongside a map on the search results page, potentially giving an edge in increasing foot traffic and sales.
GMB can also be a source in providing you with insights, analytics, and relevant data about how your customers interact with your profile. The information you gain from these interactions is pertinent to understanding your customer's online behaviour and buying preferences. This is a valuable resource in helping you implement data-driven decisions and in optimising your online presence.
Furthermore, GMB's advancement made it an indispensable tool in utilising mobile and voice searches. The rise of mobile device usage and voice-activated assistants makes it crucial to have an up-to-date and well-optimised GMB profile that's readily accessible to users looking for information on the go.
Overall, GMB is an important business tool for establishing a strong online presence and connecting with audiences and customers. By leveraging GMB on their own, or with the help of experienced digital marketers, you can improve your chances of being discovered by potential customers.
The Importance of Ranking on Google.
If you're not getting enough traffic to your website, or your site is not showing up in top results for certain keywords, you don't have to guess why ranking high on Google and search engines is so important. Ranking high on Google search results reaps a multitude of benefits that directly impact your website:
Visibility
A high Google ranking means that you'll be seen on the hallowed first page of a Google search. Most users today gravitate towards the internet and search engines to discover and search for information, products, and services.
If your business appears on the first page of search results, it has a far better chance of being noticed and clicked on by visitors/users, driving a stream of organic traffic to your website. If you're running a local flower shop aiming to increase foot traffic and/or online orders, ranking high on Google's local search results for keywords like 'flower shop near me' ensures potential customers find your business before your competitors.
Credibility
High Google rankings establish an aura of trust and credibility. Ranking high gives you a huge boost in traffic. The more people you get to visit your website and are exposed to your content, the likelihood in converting them to become customers is also enhanced.
Users generally trust businesses that prominently appear high in search results, this is often associated with authority and relevance. Online credibility brings in more clicks, longer engagement on your website, and a higher likelihood of conversions.
For example, a high-ranking online educational platform gains the trust of students looking for reliable learning resources, this turns to increased enrolments and creates brand loyalty.
Revenue and Growth 
Ranking on Google can significantly impact a business's revenue and growth. Higher online visibility, means more people are exposed to your business's products and/or services which can also lead to more enquiries, sales, and conversions.
A great example is that of a custom furniture maker who aims to expand its online presence and sales. This can be achieved by creating a new website or optimising its existing one for relevant keywords to help it rank well in Google search results and drive increased interest and e-commerce revenue.   
5 Reasons Your Business Isn't Showing Up On Google.
It is now pertinent for businesses to appear on top searches to attract customers and thrive online. However, having a website alone is not a guarantee your website will appear in search results.
There are common mistakes that can prevent your business from appearing on Google. Below are five reasons why your business isn't showing up on Google and how you can fix them.
1. Not Claiming or Verifying Your Google Business Listing.
The primary reason why you can't find your business on Google is that your business isn't verified. Google deems a business ineligible for display until you verify your business profile. If you neglect to claim or verify, your Google Business Listing can hinder your business's online visibility.
FIX: Visit Google My Business to claim and verify your Google Business Listing. Ensure to provide detailed and accurate information about your business with essential information such as your address, phone number, and operating hours. Providing updated and accurate information makes it easier for customers to find you.
2. Lack, Wrong or Too Many Keywords Being Used.
Users online use keywords or phrases when searching for anything on Google. When you use too few, irrelevant or excessive keywords can affect your Google ranking. Google's algorithm now dislikes keyword stuffing, and you could face penalties on relevant pages or even your website as a whole. There are cases in which Google removes a website entirely from its search engine results pages (SERPs).
FIX: Do extensive keyword research that reflects your business and what your customers are more likely to search for. Integrate these keywords naturally in all your content, including your headings, titles, and product/service descriptions. 
3. Website Domain Not Optimised.
Contrary to popular belief, domain SEO is different from webpage or universal source locator (URL) SEO. A domain SEO is the practice of optimising your domain to make it more accessible to online users and search engines.
If your domain isn't optimised, it may not inspire much confidence for human users. On the other hand, search engines may struggle to understand your website's relevance to specific search queries.
FIX: We would advise you to contemplate choosing a domain name that reflects your business, including relevant keywords, if possible. Ensure that your website's structure is organised and with clear navigation and descriptive URLs. This makes it easy for search engines to index your content accurately.
4. Poor Website Performance.
Poor website performance can cause lousy SEO rankings. Poor SEO rankings can contribute to lower conversions and lost sales. There are several reasons why a website might perform poorly.
The main culprits include a slow-loading or unresponsive website, broken links, and outdated code. Issues such as these can be caused by various things such as malware, server overload, and/or lack of maintenance.
FIX: Optimise your website's loading speed by using browser caching, minimising unnecessary website elements, and compressing images. Also, ensure that your website is mobile-friendly and works well on different devices.
Regularly maintain and test your website's performance to identify and address any issues. It is also prudent to choose a quality website host to keep your website secure and fast.
5. Your Website hasn't been Updated with Fresh Content Consistently.
If you find a drop in Google ranking even with regular SEO efforts, if you're doing something bad, it's normal to see ranks fall. Conversely, if you're doing some good, your ranks should improve. If neither is happening, it's time to inspect your website's content. A stagnant website with outdated content or inconsistent/infrequent new content postings may not rank well in search results.
The all-important Google updates over the past few years set their focus on valuable, well-written content. Additionally, informative content is the perfect place to leverage sought-after keywords.
FIX: Plan a content strategy and post relevant, valuable content regularly, such as blog posts, articles, or videos. Create informative and shareable content to engage your audience. Search engines see this as a signal that your website is active and authoritative.
Conclusion.
Even though there are a variety of reasons why your website might not be ranking or being seen online, eliminating the ones within your control can improve your rankings, credibility, and visibility. Implementing the fixes we presented above can help bolster your business's visibility, leading to increased traffic and revenue. 
Accentuate Web Design and Marketing is a certified Google Partner, and we are ready to help you amplify your business's online presence and unlock your website's potential by leveraging Google's powerful tools.
Our expert team will optimise your website, leverage Google's services, observe industry best practices, and craft engaging content. Get in touch with us today and let our experts guide you in attaining digital excellence and success.