It's not an exaggeration to say that most people today spend a good part of their day on social media. It has become an integral part of anyone's life and daily routine.
There are some that have become so addicted to it that checking their social media feeds is the last thing they do before going to bed, and first thing they do when they wake up the next morning.
Knowing this fact, the importance of social media has caught the eyes of businesses and marketers alike. They now flock to social media platforms with hopes to connect with their target customers.
However, not only is the competition high, there is also content overload on social media. And without a social media strategy, it can be challenging to stand out.
The Pandemic and Social Media Boom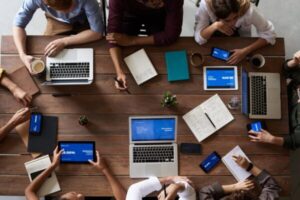 The importance of social media was heightened during the pandemic, and businesses further explored and gravitated to make their mark and garner sales online. A lot of businesses made sure to increase their online presence and boost their brand awareness.
With the stiff online competition, getting noticed is a feat in itself in a very competitive market. You need to get in touch with the latest trends that you can exploit for the advancement of marketing efforts and strategies.
There are over a billion Facebook users who regularly engage within groups. On TikTok, there is a collection of people pumping up a wide range of content in their own spaces to share – no matter how inane and obscure. Twitter now has Spaces and Communities, a dedicated place where people can connect, share, and get a grip on discussions that people care about the most.
Almost every major social network has jumped on the bandwagon and introduced new features that help creators to monetise their content. Across the major social networks, such as: Facebook, Twitter, YouTube, TikTok, and Snapchat – there is no shortage of ways to build and sustain their following, or for brands to support these creators.
There are a lot of creators now that have risen to a whole new level of influence and power in the media ecosystem. Though marketing budgets have tightened for many organisations, over 50% of marketers surveyed stated that they plan to increase their paid social spend in 2022.
While people were in lockdown, TikTok enjoyed a big boom and its subscriber base increased massively, now pegged at 1 billion users. Brands immediately took notice and relied on the more "influential" TikTok creators to push their brand. These early adopters enjoyed hundreds of thousands of impressions and some even garnering millions of views.
Creators and Influencers
This year, marketers are planning to invest more on Facebook, YouTube, and LinkedIn. But beyond this tried and tested channels, it would seem that the ad spend trend is pouring over to TikTok Pinterest, and Snapchat.
Why is this so? It's because marketers no find that they are more effective for reaching business goals than they have in the past. The more likely reason for this is that these networks encourage advertisers to create content that fits organically into these platforms.
Everyone on socials usually ignore ads when they flash on screen. What we typically do is click on skip, so we can enjoy consuming our choice content, such as on YouTube. No one want to be interrupted by boring and self-serving ads.
Facebook and Instagram still ranked high, 62% and 49% respectively, as the most effective social platforms overall. Pinterest, TikTok, and Snapchat jumped massively, TikTok in particular jumped 24%, up from 3% last year. That's a massive increase of 700%.
Influencer marketing is not really that new a trend, but it's one that will be staying for a while. Social media today is dominated by a lot of influencers who are getting paid exorbitantly to promote brands.
Not only there is a rise in the number of influencers, but there is also an increase in marketing spend in influence marketing by many businesses. Accordingly, spending on influencers is by far much cheaper than running paid ad campaigns, and yet they deliver good results.
Another plus factor with influencers is that they can help marketers not only generate leads, but also achieve a variety of marketing goals.
Getting Creative and Customer Service
Not only are these once obscure social networks grow at an impressive rate, research also shows that consumers are getting more receptive to advertising on these networks.
Brands have been using social media such as Facebook, Instagram, and Pinterest to sell their products. This norm will only increase, and it is projected that social commerce will be worth around $80 billion by 2025.
Brands are now being creative by creating shoppable post, wherein one can shop directly from the post, eliminating additional steps and direct to check out. It is now a popular trend that digital storefronts to continue evolving and become retail platforms. Brands and marketers alike will continue to leverage these evolutions and incorporate social commerce in their sales strategies in 2022.
It would be good practice to quickly adapt to this trend when designing your user experience. The goal is to create a frictionless shopping experience, and having users switch to a website when buying might soon become one too many clicks for target audiences.
Social media has become more than just a place where people connect with social networks to share photos and videos. It has become a product discovery platform, a retail platform, and recently, also as a customer service channel. Brands have recognised customers reach out to them on social media.
Needless to say, brands started to respond to such messages and directing their customers to proper channels. This "new" way can be a good idea to create templates for FAQs and also invest in chatbots to boost your response time.
Social Media Platforms to Look into in 2022
There has been a lot that have been said about social media platforms being important to B2B businesses. Smaller channels such as Pinterest, Snapchat, Instagram, and Twitter aren't going away in 2022.
Businesses indicated that they plan to increase their investments on Twitter, Instagram, and Facebook. While Instagram is still a firm favourite, TikTok has increased and moved up the ranks, especially during the time of the pandemic.
TikTok has launched several useful tools in the past two years, such as, ads and business profiles. It has evolved from just being a platform where young creators can show off dance moves, it is now set to becoming one of the main platforms that brands can use to reach Gen Z and millennials.
Another app marketers should look into is WhatsApp. It is perhaps one of the most popular messaging platforms in the world. In 2020, WhatsApp has grown to 2 billion active users and has become a go-to platform for businesses in developing countries to connect with their audiences.
Millions of users check the app every day. Better yet, messages sent through the app have a 98% open rate. Customers love and trust brands with chat capabilities more, and customers tend to buy from companies that they can reach via chat.
For businesses, WhatsApp is still an affordable marketing channel. This makes the platform an enticing avenue for small businesses. All you need is to install the app and connect to the internet.
Corporate social responsibility has become a hot topic in the past two years. There will be a need to continue emphasising this commitment to inclusivity. Brands will need to know which social issues mean to their audience and address them with action. Consumers have already set high standards where social responsibility is involved, and a single gesture is no longer enough.
Alongside social responsibility, brands can also utilise social media communities to launch new products, gain customer insights, and seek customer feedback. An example is Facebook groups where customers converge and engage to discuss topics, seek solutions, and share experiences.
Now is the time to consider how your business's content can create engaged communities to strengthen online communities in 2022.
To Wrap Up
These are just some trends to look out for in 2022. Taking advantage of these trends can help you stay ahead of your competitors.
The biggest trend that can be exploited is the rise of short-form video content, as offered by TikTok. Although, Twitter and Instagram will continue to dominate, especially for B2B businesses. Additionally, it can also be the year for smaller networks such as Snapchat and Pinterest.
By keeping abreast of the latest developments, take note that what worked before is not a guarantee to generate similar results. Do note that social media, a competitive and dynamic space.
Prime to all this is to increase your online presence and increasing your brand awareness. Our team of certified experts at Accentuate Web Design and Marketing can help you enhance this and more by taking the hassle out of the whole process and take charge of every aspect of content creation.