6 Creative Ways to Approach Online Marketing
With more businesses embracing online marketing all the time, it takes ingenuity and adaptability to stay ahead of your competitors. On the surface, marketing strategies can appear formulaic, yet to truly grab your audience's attention and convert them to your brand, you need to buck the trend, and try something a little different.
Whether you are launching a brand-new startup, or hoping to boost your existing marketing strategy, here are a few creative ideas to get you started, along with tips on implementing them successfully within your business.
1.  Build Your Own Infographics
Infographics are incredibly useful as a marketing tool. They catch the eye, and are generally quicker and easier to read than blank text. Infographics can contain anything from industry statistics to repurposed blog content. The trick is to keep it simple and interesting, while focusing on the message at the heart of your online marketing campaign. If you're after something show stopping, speak to us about graphic design services.
2.  Create a Business App
This might sound like a major undertaking, but as app development becomes more accessible and in-demand, newer and better tools are being created all the time. While many app development tools have a fee attached to them, there are a range of options at different price points, so you should be able to find one that fits your budget. The benefits of having your own app are twofold. On one hand, it enables you to offer something of value to your customers that they may not be able to get from their competitors. Simultaneously, it gives you a direct line via which you can reach them with your marketing efforts. In general, push notifications receive far better open rates than marketing emails. Plus, since they have taken the time to install your app, you know that you are marketing to someone who has already shown a particular interest in your brand.
3.  Produce Video Content
This could be anything from hosting a podcast, to entertaining your audience with shorter clips via Vines or Snapchat. Even mentioning video in the subject line of a marketing email can boost open rates. Meanwhile, placing a relevant video on your landing page can not only reduce bounce rates, but can also increase the chance of site visitors responding to your CTA. Tools such as PowToon allow you to create custom, animated video content, offering a range of free-to-use features, along with the option of upgrading to the premium service to gain access to additional assets.
4.  Host a Q&A
Your customers don't just want to know what your business has to offer them; they want a sneak peek behind the scenes, and an insight into the lives of the people running your organisation. Honesty and openness help you to build trust with your audience, whilst also showing that you care about their feedback, and are interested in what they have to day. Whether you accept questions via your website or social media, which you then answer in a podcast, or you decide to live stream your Q&A, this willingness to engage with your audience can be very valuable. Furthermore, while you have their attention, this is a great time to mention a new promotion, push a particular product, or encourage eCommerce sales with discounts and coupons.
5.  Use Gamification
Contests and sweepstakes have an obvious appeal. However, gamifying elements of your business does not always mean you need to give anything away. While it may not be entirely clear why, we love to collect points, check off goals, or earn achievements. Consider a system on your business website that allows users to be rewarded with points for completing objectives, such as making a purchase or sharing some content. If you have a business app, this can also be implemented there. It's up to you whether these points can then be traded in for some kind of rewards, such as a discount or free sample.
6.  Vary Your Content
There are so many great content styles to choose from, yet when one piece is met with particular success, it can be tempting to stick to that format. However, while consistency is an important part of building brand familiarity, creating varied content is essential if you want to hold your audience's interest.
Write lists

Produce how-tos or step-by-step guides

Take advantage of microblogging

Write guest posts

Create memes of course, the list goes on and on. Furthermore, you can even repurpose existing content by releasing it in another format, including it in a content roundup, or even revisiting it to bring it up to date.
This is just the tip of the iceberg. There are many more ways to make your marketing shine, but the strategies you choose will depend on your business needs, and your particular marketing style.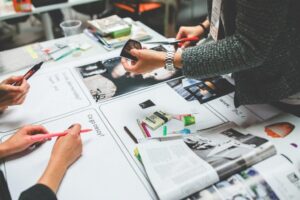 Ultimately, your most effective marketing will occur when you are enthusiastic about your subject and the style in which it is being presented. Don't be afraid to try new things, and to split test innovative ideas for their viability.
Not every campaign will hit the mark, but over time you will learn what works best for your audience, allowing you to build a high quality, creative marketing strategy, packed with interesting content, and a message to remember.