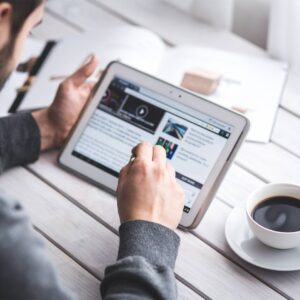 So you want a website for your business? Good choice! All businesses need a website today to promote their businesses as well as stamp their brand. A well-thought-out, visually impactful, and easy-to-navigate website is an asset for any business and brand.
There's one problem, you are not well-versed in designing a website. You have no programming background or technical design skills. Many of those who delved into creating their own websites failed and got it wrong. Why is this so?
The main reason is that instead of keeping it simple, they tend to overcomplicate things. And you don't have to be a whiz-kid using state-of-the-art tools to make a website. Here's news for you, even a novice like you can do it.
With today's advancements, anyone can make a website, regardless of their technical level. There are now tools available today that make the process easy.
There are two ways you can build a website: a website builder or WordPress. For tech novices, website builders are the way to go.
If you're ready, let's get cracking…
Website Builder or WordPress?
The first thing you have to sort out in building your website is to choose whether you will use a website builder or WordPress. Each has pros and cons that we will law down shortly.
Website builders make it easy for anyone to get online. Apart from being easy to use, coding knowledge is not required. Website builders come with loads of ready-made templates you can use to make your website stand out.
WordPress on the other hand is more complicated. It's an open source platform, which means a knowledge of coding would be needed. WordPress does give you absolute freedom when it comes to creativity, however, it requires a bit more technical knowledge than website builders.
Website Builder Pros                                                    Website Builder Cons
– They are easy to use                                                     – Restricted to templates
– Knowledge in coding is not required                    – Can be cost prohibitive
– Good customer support                                             – Not as much creative freedom
WordPress Pros                                                                WordPress Cons
– Unlimited customisation                                            – Not for non-techies
– 54K+ plugins to choose from                                    – Prices are hard to calculate due to purchasing,                                                                                                              hosting, security and plugins
– It's a popular and reliable software                        – No dedicated customer support.
Knowing this, picking what option to take comes down to personal preference and skill level. Regardless of your skill level, the most important part of putting up a new website is to start.
Skill Level Zero.
In this article, let us assume that you are a total novice with little to zero experience in website design. Even without being tech-savvy, you can still build a stunningly simple website that will catch the attention of your customers.
Step 1: Choose a Website Builder.
A lot of people use website builders to make a website. They are popular for good reason, but which one will you choose that would match up with your needs?
Gone are the early days of the internet, when making a website required knowledge of HyperText Markup Language (HTML). To add to the confusion, Cascading Style Sheets (CSS) came along.
Website builders do away with technicalities and let you focus on design and content. You can choose a website builder that accomplishes this task using templates. There are others that use drag-and-drop interfaces such as Wix and Weebly, making building your site no different from assembling a PowerPoint presentation.
For the more creative folks, Squarespace is a dream, while those who want to start small can choose Site123.
Those listed above are not the only website builders around, there are a host of others. They are only ones mentioned here since they are among the most popular. And choosing one comes down to your needs. WordPress, for instance, is the best website builder for blogging, while Shopify is a top builder choice for ecommerce.
Test which website builder is suitable for your needs. Almost every website builder offers free trials and signing up is fairly simple.
Step 2: Pick a Plan That Suits Your Needs and Budget.
Taking advantage of a free website builder is fine, but there are limitations that come with a free sign up. Free accounts on website builders do hold a lot of important features back.
To spare you the trouble of limited choices, it is advisable to sign up for a plan. They do offer multiple plan options that can ensure you aren't paying for things that you don't need.
If you are apprehensive of shelling out a small amount for a website builder plan, consider the price of hiring a web developer. They can cost starting at $300 and up for a template customisation alone.
A fully customised website built from scratch will run to probably thousands. A fully functioning website made with a website builder would cost you less than the price of coffee.
Step 3: Your Domain Name.
Your domain name is your site's unique address. You have to pick one for your site, which cannot be done easily through your website builder. If by any chance you already have one, you can then transfer it to whatever platform you want to use.
A domain name is the bit of the Universal Resource Locator (URL) that identifies a web page or your website. You can have your domain name registered like Domain.com.
Website builders do offer to do it for you when you sign up with them. Most will initially provide the service for free, while a few will charge a nominal fee.
A domain name is one of the main ways you can present your site to the internet, so make it count.
When choosing a domain name:
Make it relevant. Choose a name that matches your business.
Keep it short and memorable. A short and memorable name will be easy to remember. A name with dozens of characters long looks silly and people will not bother to remember it.
Avoid Numbers. Unless your company name is made up of numbers, it is best to avoid numbers in domain names. Numbers on domain names look unprofessional and add another element for people to remember.
Make sure the name doesn't already exist. With millions of websites existing, it means there are millions of domains already taken. Make sure yours stands out before committing to it.
If the name you picked for your domain turns out unique, register it as part of the sign up process with your chosen website builder. Some cost-effective plans would require a nominal annual fee. In some premium plans, the fee is already inclusive.
Step 4: Pick Your Design Template.
You have already chosen a website builder. You signed up for a plan, and registered your domain. Now you can begin to have some fun and start creating your website. The beauty is your website builder will support you through the process with templates.
These templates provide a framework for your design. They are like a canvass that you can use to paint your content into. Utilising these templates helps you create a site that looks good without having to hire a designer.
Regardless of which website builder you've chosen to work with, one sure thing is you'll have an extensive selection of design templates to choose from. If you happen to subscribe to better plans, the more templates you'll have access to across many categories.
Step 5: Customise Your Chosen Template Design.
It's a given that there are lots of people that use builders to make a website. Chances are, there would be websites out there using the same framework as yours. To make your site stand out, you will need to do some customisation.
Learning how to build a website from scratch is easy with the right tools and instructions. Just like cooking, a template gives you the recipe. You can either follow the recipe or mix it up to come up with a similar dish but with your own flavour.
Customising your website is largely up to you. Website builders are flexible and can accommodate, probably handle designs that you have in mind. They may include:
Adding new pages for your navigation.
Changing the size, colours, and fonts of your buttons.
Adding elements like forms and menus.
Editing the images on your homepage gallery.
Picking different colour palettes.
Linking or embedding social media channels.
A good website builder can walk you through all these, hassle-free, so don't be intimidated. Don't be afraid to play around. Don't be surprised at just how much you can do.
Some website builders let you play around with templates as part of their free trials. From there, you can get a sense of how easy it is to customise without spending a cent.
Step 6: Upload and Format Your Content.
At this point, your website should already be taking shape. It's time to fill it with your own images, videos, and written content.
If you work with images, we have to emphasise the quality is key. The use of blurry images is simply out of the question. Some website builders have free images available for you to use. Or you can opt to snag free use images from Unsplash or Pixabay.
Step 7: Adding Apps for Added Functionality.
Is there a missing functionality that you'd want to have for your site? Something like forms or social media integrations? Check out your builder's app store to add any of these missing functionalities.
Whatever you need for your site to do, you can be sure that there would be an app for that. Just go to the App Market or its equivalent for your builder. From there, you would be able to see how much an app costs, although many are free. Do check what it does and also check its user rating.
Step 8. Preview and Test.
We are almost there. You've already picked and customised the template you've chosen. Customise, put in content, and add functionality with add-ons. You're probably itching to publish and go live.
Hold on to your horses and slow down. Now that you have a fair idea how to make a website is one thing. Publishing one blindly is another.
It is always good practice to preview a website before publishing them. You need to make sure everything is working the way you designed them to.
Ask yourself these questions before hitting that publish button:
Is there no spelling and/or grammatical errors?
Are all your menu buttons working?
Does your site fulfil the purpose you set for it to do?
Does it have consistent formatting?
Does it look right on desktop and mobile phone screens?
Does your site load quickly?
You've already done well if you got this far, but be vigilant. All your effort in building your own website would be put to shame, if you publish an unfinished site.
Previewing a website is relatively easy. You just have to hit a preview button in editor mode to see how it would look live. Most also offer a toggle, so you can see how it looks on different screen sizes.
Remember that more than half of searches made on Google are done using mobile phones. And this number is still moving up, so make sure your mobile experience is a seamless one.
One last tip we can give before going into the last step is to have someone else test your website. As the one who designed it, you might be blind to some of its faults.
Another reason for this is that you already know how it is supposed to work, so you would find it easy to navigate. Would another person not familiar with it think the same? Feedback and/or criticism should be welcome as their input will help you improve your site before you…
Step 9: Publish and Go Live!
Congratulations! You've done all checks and everything pans out. All your hard work has led you to this moment. Go right ahead and hit the "Publish" button.
Now that your website is live, tell everyone you know about it, get the word out. You can still customise and develop it, of course, but you have already taken that step. Give yourself a pat on the back.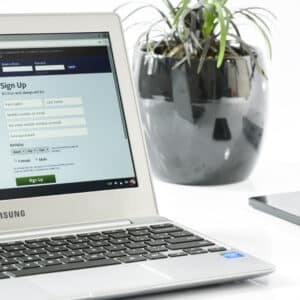 Now you're ready to begin learning other methods on how to create a website.
If for some reason you decide that you decide that you would rather have a professionally made website, it's not a problem. We at Accentuate IT, have your back. Our Website Design and Web Development Team is at your disposal. Get in touch with us today.