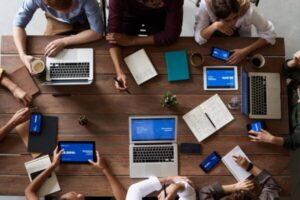 Modern technology has made it easy for companies today to hire freelancers or to connect with agencies to assist in their digital marketing. These freelancers can work on SEO or Google Ads without ever stepping on your home office.
More so today in this time of the pandemic, Australians are working more from home, and it is expected that this pattern will continue according to the Australian Bureau of Statistics (ABS).
Due to Australia's ever-changing economic landscape alongside the boom of the digital age, more and more companies are shifting their strategies. To keep up with the competition, businesses are employing innovative solutions, which include outsourcing.
What is Outsourced Marketing?
Simply put, it is an activity where a business outsources its marketing activity to a third party. An outsourced marketing team works in conjunction with a business's in-house marketing team. In some instances, it could even replace the need for an in-house marketing team or staff entirely.
With outsourced marketing, businesses and companies can lighten the load of their workers who may probably be already wearing too many hats within their organisations.
Business staples such as social media, display ads, emails, etc., are constantly evolving every day. Rather than trying to learn the necessary tools and formulating strategies, many companies are outsourcing the task/s, saving the company time and money.
Why Outsource Marketing Activity?
Apart from saving time, and money, and avoiding headaches, outsourced marketing could be a wise choice for companies that don't particularly employ their in-house marketing team. Sure, some of these companies might have a dedicated employee to handle their website, handle their email, and probably even handle their newsletter and social media. The question is, are they being handled well, and are they effective?
Understandably, companies would try to avoid the overhead of hiring a full-time in-house web designer and developer, SEO copywriter, or even a PPC consultant. But if you want to keep abreast or even go ahead of your competitors, a change of mindset is in order. The beauty is, that you have options.
Instead of thinking of it as overhead, think of it as an investment for growth. Remember, your competitors are already way ahead of you with their digital marketing strategies.
There are several reasons why there's a need for you to outsource your marketing, but for most companies, it boils down to cost and effectiveness. Hiring an outsourced team is more cost-effective than developing one in-house.
Hiring an outsourced team does cost less. They give you much better results and deliver better returns on investment (ROI). Additionally, outsourcing will give you access to a wider and broader pool of experts in their field. Teams with proven, successful track records like Accentuate Web Design and Marketing.
Who Needs to Outsource Marketing and Why?
Cutting costs shouldn't be the primary reason why companies need to outsource their marketing initiatives. In today's marketing environment, businesses must think like publishers and establish relationships with their market.
Outsourced marketing will save a business time, reduce errors, and retain consistency while maintaining and conforming to a production timeline. Outsourcing also provides increased efficiency, and reduces turnaround time and overhead, eventually generating more profit.
Admittedly, outsourcing is not for every business entity. Is your organisation, business, or company, pushing marketing further and further down on your to-do list? Are your current marketing strategies not performing the way that you hoped it would? Then outsourcing your marketing might just be the perfect option for you.
If done right, outsourcing marketing brings plenty of value to your business. Outsourcing can be beneficial to a lot of industries. With the transition to cloud technology, companies can now operate more seamlessly while expanding their market.
The Pandemic Response
The COVID-19 pandemic undoubtedly has been challenging for economies in global history. The pandemic impacted every industry, and along with it brought a need to revise many aspects of big and small business operations.
Many companies transitioned to remote working to protect their employees' health. Others developed a hybrid and skeletal set-up. And many, seeing the benefits of a remote set-up, made outsourcing a more logical task delegation option. A study conducted by Upwork found that 36% of the U.S. workforce has performed freelance online work.
Talking of outsourcing marketing in 2021, most of it focuses on SEO and social media marketing niches. This wide range of tasks involves social media management, SEO content writing, website design and optimisation, and more.
What Marketing Activity Can Be Outsourced?
It will depend on the capability of your company and the capability of the company you outsource to. You have an option to outsource a part of your marketing activity or outsource all of it, such as:
Social Media Marketing.
Marketing Strategy.
Content Marketing.
Email Marketing.
Search Engine Optimisation (SEO)
Web Design, Development, and Optimisation.
Branding and Graphic Design.
Google Ads and Pay-Per-Click.
Online and Offline Advertising.
Public Relations (PR).
If you decide to outsource your marketing, various companies can provide you with these services separately. Of course, there are also companies out there that can provide you with all of these services in-house, which would spare you the trouble of shopping around.
What Outsourced Marketing Can Do For You?
An excellent marketing entity comes up with a solid strategy before starting any activity on your behalf. Accentuate Web Design and Marketing do processes that are similar to those down below:
We immerse ourselves in understanding your business goals and do an audit of your current set-up (if any).
Formulate and design strategies to achieve your marketing goals and objectives.
Devise a marketing plan that enumerates what marketing channels we will employ for you to sign off on.
Execute and monitor the planned marketing activity.
Measure and report on the results of the activity and adjust strategies with plans of moving forward, and then repeat.
Is Outsourced Marketing For You?
As we mentioned earlier, Outsourced Marketing is not for every business entity. But for those who might need to outsource, it can be beneficial for businesses that:
Doesn't have in-house expertise.
Have too much on their plate and can't handle any marketing activity themselves.
Want to implement cost-cutting initiatives?
Are not getting positive results from their marketing efforts, or simply want to get better marketing results.
Outsourcing marketing is particularly useful for businesses that are aiming for growth. It provides more flexibility and scalability than an in-house marketing team. If your business does not have an internal marketing staff or lacking in the expertise needed to manage marketing, outsourcing is a cost-effective path rather than recruitment.
How Much Does It Cost?
Outsourcing may not be as expensive as you might think. It often costs much less than employing a full-time employee to be part of your staff. Outsourcing gives you the benefit of a cross-section of marketing and design expertise provided by your outsourced team.
Running online and offline campaigns through an outsourced team gives you access to specialists who can do both at a much-reduced cost.
The cost will ultimately depend on how much activity you want to outsource. And certainly, your outsourced marketers can tailor-fit a marketing package to suit almost any budget.
How Long Before You Can See Results?
An outsourced marketing engagement is typically a short time commitment. This would allow you to test things out and see if it works for your business.
You cannot expect magical results to come overnight, and it is recommended that any outsourced marketing activity should run for at least three months. This recommended time frame is long enough to start seeing solid and quantifiable results.
In Conclusion
Working with the right outsourcing company will have a tremendous impact on your business. By having an outsourced design and marketing partner you can rely on and trust, you can work together in concert to achieve your business goals with confidence. And unlike the conventional way of hiring in-house, you save on operational costs without sacrificing or compromising performance.
By working with Accentuate Web Design and Marketing, we can ensure that you're in good hands with our team of experts onboard for you. Our dedicated team of certified professionals will help you leverage your business processes.