A well-designed, functional, and user-friendly website can drive traffic, engage visitors, and boost conversions. But if your website could be holding your business back if it's not up to speed.
When was the last time you had a good look at your website? Has it changed even slightly in the last year or so, or does it look just like it did a decade ago?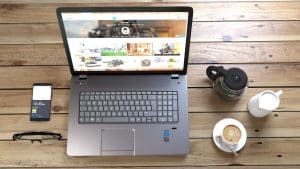 Websites aren't something you build once and forget forever. It's crucial to proactively update and maintain your website. Here are five signs it's time to redesign your website.
The Design is Dated
When it comes to your website, first impressions are everything.
If your visitors don't find your site visually appealing, they aren't going to stay around for long. If your website was built quite a few years ago, it's time for a redesign.
A visually dated website signifies you are not in touch with the current trends. Perhaps, even, that you don't care. It's difficult to position yourself as an expert or a leader in your field when the website demonstrates otherwise.
Difficult to Navigate
Some pages of your website should be easy to find. Always.
For instance, the About Us page, Products/Services section and Contact/Support page contain critical information about your business and what you do. If this essential information is difficult to locate, your site is in an urgent need of an update.
When visitors can't find what're looking for easily and quickly, they are likely to leave your site in search of another website. Moreover, if your site is difficult to navigate, Google will have difficulty indexing your pages.
Your Site Isn't Mobile-Friendly
With more and more online users relying on their smartphones for all their web-related tasks, a mobile-friendly website is an essential investment. Without one, you are simply alienating your website.
Look up your website. Do you have to pinch the screen or squint your eyes to get a look at the content? Are the menu buttons and CTAs difficult to click?
Moreover, your website will have a hard time showing up in the search engines.
If your website is not mobile responsive, get one at the earliest.
Poor User Experience
Your website is a success only when it's good at pleasing your visitors. If it takes a long time to load, lacks valuable content, or has any other UX issues, your users are likely to leave sooner than they arrived.
While small updates, changes, and tweaks to your existing site might improve the user experience slightly, a complete redesign will mean you have a website with user experience in mind.
You Can't Make Changes or Updates to Your Website
Making updates or small changes to your website such as publishing a blog post, editing a product description, or updating an event should be fairly easy for everyone in your team to accomplish.
However, if your website needs a web designer to make simple edits or is built on a system that's difficult to use, you will have a hard time updating your site. It's time to move to an easy-to-use content management system.
Ready to Discuss Your Website Redesign Project?
At Accentuate Web Design & Marketing, we've redesigned websites of all shapes and sizes for a variety of reasons, Whether you are tired of your dated site or are unhappy with the dismal results, a website redesign can take care of your worries. Get in touch with us today for a quote.